Some people are fans of the Carolina Panthers. But many, many more people are NOT fans of the Carolina Panthers. This 2013 Deadspin NFL team preview is for those in the latter group. Read all the 2013 NFL previews so far right here.
Your team: Carolina Panthers
Your 2012 record: 7-9.
Your coach: Ron Rivera. Hey Coach, it's fourth-and-inches late in the game and you have a 250-pound, lightning-fast battletank for a quarterback. What do you do? OH DEAR GOD NO HOW COULD YOU BE SO GUTLESS?!
It boggles the mind that the Panthers are gonna let Rivera stick around for another year after shitcanning their general manager last October (that's what happens when you invest 135% of your cap space on running backs). No new GM ever likes keeping around the team's old, shitty, horrible coach. They wanna hire their OWN shitty, horrible coach. So now the Panthers will waste a year of everyone's life going through the motions with Rivera, watching him punt away victories and take timeouts for the sake of the opposing team, before Dave Gettleman finally cuts him loose and starts all over again. OH GOODY. Glad we could drag out the suck for 12 extra months.
G/O Media may get a commission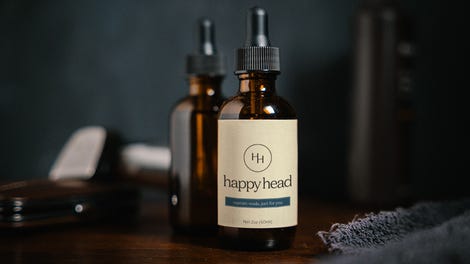 Your quarterback: Cam Newton. And now, presenting the Many Downtrodden Faces Of Cam Newton. Here's Cam looking exasperated:
And here he is looking standoffish:
And here's his "How the fuck should I know what's wrong?" face:
And here's his "I can't believe you asked me that" face:
So many faces, and just one GLORY BOY SWEATER.
I'm gonna tell you Cam Newton's destiny. From now until the end of his career, Cam Newton will be a fabulous standout on an otherwise horrible football team. Whatever Cam accomplishes for the Panthers will be accomplished in the face of 10 agonizing losses per season. He'll score a shitload of touchdowns, have some awesome runs, throw a handful of 80-yard bombs, and the Panthers will still inexplicably lose every game by 20 points. That's his destiny. Cue the exasperated face!
Your one fantasy player everyone will hate: DeAngelo Williams. I don't think there's another back in the universe who wastes more time in between spurts of LOOKING like a superstar than DeAngelo Williams. Once every five games, DeAngelo will bust out a monster 40-yard touchdown run that showcases every last bit of his potential. And then he'll get six carries over the next month. I don't get DeAngelo Williams at all.
Just put every Carolina back in here while you're at it, since Newton will vulture all their touchdowns and Rivera will rotate them by spinning a Twister wheel five times a game.
Why your team sucks: Be sure to re-read Ryan Kalil's newspaper ad from last preseason guaranteeing the Panthers would win the Super Bowl. It's even funnier now that you know what a complete disaster this team has become. Before he got the axe, former GM Marty Hurney stocked this team with three historically putrid drafts AND spent $68 million in guaranteed money on DeAngelo, Jonathan Stewart, and linebacker Jon Beason, who played a whopping four games last year before getting hurt. That means the Panthers had no money this offseason to improve their shitty pass defense or find someone, ANYONE, for poor Cam to throw the ball to. It's gonna be yet another year of forcing the ball into triple coverage in the hopes that Steve Smith will punch enough people in the face to have room to catch it.
You can go ahead and ignore the fact that the Panthers won five of their last six games in 2012. Four of those wins came against losing teams, and their one loss came against the fucking Chiefs. Any time a shitty team ends the season with a few hollow victories, people are always like They could carry their momentum over into the next season! That NEVER happens. Ever. I assure you that the Panthers' little streak won't save them from getting thoroughly curb-stomped by the Seahawks in Week 1. And then it's another long season of playing "What's wrong with Cam?" WHEE!
This is precisely what owner Jerry Richardson deserves after squeezing taxpayers for an extra $87.5 million in renovations to a stadium that's less than 20 years old. Richardson was also the guy who pushed for locking out the players despite the fact that he pocketed over $112 million in profits the two years prior. Richardson is just another bag-of-shit owner—the kind of owner who bitches about money while simultaneously raking in obscene profits and spending his personnel money in a random, idiotic fashion, and then cloaks himself in a thick veil of magnanimity.
If hard work and humility could define a man, then that man would be Jerry Richardson.
Fuck you, Jerry. No wonder your team's fans would rather be watching college basketball.
Why your team doesn't suck: There's always the hope that Cam can single-handedly scrounge up ten wins for this team before they get obliterated in the playoffs, so you've got that to potentially look forward to.
The worst Panther ever:
1. Rae Carruth
The four other terrible Panthers who still aren't anywhere near as bad as Rae Carruth:
1. Jimmy Clausen. Still on the roster! It's like an act of charity at this point.
2. Kerry Collins. Let's be honest: He was a lot more fun when he was drunk, racist Kerry Collins and not journeyman sheep farmer Kerry Collins. I feel like Johnny Manziel could potentially replicate some of ol' Drunk Kerry's magic.
3. Keary Colbert/Dwayne Jarrett. Never draft wideouts from USC.
Emails from Panthers fans:
Kyle:
Aside from a few uncharacteristic outliers, every year will almost indefinitely end with a nauseatingly average record somewhere between 6-10 and 8-8, our playoff hopes dashed before November but "hopeful for next year because we won 4 of our final 7 games" and "[insert obscure player here] showed promise in the last two games", when the Saints and Falcons rested their starters.

For 20 years, the Panthers have been "just good enough" to justify holding on to noodle-armed, excessively-emotional quarterbacks, overly-conservative coaches and inept general managers as they continue to ride the Super Bowl high from fucking ten years ago. Seriously, it was ten years ago and we fucking lost.

Oh, and add to that the fact that unless we're playing the Seahawks, Jaguars, Cardinals or Titans, our stadium will undoubtedly be overrun by "transplant" fans of the opposing teams. This means that if I do decide to spend $25 on parking and $9 for a "premium" (read: watery Carolina Blonde) beer at Jerry's House of Horrors, I'll inevitably find myself sitting directly behind some overweight assclown in a Tommy Maddox jersey wearing white socks and Tevas.

Our receivers consist of a 34-year-old Steve Smith and 5 or 6 other guys who would make Aaron Rodgers look like Jimmy Clausen in a hailstorm.

Finally, we are a team focused on playing the ol' tried-and-true "run-the-ball/stop-the-run" mentality… ten years after that style of football actually worked. I can't tell you how many times in the past two years we've gone on 10-minute, 12-play drives that result in a field goal only to see our sieve-like defense relinquish a passing touchdown before our friggin' quarterback can even get his helmet off. It's absolutely mind-numbing.
Richard:
We can just stop at the logo. I still remember the crushing disappointment of seeing it for the first time after being so excited my hometown was getting an NFL franchise. It was terrible in '93 and it's still the fucking logo twenty years later. Pretty sure Jerry Richardson walked into a Columbia, SC tattoo shop and asked what the most people with the fewest teeth were getting inked onto their shoulder blades these days, and that is what the guy showed him.
Jeff:
Finally the team has a good quarterback and the state of NC hates him because "he celebrates too much", code for "too black"
Bill:
The owner conned the city into 90 million bucks, increasing the food/beverage tax in the county by 1%.....then donated $10 million for the naming rights to a college so the stadium would say Jerry Richardson Stadium.

Also the team still has too many running backs.
George:
Can you believe this team has actually been around for 18 seasons?? I'm 32 and have been watching them since their inaugural season, but I still take a look over my shoulder and switch the channel to the Redskins if no one's looking.
Curry:
Football season is the one time a year where Charlotte's hillbilly north side and the pseudo-esteemed old money south side and rendezvous in disappointment.

Every year they introduce something lame and try to sell it to the fanbase. Last year it was "Keep Pounding." There was a "keep pounding" drum, that they obnoxiously bang at random times during the game. They also strolled out the Panther drumline. From the club level it looks like a group of area homeless were selected to "lip sync" the drumming.

Jerry Richardson refuses to update the stadium music. Rap music post-2004 will not be played at Bank of America this season and it is likely that fans will be pumped up with a song from SmashMouth's greatest hits. Any instant replay must be watched in 120p on our 60-inch fifteen year old videoboards. We refuse to update talent on the field and instead mask mediocrity with 15-year, 200 million dollar contracts that would make Al Davis cringe.

I watch most games in Austin, Texas & I have gone to sports bars where the bartender has actually refused to switch any TV to the Panthers game.
Bill:
Jake Delhomme is our franchise leader in, brace yourself, Passing yards, Completions, Touchdowns, Playoff Wins, and is the winningest Panthers quarterback of all time.
Wyatt:
The only reason people go to Panthers games are because they finally get to see their favorite team in person and that team is never ever ever ever the Panthers—it's always the visiting team.
Andrew:
I hope I'm not the only person that is sick of feeling like the pro football team in the state I grew up in is the 5th most popular team in the state next to:

1. Leftover racist Redskins fans from the days when they were Dixie's Team.

2. Leftover Cowboys fans who were only 'Boys fans because they were mostly black and appropriately hated the Redskins. They mostly still just look like Cowboys fans because they can't sell all their old bootleg Emmitt Smith jerseys at the bus station.

3. The fucking YINZ ARN CITY BEER BIG BENZ DA MAN YINZ YINZ Pittsburgh diaspora, which fled the Midwestern Rust Belt Dumpster Fire for shitty banking jobs in Charlotte. These are the sort of people who blame unions for making them leave their homes and then vote for chucklefucks like Pat McCrory because they're hard workin Americans.

4. And The Buffalo Bills diaspora, and it doesn't speak well of the Panthers that they can't win over THOSE people.
Jamie:
Ryan Kalil took out a fucking full page ad last year promising us a Super Bowl victory and then got himself injured in the fifth week. I'm not sure if that was karma or just general suckitude.

At least there hasn't been an ad this year, so maybe we can actually break even for the first time since 2009.
Jeremy:
There's a good chance that the owner of this football team is a Parade magazine subscriber.
Will:
There are two players considered to be the "Greatest Panthers." One is a linebacker who played most of his career in New Orleans, the other is a goddamn kicker who fucked up a kickoff in the Super Bowl.

Speaking of Cam Newton: He's a fantastic quarterback! I'm glad he's on my favorite team! However, if he celebrates too much, the fans say "He needs to be a leader and be calm and act like he's been there before." If he's on the sidelines with a towel on his head, those same fans say "He needs to be a leader and get fired up! Show some emotion!"

At some point, Cam Newton is going to get a white girlfriend and the state of North Carolina is going to devolve into a Margaret Atwood-style dystopian wasteland.
Smokey:
We have a goddamn Na'vi as our 3rd string QB/ostrich.
Kurt:
The Panthers have gone 7-9 more years of their franchise than any other record. That kinda says who we are.

Also, fuck the Patriots. They think they're going through something with Aaron Hernandez?!? We invented this shit with Rae Carruth & we sure as hell didn't have Tim Tebow & Tom Brady around to help. I hope on the MNF game the Panthers & Patriots play against each other this year, Cam & Tom meet at midfield & Cam smacks Tom with a stolen laptop.
Discount Cleric:
They have a fan Code of Conduct that's more strict than the Little Sisters of the Poor could come up with.
Jake:
I'm already excited for us to start 1-6 again, but not have Richardson fire that moron Ron Rivera because he's too cheap to pay a coach to not coach for him. But Cam will do Cam things in the second half to keep us out of contention for a Top 10 pick, which is the worst.
Kellen:
The worst thing about being a Panthers fan is that they suck just enough to keep you watching until the end of the game. They are usually in the game enough that you can't comfortably switch to RedZone having already accepted the loss, but they are bad enough to guarantee you will have had significantly more beer by 4pm on a Sunday than you originally planned for.
Grant:
The greatest moment in franchise history involved Jake Delhomme and was ruined by an out-of-bounds squib kick.
Rich:
Will:
1. We all know that Cam is leaving after this contract is over, but refuse to acknowledge it.

2. Jake Delhomme is legitimately the most accomplished Panther QB of all time.

3. Rae Carruth jerseys (LOL bro) are still seen at Panther's games to this day.

4. This song.

Oh, and 5. Most fans' favorite Panther ever is a goddamn kicker who lost us the Super Bowl

Here's to 8-8!
Phil:
There are no Panthers fans. They are all either Falcons or Redskins fans that are just pretending to support their home team.
Jeff:
The Panthers did win something recently: NFL Network's Greatest Uniform in NFL History.

I voted for the Panthers multiple times. But the most embarrassing part is that I got excited over my favorite team winning a bullshit uniform contest.

As usual, I expect big things. And, as usual, I am prepared for big things not quite happening.
Andy:
Notwithstanding the absolute abortion of a disaster of an apocalypse of our previous general manager Marty Hurney, whose sins we'll spend the next 5 years recovering from (seriously, this is a guy who traded first-round picks away in consecutive drafts for the likes of Everette Brown and Jeff Otah), there are really only 3 things you need to know about the Carolina Panthers:

1) We are such an absolutely miserably pathetic organization that the SUREFIRE NUMBER ONE DRAFT PICK in 2011 (Andrew Luck) decided to go back to school rather than play for us. So instead we drafted Cam Newton, who admittedly is fun to watch but has four relevant wins in his 2-year NFL career.

2) The Carolina Panthers have been very much in the race for the #1 pick THREE YEARS IN A ROW at the two-thirds mark of the season. But in true Panthers' fashion, those three years have gone like this: Year 1 - Aforementioned slam-dunk #1 pick decides to avoid us, Year 2 - Team inexplicably rallies for 6-10 record, Year 3 - Team inexplicably rallies for 7-9 record. They can't even be shitty correctly. Instead they turn into the Monstars from Space Jam the second it doesn't matter anymore.

3) Despite the fact that we've sucked three years in a row and haven't been relevant in December for four years in a row, we somehow ended up with the most difficult schedule in the freaking league! How does this happen?
David:
I once went to a Hooters in North Carolina during Panthers game. No screens showing it. No Panthers jerseys either. All Redskins.
Jim:
Why would I be aggravated? All the Panthers did was use all their cap space to re-sign players from a 2-14 team.
---
Wanna be part of the Deadspin NFL previews? It's simple. Just email me and give me ample evidence of why your team sucks: personal anecdotes, encounters with fans, etc. I'll throw any good material into the post and give you proper credit. Next team up: Atlanta Falcons.