Some people are fans of the Tampa Bay Buccaneers. But many, many more people are NOT fans of the Tampa Bay Buccaneers. This 2016 Deadspin NFL team preview is for those in the latter group. Read all the previews so far here. And buy Drew's new book here.

Your team: Tampa Bay Buccaneers.
Your 2015 record: 6-10, including that one game where they blew a 24-0 lead to Washington and allowed THIS to happen…
G/O Media may get a commission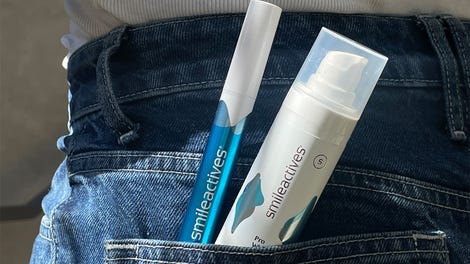 58% off
Whitening Powerhouse Pen & Gel Duo
LOOK WHAT YOU ASSHOLES DID. Thanks to your nincompoopery, Dan Snyder and the motherfucking Redskins have a reason to feel good about themselves. Great job. Why don't you go ahead and campaign for Trump while you're at it?
That miserable defensive showing helped lead to the ouster of head coach Lovie Smith (which they fucked up) and the hiring of…
Your coach: Dirk Koetter. Yes, the immortal Dirk Koetter, who went 40-34 in six seasons as head coach at Arizona State. THIS is the guy that Bucs management desperately needed to hold onto at Lovie's expense. God forbid the Eagles had swooped in and absconded with this offensive Stephen Hawking.
After watching supposed gurus like Norv Turner and Mike Martz and Marc Trestman come and go in this league, I'm convinced that there are no good quarterback coaches out there. They're all frauds and megalomaniacs. And elevating one of them to a position of ultimate authority just to shelter a franchise quarterback is always a rotten idea, especially when that franchise quarterback happens to be…
Your quarterback: Play the GIF. I know I did this last year, but play it again…
Even if Jameis Winston wins five Super Bowls and shrugs off eight more rape allegations, I want that GIF to be his epitaph.
But let's pause the trolljob for a moment, because there's no good way to talk about Jameis Winston. Ask The Undefeated, which clumsily attempted to wash his balls earlier this summer. LOOK AT HIM SURROUNDED BY CHILDREN! Why, he's like a giant teddy bear, he is! Or look at this ridiculous, ham-handed Peter King profile:
"In college, I was up under this microscope everywhere I went. I couldn't go to class without somebody stalking me or asking me for something, an autograph or a picture."
Jesus. What a fucking dipshit. It's like they made Brock Turner the face of the league. This kind of defensive navel-gazing is exactly why some fans aren't willing to forgive or forget Jameis anytime soon. This guy slithered seamlessly into the loving arms of the NFL access economy like it was nothing at all.
Like Leitch said back in December, "This is the final year we'll all be able to pretend Jameis Winston isn't one of the best players in the NFL." And it's true. Winston is a very promising quarterback who has had an entire institutions—from campus police to coaches to prosecutors—jump on grenade after grenade in order to protect him from any serious inquiry into his alleged criminal wrongdoings. That chicanery isn't some goofy conspiracy theory. It's a fact. And now the Bucs and the NFL media are joining in on his brand refurbishment.
All that good ol' boying has actually ended up having its own permanent, detrimental effect on Winston's reputation. There was no credibility to how he beat the rap, which is why every attempt to redirect public attention onto his UNSLAKABLE THIRST FOR WATCHING TAPE feels transparent and repugnant. The whole Winston thing is gross, and it always will be. I feel like I'm watching Big Ben play in the nude. If you're a Bucs fan, you have two choices when it comes to rooting for Jameis: A) Reluctantly, with clenched teeth or B) Going full bro mode and acting as both his fan AND legal counsel. I have encountered people who chose the latter option online. You don't want to emulate FSU Twitter.
By the way, if karma decides to rip off both of Jameis's kneecaps, Mike Glennon and his ginger freak neck are still here for backup. They hand out free safari gear to stadium patrons whenever he takes the field.
What's new that sucks: AHAHAHAHAHAHA YOU DRAFTED A FUCKING KICKER IN THE SECOND ROUND YOU LOSERS. Not only that, but the team website is in active denial over how badly the team reached:
You could go 19-0 and win a Super Bowl with a roster of 20 All-Pros and it would STILL be a bad idea to draft a kicker that high. This is all part of the Bucs' flimsy scheme to draft as many FSU players as possible to make both fans and Winston happy. Scott Bentley will be named Director of Concession Operations a week from now.
In other news… MIKO.
She's all yours now, Tampa. I hope she spends the entire season giving Doug Martin nicknames he doesn't like.
What has always sucked: Oh, you mean Tampa? Staph City? America's Titty Bar? The Midwest with palm trees? Miami for stupid people? Beyoncé's personal rehearsal space? A town that actually named a school after George Fucking Steinbrenner? Where the main export is road rage? That city? Oh yeah, that place is a gem. Our Tim Burke resides in Tampa, and every day he regales us with updates about the place… including passed ordinances to replace all day care providers with baby alligators, local newspapers bought out by white power fronts, and mass local panic over recalled breast implants. Let's check in on the city's offseason!
A pride flag waving outside the Hillsborough County center was meant to be a sign of respect and remembrance for the victims of the shooting at an LGBT nightclub in Orlando. But just a day after it was raised, Commissioner Stacy White said… he received an anonymous complaint from a county employee that the presence of the flag was "nearly unbearable" for her to pass on her way to work and created a "hostile work environment."
Oh! Oh, well that's groovy. I can see how Jameis might flourish around these parts. Did you know the NHL outdraws the NFL here? Did you know that the Bucs use a religious cult that practices indentured servitude to help sell you peanuts? This team blows, and the town is a sewer of puke. The only reason people live here is because they're fleeing child support payments and/or into giving boat tours. It's not a viable American city. We should burn it.
What might not suck: For real though, that kicker is fantastic. You're gonna need him when Mike Evans makes a breathtaking circus catch at the 20 and then drops three subsequent passes.
Let's remember some Bucs:
James Wilder

Broderick Thomas

Reggie Cobb

Shelton Quarles

Michael Clayton

Hear it from Bucs fans!
Ryan:
I hate this team so much. So very very very much.
Matt:
I just lost my job and have nothing to do with my day so here we are...

Jameis is pretty good! Somehow the Tampa Bay Buccaneers have an honest-to-god franchise quarterback. And while I want to say that this the karmic result of decades of DeBergs and Ericksons and Grieses and Gradkowskis, you and I know the truth. We all know the truth.

This will not last. Not in Tampa.

See, we are systematically designed to waste and divert quarterback talent. Doug Williams, Steve Young, and even all-time Buccaneers wins leader Trent Dilfer brought home the bacon once they left, and while Dilfer did nothing to achieve this feat I made sure to mention him because he's our all-time winningest QB. Do you honestly believe Aaron Rodgers would be anywhere near as good as he is if the Bucs took him when they had the chance? Of course not! His inevitable reward for winning the starting gig from Chris Simms would've been a ruptured spleen. It is known.

Onto the draft. Forget that we drafted a kicker in the second round. Forget that out first round pick completes our master plan of defending Julio Jones and Kelvin Benjamin twice a year each with a barrage of 5'10 slot corners. Here's the big news: we just spent a sixth round pick on a white-person-who-sometimes-runs-the-ball. Thusly, we hath have anointed him the second coming of Mike Alstott - a man that our fanbase not only inexplicably believes belongs in the Hall Of Fame, but that he has was royally shafted for not making it on the first ballot.

On that note, here's a brief list players with more career rushing yards than Chris Berman's favorite vocal exercise:

Antowain Smith

Willie Parker

Michael Pittman

Rudi Johnson

Ronnie Brown

Cedric Benson

Travis Henry

Duce Staley

James Stewart

Natrone Means

Obviously there's a lot more where that came from, but it's important to note that though Mike Alstott can be accurately quantified as 1.2 Rashard Mendenhalls and people here are OUTRAGED that he doesn't have a place in Canton next to Jerome Bettis. All the while Warrick Dunn has over twice as many rushing yards and nobody in Tampa holds a torch for him. Just goes to show an extra 8,000 all-purpose yards and 100+ houses built for and donated to single moms don't make up for a melanin deficiency in the eyes of our fans and local media. Despite all of this, I 100% believe that Mike Alstott belongs in the Hall Of Fame and will continue to masturbate furiously to his highlight reel until I go impotent.

Let's just say that Raymond James Stadium is a wonderful place to be on a September afternoon, provided you enjoy being bukkake'd by the fucking sun.
Craig:
I expect your inbox will over flow with messages about trading up to draft a kicker in the second round this year, and rightfully so.

In reality the bigger issue here is that the team has basically become the Florida equivalent of the Jets. A team that believes that its lone Super Bowl win is somehow relevant to the current incarnation of a team that which has an inferiority complex not just derived from consistently superior talent in its Division, but also a cross market team in another conference. Except instead of the Giants, it's the freaking Dolphins!

That kicker was drafted in the second round? I'm sure the fact that he played for an in-state University didn't factor into the decision making at all, or the 5'9" cornerback they drafted in the first round, or last year's first overall pick. We may not be the best team, but we'll always be the most Florida team.
Like any fanbase, there are smart Buccaneers fans, and there are Bucs fans who are dumb as a fencepost, but among them all there seems to be a kind of blanket blindness to hypocrisy about domestic violence and sexual assault.

You can probably see where I'm going with this.

Maybe it's the perennial underdog status. When you're that low that often, you feel like you have a right to lash out at anyone. If almost everyone is better than you, any tool to undermine their success is permissible. Bucs fans usually don't have much going for them. By Week 9, when someone will hand you a free ticket to a Bucs game for little more than being able to fog a mirror, they have even less. So the focus transitions from the on-field product, which is usually indefensible, to anything off-field that can make fans feel better. And out comes the trash-talk about every rapist, wife-beater and goon on any team in the NFL.

Because my wife hates a lot of sports and because Tim Burke is always locked inside his command center, last year Tim's wife and I went out to watch some ballgames during the offseason at a local joint called Eats, a kind of sub-Chili's with free homemade potato chips, a good beer selection and a beef on weck that's passable if you close your eyes and are hungry enough.

There was a group of middle-aged professionals behind us. Guys in nice chinos and wearing shoes on the weekend that started at $100, with a pair of women holding court at the bar, legs jackknifed in tall bar stools and an expression like they were used to being heard and agreed with.

They started by trash-talking other teams before segueing seamlessly into a five-minute group discussion about the perfidy and repugnance of the Apple corporation. Someone mentioned the Mike Daisey documentary about Apple's factories in China. There was the cost of their products relative to competitors'. One went on at length about how Apple's proprietary software stifles app innovation and represents a betrayal not only of free enterprise but everything America stands for. Apple, the others agreed, was downright unAmerican.

"I will not buy Apple," a man said.

"They're disgusting. Apple is morally disgusting," one of the women said.

They all agreed and drank.

Five minutes later, they all stood, shots aloft, and toasted to "Raymond Jameis Stadium."
RB:
In 2012 I purchased a LeGarrette Blount jersey. In 2013 I purchased a Darrelle Revis jersey. I obviously have good taste because they both have Super Bowl rings now, with a different team.

Jameis Winston is a top 5 QB of all time for our franchise after one freaking season.

Our franchise is given so little respect that in 2013, Lavonte David was the best in the league at his position and even broke several records and still didn't make the Pro Bowl.

Five straight losing seasons and 4th place division finishes and our fans still think we'll suddenly be good enough to make the playoffs this year.
Paul:
1. Our defense is still under construction. We have no idea how our defensive line and secondary is going to play.

2. While the draft took care of serious talent needs at Cornerback and Defensive End, overall depth on defense - and the Safety spots - are questionable at best.

3. DID WE SERIOUSLY USE A SECOND ROUND PICK ON A KICKER?!

4. DID WE TRADE AWAY A PICK TO DRAFT THAT KICKER?

5. While our offensive line improved a lot this past season compared to the previous three years, there are still concerns with our Center and with Tackle depth.

6. What is our Wide Receiver situation past Evans and Jackson? Will Evans stay healthy and get better his third year in? Will Jackson stay healthy and remain a sound veteran presence that gets us first downs and touchdowns?

7. Do we have any Tight Ends we can rely on?

On the bright side, we're getting new stadium speakers!
Chris:
We hired Lovie Smith trying to bring back glory days and a dead defense from 15 years ago when we had Sapp and Brooks and Lynch and Barber...but actually without any of those guys.

We blew Lovie out of here (rightfully) after two piss-awful seasons and hired a guy who looks like a grown-up version of Doug from the Nickelodeon show.

If you did a Venn diagram with over-served losers at Raymond James stadium with their shirt off trying their hardest to not cross the racist line and local Trump supporters, it would all meet in the middle.

The hockey team is insanely more popular than the freaking NFL team. THE HOCKEY TEAM IN FLORIDA.
Brendan:
There's no real reason to write up why the Bucs suck. Winless season, check. League's worst uniforms, check. Decades of irrelevance, check. Blacked out home games, check. The Bucs are the Gold Standard of shitty NFL teams.

I'm here to tell you why Tampa sucks. You won't find a blander, more unoriginal city in this country. It's like a mid-size Midwest city, but with overrated strip clubs, humidity and crime. If you don't believe me, come to downtown Tampa. We don't have what most people think of as a downtown. In real cities, a downtown is the historical, cultural and commercial heart of the community. Tampa's downtown is basically a large office park. And at 5:01 pm it's as desolate as the moon. But it's perfect for this community. There's no art scene, no food scene, no music scene. When was the last time you said "I really like this new band from Tampa?". There's no culture, no history. The music scene is good if you're ok with catching Rascal Flatts at the 1-800 Ask Gary Ampetheatre out on Interstate 4 (across from the Hard Rock Casino).

Lately the mayor's office has been putting out videos about the new River Walk downtown. Like Bayshore Blvd, it's a long pedestrian walkway along the water. Both are quite well done, but it says something when the two best civic amenities are sidewalks. And we're years behind the rest of the country. People rave about the local craft beer scene, as if this hasn't been a thing for 20 years in other cities.

To say Tampa is unoriginal, bland and corporate is an understatement. There is nothing in Tampa you can't find in 10 other cities. This has one advantage however. Being from Tampa means travelling is an adventure. You get to see things you may have never seen before! Pre-war architecture? What! Light rail!? Crazy! Thriving, walkable neighborhoods!? Where are the cars? And then you fly back to Tampa. You get in your car and drive home, rolling through miles and miles of suburban sprawl and realize that you chose to live in a city about as authentic as an airport terminal.
Mark:
The 2016 Atlantic hurricane season is technically supposed to end on November 30, 2016. I would counter that it will indefinitely continue as long as the new mouth of the south Miko Grimes has access to social media so she can make anti-Semitic remarks about her husband's (Brent Grimes) former employers in Miami, not realizing that Tampa's owner are also Jewish, and her eventual turn on the Bucs once we slip back into the damning mediocrity (or worse) we've had for the past ten plus years. Over/under on how long the rapist comments start coming Jameis' way from Hurricane Miko?
LaDainian:
How bad do you have to be at marketing to have no fans when your team is pirate themed and has a pirate ship that shoots cannons when the home team scores?
Dean:
As a Bucs fan, I am more optimistic for this upcoming football season than I've been since after the 2010 season (the halcyon days when Josh Freeman was coming off of a 25 TD/6 INT season and looked like he'd be worth a damn), and I still believe that the best case scenario for this team is 7-9. My reason for optimism is that our reformed rapist of a QB isn't as fat as he was last season. Can't wait until we're relocated to London.
Mitchell:
I will never forgive myself for selecting this team to be my favourite. I hate myself for the optimism I feel every summer leading into training camp, only to have this collection of assholes break my heart by Week 6. But I still sit there like an asshole watching the games wearing my jersey, thinking that maybe this team won't be a complete fucking joke for the rest of my lifetime. Last season started off with tons of optimism with our shiny new crab stealing QB, and in Week 1 we just roll over and let the Titans score 42 against us. That game set the tone for the entire season, and did permanent damage to my liver.

Lovie is gone now, which is good, I guess... And I don't think any of our players got MRSA from the training facility this offseason, so there's an improvement. Oh ya, we traded up to select a fucking kicker.

Fuck Greg Schiano forever and fuck all of his Schiano Men.
Todd:
I'm a Bucs fan with literally no ties to the Tampa area. When people ask me why, my straight-faced reply is always "Because I make terrible life decisions."

Nobody even questions it.
Adam:
We had one good team—thanks to Derrick Brooks, Warren Sapp, Warrick Dunn, and Ronde Barber—but ask anyone in Tampa and they'll tell you how John Lynch and Mike Alstott single-handedly won that Super Bowl with GRIT 'N' HARD-NOSED FOOTBAWW SON. Anyway, it's a good thing there's a damn pirate ship in that stadium, cuz the whole thing is essentially an enormous above-ground pool of trash idiot sweat that'll flood as soon as the next hurricane hits.

Going to a Bucs game is like being at a Trump rally, if he held it in a Florida state prison. I assume this guy is the mayor of Tampa:
Eddie:
With 9-10 major holes still on the roster, we just spent a high 3rd rounder and a 4th rounder to move up to the 2nd round and take a kicker. The front office's logic? That extra fourth rounder was acquired by moving down a couple spots in the first round, and therefore doesn't really count. So we're now using the same logic as casino losers.

This was like having $300 to spend on your house and instead of getting your broken air conditioner or TV repaired, you opted for some really bitchin' Halloween decorations.
Chris:

After "Youngry" Raheem Morris and "Toes on the Line" Greg Schiano, I was legitimately excited about the Lovie Smith hire. Fuck me. May he forever go 3-9 at Illinois.
Submissions for the 2016 NFL previews are now closed. Next up: New York Giants.