Some people are fans of the New Orleans Saints. But many, many more people are NOT fans of the New Orleans Saints. This 2017 Deadspin NFL team preview is for those in the latter group. Read all the previews so far here.

Your team: GUMBO GUMBO GUMBO GUMBO GUMBO GUMBO LOOKS LIKE A GOOD DAY FOR SQUIRREL HUNTIN' GUMBO GUMBO GUMBO
Your 2016 record: 7-9. That's three straight years of 7-9, and four out of the past five years. Jeff Fisher is in AWE of this consistency. If you haven't realized it by now, both the Saints and the city of New Orleans are clearly content with a team that can pass for 50 gazillion yards a season and do nothing else correctly. That 2009 title? That was it. They're never winning another title again. They're taking their fluke ring and going to the bar.
In brighter news, every two-point play this team participates in is awfully fun. Ask Jack Del Rio, or the Denver Broncos!
G/O Media may get a commission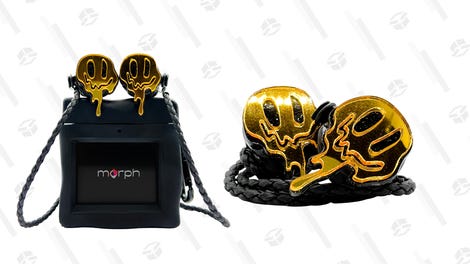 morph audio
Morph Earphones
Your coach: Sean Payton. I will never get tired of Junior Galette accusing Payton of moving the team's training camp all the way to West Virginia just so he could bone his girlfriend. It's the perfect Sean Payton rumor. I don't even think he even bothers to call plays anymore. I think he spends all his time on the sideline drawing up guest lists and figuring out ways to blame shit on his d-coordinator.
Your quarterback: Drew Brees, who could be 68 years old and would still be able to pass for 5,000 of the least consequential yards you've ever seen, then turn around and star in an ad for magic towels. Russell Wilson gets a lot of shit for being a corny brandbot, but Old Man Brees mastered that game before Russ was googling love poems in middle school. I've said it before and I'll say it again, you're gonna HATE Drew Brees when he becomes an announcer. He will be the blandest, boringest studio guy in history. I can already picture him sitting at the CBS desk being like, "The question for this Saints team is… WHO IS GONNA STEP UP?" Garf.
You may not realize it, but Brees has settled nicely into the second phase of his career as Really Good Archie Manning. He plays on shitty team after shitty team, and somehow his rep doesn't suffer for it. Everything is everyone else's fault. Meanwhile he's good for at least two casual picks a game. I'm onto you, Brees. You're Archie-ing up the joint. I bet Tennessee is already recruiting your headset baby.
What's new that sucks: Ohhhhhhhhh. Ohhhhhhhhhh, people. Let me walk you crawdad humpers through the Adrian Peterson experience. After all, this is the shitbag who helped gift you the 2009 NFC title, so it's only fair to warn you for what's in store. First, you're gonna see him in a Saints uniform, and you're gonna watch him bust through to the third level and trample some fuckers, and you will absolutely lose your shit. It's a great feeling. That's the moment you consecrate your agreement with Satan.
And then the bill comes due. After all those cool runs, you will see Peterson get hurt, and drop passes, and whiff on critical pass blocks, and silently fume about not getting enough carries and/or not being used in the I-formation (he literally cannot function in any other offense), and whip his kids in the nutsack. Now, I know that Louisiana is the perfect landing spot for someone who believes in the all-encompassing power of corporal punishment. But even by those standards, Peterson takes GRAND liberties. He's probably beaten my kids at some point when I wasn't looking. They likely deserved it.
I haven't gotten to the fumbles yet. I will never cease to be baffled by this man's penchant for fumbling. He hands could crush stone. And yet, he fumbles in every. Single. Critical. Moment. I swear to you, I have spent YEARS yelling DON'T FUCKING FUMBLE at the TV screen only to watch Adrian Peterson do precisely that. And he'll fuck you over, too. You're not the Patriots. You're not magic. You don't get all the good of the player with none of the bad. You're getting the full Peterson display. He is man who has zero interest in self-improvement, and he's gonna be stuck in a goddamn committee backfield to boot. This will end badly, I promise.
Elsewhere on the field, the Saints are still near the top of the league in dead cap money, which means they had to perform the kind of accounting voodoo normally confined to the Louisiana state capital. They practically have to pay players in beads at this point. Here's Ted Ginn, ready to drop 75 passes a season. Here's Manti Te'o, who will finally be able to communicate with the spirit of Lennay Kekua with a visit to a local witch doctor. Here's rookie Marshon Lattimore, yet another token effort to improve what manages to be the worst pass defense in football history every successive year. Nick Fairley is already gone for the year. This defense will never ever be good. You'd have an easier time building a functional school in this state.
Darren Sharper went to jail. You guys demanded Malcolm Butler from the Pats in exchange for Brandin Cooks and when they balked, you gave them Cooks anyway. What the fuck is wrong with you? Did I mention the Saints play their first home game against the Pats? They're gonna torch you.
What has always sucked: No fanbase gets more riled up when you take a shit on their homeland, so let's do that right now. I know you guys are very proud of your bad music and your gravy soup and your shrimp subs, but go to hell. Louisiana is a hole. The only thing keeping that state running is prison slave labor. And New Orleans is just Disney World for drunken idiots. Bourbon Street is Times Square with more shit and vomit, and you don't get to disown it. This year's Jazz Fest was headlined by Dave Matthews bringing out Jimmy Buffett. David Duke made his name in New Orleans.
Every two-bit David Simon that makes his way through New Orleans wants to lecture you about the city's culture and heritage. Meanwhile, your average Saints fan is a trash-ass 300-lb. mouthbreather carrying a baby upside down, and vowing to personally rebuild every Confederate monument, and never, at any time, speaking below a shout. A bag on the head improves the look of pretty much every Saints fan. SO GO SUCK ON SOME DIRTY RICE, YOU SHITBAGS.
Did you know? Okay, this billboard is amusing…
Or at least it was until I read the copy from the company that wants to put it up. "In New Orleans we take history seriously." Hey, you know who else takes history seriously? OTHER PEOPLE YOU PROVINCIAL ASSHOLES. Saints fans are gonna milk 28-3 longer than their own Super Bowl victory, and it's gonna be weird. I still say your rivalry with Atlanta is fake anyway.
What might not suck: With a mildly improved O-line, I'm excited to watch the Saints lose every game 51-50. They've perfected it.
HEAR IT FROM SAINTS FANS!
Lealand:
Sean Payton has more 7-9 seasons than Jeff Fisher.
Ralph:
The Saints were so happy the Patriots kept the Falcons from winning the Super Bowl, they sent their best receiver to Belichick for an offensive tackle with the hip of 70 year-old-woman.
Jude:
I'd rather cheer for yellow fever at this point.
John:
I love watching my team score with less than two minutes remaining in the game and still blow it. Fuck this team.
Brett:
The Saints suck because it's a dozen years after Katrina and this goddamn city is still flooding when it merely rains for a couple of hours. Oh but wait, it gets better — do you know what I was woken up by at 3am this morning? I got a goddamn Amber Alert-type alarm going off on my phone to let me know that the turbine powering the city's main pumping stations is fucked because of a fire, so now the city is even MORE susceptible to flooding that it was just a few days ago when people were kayaking to their local bars to get a beer. 

To add another layer of shit icing on top of this shit cake, the dipshit who heads the city agency responsible for this unfathomable fuckery resigned this week and will be receiving a pension of $176k per year for the rest of his life in exchange for his incompetent service to the community. This on top of the fact that all of us who live here regularly have to boil our water for days because the systems designed to provide us with safe tap water frequently fail. Want to experience life in a Third World Country but don't want to leave the U.S. to do so? Come to New Orleans!

This city is so ass-backwards — we don't deserve an NFL team, even one that sucks and goes 7-9 each year.
Cameron:
Saints games are decided by whoever wins the coin toss and scores first. We pay Brees a zillion dollars so he'll drag his ass out and play from 2 touchdowns down all year. When he hands off to ADP, they'll be a total of 70 years old. Fuck this.
Mike:
My girlfriend (a Packers fan) has relegated the Saints to be only watched on a laptop screen instead of the main giant TV.
Justin:
There will be a shit-stained morass of poor play calling (please don't think that having a future hall of fame running back will prevent a 12-step dropback pass on third and 1/2) fundamental lack of understanding of coverages, tackling, really anything relating to a defensive effort, and 14 interceptions on 3rd and 19 with 7 seconds to go. God my balls already hurt.
Blake:
Our expectations as a fan base are so low that a SB win over seven years ago and the Falcons shitting themselves on TV in front of literally everyone on the planet feels like all we are ever going to get from a lifetime fan experience and we are all basically satisfied with that. Fuck Vaughn Dunbar and triple fuck Joe Vitt with his pail of OxyContin.
Philip:
Mickey Loomis. There is no better evidence that Tom Benson has the mental capacity of a $17 C- po´boy than that this moron continues to run our front office. I can't wait to see what the smirking dipshit does with $30 million in cap space: Pay JPP a contract at $10 million per finger? Sign Revis Island? I'm sure there's some guy who was a superstar in 2012 that I'm forgetting. Either way, fuck the Falcons in the ass with a 25-point lead.
John:

The fans all try and out fan each other. "Oh, you're not a true fan if you don't live in da city and listen to Bobby on WWL, or were around when Awwwchie played. I've been a fan since da days of da Dooome Patrol". Sure, I didn't grow up in a city that smells like an Applebee's restroom, but I'm not less of a fan.
Jake:
After just one day of OTAs, all you heard out of camp was how great Adrian Peterson looked. The other players and media members all got their nut watching him run through some dummies with NO pads on. "Ooooh look how fast he ran around that stationary pad!"

Dude is a below average pass blocker on a team that throws it 120% of the time and he isn't much better catching the ball out of the backfield. That doesn't stop all the Hand-Grenade filled, delusional ass fans from screaming about how he is going to rush for 2,000 yards on the way to the Super Bowl. The real reason AP signed with the Saints is bc beating your kids is encouraged in Louisiana and the fans think that just shows that he has that coveted "mean streak".

Guaranteed the first home game vs the Pats there is going to be some dumbass fan with a sign that reads "AP, BEAT THE PATS LIKE YOU BEAT YOUR KIDS!" At least he will blow out a knee in week 3 so I won't have to hear about how the reason they are losing is bc they aren't giving AP the ball enough. Then him and Sean Payton can spend the rest of the season free-basing Vicodin on the sidelines while Brees drags this sorry ass team to another 7-9 season.
Becky:
Another 7-9 season. When the Rams fired Jeff Fisher, that joke officially became ours. It's like 7-9 is a goal for this team.

We traded one of our best receivers to a team that doesn't even need him. I honestly have no snarky response to this. It was a whole new level of stupid.

The only thing our fan base has to be happy about is Atlanta blowing a 25-point lead in the Super Bowl. We can go 7-9 for the next 10 seasons and that shit will never not be funny to me. Misery loves company.

We paid Nick Fairley a shit ton of money, then found out he has a serious heart condition and may never play again because that's what the Saints do.

We signed child abuser Adrian Peterson. He'll have a monster game week 1 against the Vikings and then probably never be heard from again.

At least we cut Jarius Byrd. We still have like $15 million in dead money because Mickey Loomis loves overpaying for washed up/injured players.

This team is so underwhelming that I have shifted my attention almost completely to the Pelicans. Trading for Boogie was the smartest thing Dell Demps has done, which isn't much because Omer Asik is still on the team.
John:
The further that Super Bowl win recedes in the rear view, the harder it is to get worked up over this team. At least when they were spectacularly awful, that was something to talk about. They're aggressively mediocre now.

What's left? Rob Ryan is off with his brother to terrorize casual dining full time. Adrian Peterson is here just in time for this fanbase to forget about what he did to his son's nuts.

This team is boring and this town smells like five different kinds of piss.
Marshall:
A literal layout of the last 3 seasons:

Start off 1-3: Playoff chances dropping

Climb up to 4-4: Possible hope for the playoffs (in the case of 2014, on top of the division)

Drop the next 3-4 games: Fans online saying they should throw all remaining games for a good draft pick.

Win 2-3 games and climb up to 7-9: So much for a #10 draft pick

We're a consistent 7-9 team in a division that's hardly ever consistent. I don't like the fact that in the last three seasons my happiest moment was watching our most hated rival choke in the most epic way in the biggest game of the year.
ZJF:
Sean Payton is a shitty coach and the Saints have been horrible since Gregg Williams left.

Saints with Payton as HC (w/ Williams as DC):

Seasons: 10 (3)

Postseasons: 5 (3)

Postseason Ws: 6 (4)

Super Bowls: 1 (1)

2010 was a long time ago, time to cut Payton and Brees loose.
Devin:
Every season, the Saints are still somehow mathematically eligible for the Playoffs Sunday morning of Week 17 and are out by 3-ish, meaning we're guaranteed to get the okayest pick in the first round of the Draft.
Bill:
The only thing harder to find than the NOPD after a robbery/murder/kidnapping is any kind of defensive effort. I look forward to doing the tortuous math late this year to find out if we have a 3 or a 2 percent chance at wildcard slot.
Foster:
Twelve years later and I still get asked how everyone in 'Nawlins' is doing after the storm... I quit going to games after they won the Super Bowl, mainly bc every asshole from Morgan City to Port Sulfur (yes, this is a real place, sounds lovely doesn't it?) started showing up for games wearing their Wal-Mart Drew Brees jerseys that aren't even the right color scheme... Even Heath Shuler showed his face around these here parts.

My dad told me the day I was born, the Saints had a kicker named Happy Fellar who shanked a kick that would have beaten the Jets. So I will be forever linked to failure of my team.

The only time I've ever worn a paper bag over my head was when I was in Big Daddy's in '92 and I pretended to be Hoby Brenner to get a free lap dance and house special cocktail(tabasco & chablis)...

Construction workers digging up Bourbon Street recently discovered that for decades, those reputable, distinguished restaurant owners along this historic avenue have been dumping their grease traps into the storm sewer. THAT, and THAT alone, is what gives Rue Bourbon its distinctive aroma.

This town is stacked up with Douchebag Bro Bachelor Parties & pickpockets, at least the pickpockets aren't asking every girl they see to show them their tits... in August... This place takes credit for Mardi Gras when in actuality it was first held in Mobile, Alabama... ALABAMA! Yes, our claim to fucking fame is a goddamn holiday you ripped off from your racist uncle two hours up the road!

Fuck Mike Ditka with his Trump brand cigars & fuck Dubya looking out of Air Force One, I was flipping you off from my rooftop you fucking redneck!
Ryne:
We now have a bunch of Jimmy John's here in New Orleans. Why you ask? Because Drew Brees is a Jimmy John's franchisee. Why would anyone eat fucking stale ass puke sandwiches from Jimmy John's?
Tyler:
I'm really excited to see Adrian Peterson for a total of 3 runs before he bursts into flames
Kyle:
Now would be a good time to announce that I've been offered a position at cornerback for the Saints. If you're reading this, you have been offered a position too! Please accept the Saints' offer because if you don't, I'll have to play alongside a cardboard cutout of Tracy Porter, a roomba and Cleatus.
Brad:
1) As I understand it, the owner receives more direct taxpayer support than probably the entire state educational system combined. Each time he utters the name "San Antonio" the state digs up more millions to shovel his way.

2) Despite being the land of gumbo gumbo jambalaya, the stadium food remains in the atrocious to mediocre range while somehow costing vast fortunes (see #2). Any given Sunday I could choose between redfish almandine with brabant potatoes and a fine cocktail at Galatoire's or lukewarm "Dome dogs" and generic light beer. Same price.

3) This division. This division is so strangely horrible. It's basically the Big 12 where some random team (not the Saints) gets to be Oklahoma that year and everyone else is Kansas. Except for 2009 (a season discussed daily by Saints fans) the Saints are . . . I don't know . . . Leach-era Texas Tech where they are going to mess up someone's season while struggling to approach bowl eligible. Yet this division keeps sending teams to (lose in) Super Bowls, and I pity the entire country for having to witness this.

4) In the 2014 season, my coworkers decided I had somehow cursed the Saints. So, before a Monday night game against Baltimore, they took me into the Quarter to try to find a voodoo priestess who could lift the curse. Most informed us that "the voodoo gods don't care about football," which was hard to believe, and then finally one of them offered to make a doll that would fix the curse. The price was $500 plus some of my "essence" (never clarified, but HIGHLY INTRIGUING). My coworkers were unwilling to front the bill, which calls into question their dedication. Drew Brees went on that evening to put up 420 yards and 3 TD passes in a game that, of course, the Saints LOST, depriving Brees of the chance to have a win against every team in the NFL. Again, defense (and good juju) is very important.

5) I can't tolerate hearing the phrase "Bountygate" one more time. Saints fandom is a religion. One pillar of that religion is that Roger Goodell spends most of his waking moments finding innovative and increasingly surreptitious ways to make this team lose. Just wait until the Saints are sitting at 2-4, and the talk around town will be that Goodell personally sabotaged the city's pumping stations the week before preseason games to facilitate flooding that would distract the team from playing good football.

6) This season Saints will play the Rams, Jets, and Bills. The Saints could score a combined 159 points in those three games and lose them all.
Alex:
The QB with the second-most TDs in franchise history behind Brees? No, not Archie Manning (though many fans assume so). It's Aaron Brooks, the human Madden glitch.
Tommy:
When I watch the defense give up 50 points a game again this year and not be able to pass rush their way out of a wet paper bag i'm going to be praying that AP whips my nutsack with a Texas sized 2x4
Rob:
A lot of us latecomers don't know how to root for a bad team, and it shows. Rather than accepting that wins tend to ebb and flow, and that our team currently sucks, we choose to hang our hats on the saddest little "victories." For example, a local t-shirt store just successfully crowd-funded a billboard in Atlanta depicting the scoreboard from right before the Falcons imploded in Super Bowl LI. People spent actual money on that.

The Saints can't run the football, or pass the football in inclement weather (which is apparently anything below 68 degrees), or stop the run, or stop the pass, or even just tackle a guy- seriously, color commentators are always generous enough to use euphemisms like "gang-tackled" and "swarmed," but WE ALL KNOW that's just a polite way of saying there isn't a single player on this team who is capable of making a tackle without someone else's help. It's like our front seven greases their hands during pregame warm-ups. The team is one sub-mediocre season away from being forced to embroider a scarlet "7-9" on its jerseys. But who cares? THEM DIRTY BIRDS CHOKED, Y'AWL!

At the New Orleans airport, there is a souvenir shop with a lot of local sports merchandise. It has a TV that plays the Saints' 2009-10 playoff run on a constant loop. It's just the Saints beating the Cardinals, the Vikings, and the Colts, over and over again. All day, every day, forever. I can think of no better way to encapsulate our current fan culture. We're already hung up on the "good old days," which is somehow made sadder by the fact that those days were less than a decade ago. If you told me I had to work in that store for a week, I'd snort a power drill.
Evan:
The Falcons blowing a 28-3 lead is the second-best thing that's happened in this franchise's 50-year history.
Chris:
We're wasting the final years of one the best to ever play QB b/c we're unable to put together a defense that would be competitive in the Big Sky conference.
Chris:
I will cope as all Saints fans do by getting blind drunk and playing out the season in hopes of another non-bounty aided miracle. Fuck Mike Ditka for even trying to coach us.
 Submissions for the Deadspin NFL previews are now closed. Next up: Philadelphia Eagles.