Some people are fans of the Los Angeles Rams. But many, many more people are NOT fans of the Los Angeles Rams. This 2018 Deadspin NFL team preview is for those in the latter group. Read all the previews so far here.

Your team: Los Angeles Rams.
Your 2017 record: 11-5. This was the Rams' first winning season in 14 years. Not only did they wash the stink of Jeff Fisher off themselves, they also stumbled bass ackwards into a good head coach, one who turned one of the most moribund offenses in football into something genuinely fun and exciting. And THIS is how Los Angeles reacted…
G/O Media may get a commission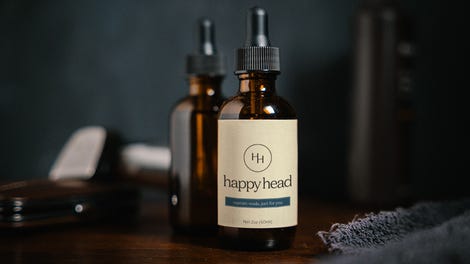 Meanwhile, a new MLS team set up shop right next door and people FLOODED the gates. It's not even the first MLS team in that city, mind you. And yet, the instant LAFC arrived, there were crowds on hand to cheer and sing and dance and create an entire sporting culture where there was once nothing. Meanwhile, the Rams make the playoffs and get welcomed like a fart in an elevator. Turns out that L.A. isn't a fertile market for football, but it IS a fertile market for sports that don't make you feel like shit! Who would have guessed?
Los Angeles gave you every possible hint that it doesn't care about football, Stan Kroenke. Did you listen? Of course not. For billionaires, listening is losing. I guarantee you could get more people to come to that stadium by replacing pro football with a dude reading old Jonathan Gold reviews out loud.
Your coach: Fun fact: If you Google "Sean McVay millennial," you get over 15,000 results. People just can't get enough of this be-stubbled young whippersnapper. He put Tupac into the audibles! Whoa hey, put away the Pepsi Zero there, kiddo! I feel like I'm trapped in a YOUTHQUAKE!!!
Every defensive-minded NFL head coach looks like a thumb, and every offensive-minded head coach looks like a mid-level executive at Theranos. "We believe that BLOOD is the truest form of content." Anyway, McVay presides over the offense and then literally sits on the sidelines and stares at playsheets on every defensive series. Maybe he should stand up pay more attention when, say, the Atlanta Falcons are handing his team its jock.
This coaching staff is like a street festival of nepotism. McVay's a boy wonder because his granddad was a coach. Aaron Kromer hired his son as a QB coach. Chris Shula is Don Shula's grandson. The defensive coordinator is Bum Phillips's son. The special teams coach is Jim Fassel's son. The running backs coach is Willie Peete's son and Rodney Peete's brother. Pick up a stray towel and you'll find a Trump cousin underneath. This is the most shameless example of cronyism the league has ever seen and yet the NFL is more than willing to pretend such privileges don't exist, and that Sean McVay is the youngest coach in history because he's a genius who looks like Tiny Gronk.
Your quarterback: Fancy marionette Jared Goff, who suddenly became a serviceable QB when McVay rolled into town, forced him to hurry to the line, and dictated exactly where to throw the ball before the helmet radio snapped off. Calling Jared Goff a system quarterback is an insult to system quarterbacks. Bethany Hamilton could throw for 300 yards in this offense. Jared Goff is little more than an overpriced delivery boy. The second he has to ad lib out there, you people are doomed.
What's new that sucks: Not since the 2000 Skins has an NFL team been so relentlessly determined to win the Super Bowl Of The Offseason. The Rams traded for/signed pretty much every grouchy dickhead in the NFL, as if they were hellbent on destroying this plucky young coach's creation before they even win a playoff game. They traded for serial chain-snatcher Aqib Talib. They traded a first rounder for Brandin Cooks and then handed him $50 million. They traded for stud corner Marcus Peters. They even reached into the Turd Jar and signed Ndamukong Suh to a deal.
Now, I'm here to tell you the net effect of all this high-profile wheeling and dealing: NOTHING. After all, what is Los Angeles but one very large and very beautiful disappointment? The Rams grabbed a bunch of name-brand players mostly for the sake of patching up lost production from guys who had already left (Trumaine Johnson, Sammy Watkins, Robert Quinn, etc). And I can basically guarantee you that the new guys are much more likely to sit on their money and ogle the waitstaff at Pearl's than live up to expectations. I can also guarantee you that fans here still won't care. Put Jesus himself on that team and it still wouldn't be enough star power to get people to come to the gate. I just watched a preseason game where the Rams were drowned out in their own stadium by Raiders fans. Everyone knows which team that town wanted back, and it wasn't this one. It'll never be this one. We got more letters from Chargers fans this year. Current ones! I swear it's true.
Also, the most important player on the team is staging his annual holdout, and there's nothing to indicate that Aaron Donald will be coming back anytime soon. Why would he when Cooks and Gurley just got nearly $100 million between them? Kroenke is worth $8 billion. He only had to shell out $12 million after murdering Reggie Bush. PAY AARON DONALD, YOU RUG-HEADED ASSHOLE.
What has always sucked: Only the food is cheap in Los Angeles. Everyone drinks and drives. Nothing is close to anything. Silicon Valley groupthink is slowly seeping into town, and somehow the tech poseurs are even worse than the showbiz poseurs. Every asshole with seed money in that town now will tell you he's a "storyteller." It's nauseating. Everybody in L.A. thinks they're important, but they're all just assholes who have to drive five hours a day. The gorgeous weather warps your brain and turns you into an entitled flake in three years or less. Half the city is on fire at any given moment. Standing next to a food truck for 25 minutes waiting for mediocre food is considered a revolutionary concept here.
Honestly, this city has no right to exist. It's less a city than a bunch of little gimmicky villages and unbearably hot production lots and hucksters in BMWs all loosely spackled together into a single, shitty metropolis. Only the ocean keeps L.A. from being a bigger affront to God than Las Vegas, and you people don't even bother to use it. The cops are scum. Every social group in town ends up feeling like a cult. The city is ground zero for every insufferable health trend. The Pacific Coast Highway is the most beautiful, unusable road in the world. Every movie executive is an octopus-armed lecher who donated to the Clinton campaign. L.A. is nothing more than a gigantic letdown of a city where your movie will never get made, you're never gonna put up with all the traffic to go to the beach, and every celebrity you spot will be shorter and uglier in person. Like the Rams, Los Angeles is incredibly pretty and depressingly empty. Spend your money on the dopey MLS team instead.
Kobe is an overrated psychopath. LeBron will never make it to the conference finals with that busted-ass Lakers team.
What might not suck: Can anything truly suck if no one is there to witness it sucking? That is the greatest riddle of this, The Awful Century.
Let's remember a guy who sucked: I'm gonna let reader Ben handle this one:
HEAR IT FROM RAMS FANS!

Jamie:

Because I'm from St. Louis and fuck them.
Luke:

McVay looks like that guy that goes into bars and asks what IPAs they have on tap.
Josh:
I'm only submitting this because unless every Rams fan submits something, we won't fill the whole article.
Kevin:
This franchise should be damned for all time solely for the sin of ushering in the Patriots dynasty with its faceplant in Super Bowl XXXVI.
Jim:
Not only has Stan Kroenke never won a playoff round with the Rams this decade, he hasn't won one with his NBA or NHL teams either, which is pretty hard to do. Worst. Owner. Ever.

Oh, and here's those teams' postseason performances:

2010 Avalanche: L

2010 Nuggets: L

2011 Nuggets: L

2012 Nuggets: L

2013 Nuggets: L

2014 Avalanche: L

2017 Rams: L

2018 Avalanche: L
Joseph:
I'm willing to bet Santi Cazorla's Achilles tendon there aren't enough Rams fans from St. Louis or LA to make a full piece. You've actually probably gotten a considerable amount of emails from Arsenal fans, including this one. Fuck Stan Kroenke with his stupid fucking mustache for ruining Arsenal. Andrei Arshavin and Marouane Chamakh have infinitely more hat tricks than Arsenal have titles since he took over.
Blake:
My intro to Rams fandom took place when they beat the Titans by one yard in Super Bowl 34. Since that moment, fuck every single part of the Rams as an organization.

Here are actual phrases I have uttered this summer as I eagerly wait for this year's sky-high expectations to go up in flames:

"Even Jeff Fisher could coach this current squad to 10 wins."

"Sean McVay is already the 2nd best head coach in the NFL."

"This is the first time the Rams have had a fantasy quarterback worth drafting since Marc Bulger."

"The Patriots just didn't know how to use Brandin Cooks."

"Marcus Peters, Aqib Talib and Ndamukong Suh in one locker room? Team chemistry is overrated anyway."

"It's definitely Super Bowl or bust." (for a team that has a total of 0 playoff wins since 2004)

Despite the brilliant head coach, the ridiculously talented defense and the running back who is so good that even Jeff Fisher couldn't ruin his career, this team is somehow going to finish 7 and fucking 9 in the weakest division in football.

I can already picture Pete Carroll's smug face as the shit-ass Seahawks steal the division going 9-7.
Amsabol:
For 20 years I was a football obsessive without an NFL team. Growing up in LA, I cried the day John Elway retired (which I can't tell anyone about anymore cause he's busy making America great again), I had a LaDainian Tomlinson jersey, I became a Ravens fan because Kyle Boller was from my hometown AND had the same birthday as me. NFL football for me stopped being fun sometime during the 1990s, yet here I was. I watched the draft every year, I bought off-season magazines in July, and by September I was ready to be disappointed by my teams (the Ravens, the Chargers, and anybody except the Patriots in chronological order).

I ended up going to school at Ohio State, but I always held out hope I'd finally have a hometown team. Then, of course, I took my first tentative steps toward adulthood and realized somewhere around the multiple suicides and myriad domestic violence allegations that I was basically obsessed with bloodsport.

But finally, finally, we got our team back. Then we slogged through the apparently necessary "Jeff Fisher gets himself fired" season just in time for the aggrieved grapefruit running the country to turn a peaceful protest into a Confederate clownshow and for every owner to fall in line behind him because they've convinced themselves that the only demographic that matters is the 50-85 year old white male, and I still allowed myself to be a complicit cog in the propaganda machine because hey, the Rams are good now! They have an exciting young coach! They have a quarterback! They have a star running back and possibly the best defensive player in the league they haven't paid yet! They're all in this year; they're making a free agency splash!

And yet I wasn't even half as excited for any of this shit as I was when LeBron signed with the Lakers. I am the problem with LA that everyone complains about. I still love the Lakers more than the Rams and it's not even close. Fuck me for everything, and fuck this game for making me realize I'm a total fucking shithead.
Andy:
I referred to Aaron Donald as "Donald Aaron" up through Week 7 last year. My buddies never corrected me because they enjoyed watching a guy decked out in newly purchased Rams gear make an ass of himself by incorrectly saying the name of arguably the best defensive player in the team's history.

Also, during their playoff game last year, I switched back and forth between the game and The Lion King which was showing at the same time on Freeform. I do not have children.
Daniel:
The worst part about the Rams coming back to LA is that it's another reminder that we're still part of the USA. The NFL is terrible, it really is Trump's America writ large: its fans are racist mouth-breathers, its owners are ancient racist bloodsuckers. The televised product is so boring it makes baseball look fun. Its players are desperate victims, willing to grind up their brains and limbs for the shot at a big contract, which increasingly only goes to the one position still dominated by whites.

Before the Rams came back, we could ignore the NFL. It was safely confined to backwards, provincial dumps like San Diego, Cleveland, and New York. Now that it's back in LA, I am confronted with the awfulness of the NFL every time I see someone wearing Rams gear, which happens at least once a month.

It's bad enough that this terrible league sent us the Rams to ruin traffic eight times a year; I also heard they sent another team now too! Why? We're basketball fans here, stop pestering us with this garbage sport for garbage people.
Luke:
Pharoh Cooper went from being one of the best returners in the regular season to a guy with more drops than my phone provider.

Sam Shields was signed by the Rams in the offseason. That's great, because the last time they signed a player with a concussion history he still thought he was catching passes from Tom Brady in Denver.

Alec Ogletree couldn't make a big play even if he was given the script to Hamlet. Glad he's gone.

The Aaron Donald Holdout Show's ratings were apparently so good the NFL and Rams organization decided to renew it for a second offseason. They even went all-out in this recent episode by giving Gurley the highest paid contract for a RB to add to the tension and suspense.

Hopefully the Wall will be done by the time the Rams and Chiefs play in Mexico City so we can keep Kroenke and Demoff out of the NFL.
Grippy:
In case you thought the Jones/Snyder/Haslam cabal represented the worst instincts of NFL ownership worldwide, don't count out famed humanitarian Stan Kroenke:

July 2017: The Independent today reports that Arsenal majority stakeholder and American Rich Person Stan Kroenke has launched a television channel in the UK devoted to "ethical, fair chase hunts." According to the report, the channel, which will cost UK viewers £9.99 a month, will show "regular hunting programmes that includes killing elephants, lions and other vulnerable African species." The report elaborates on this "ethical" programming:

One programme shows a presenter shooting a critically endangered African elephant before the bull turns and charges at him. Two more shots are heard before the animal falls to the ground and dies."

Fuck Stan Kroenke up his withered ass with the engorged cock of a dying bull elephant. Forever.
Submissions for the 2018 Deadspin NFL previews are now closed. Next up: Carolina Panthers.