Some people are fans of the Chicago Bears. But many, many more people are NOT fans of the Chicago Bears. This 2009 Deadspin NFL team preview is for those in the latter group.
1. Sometimes you suuuuuuulk, sometimes you buuuurn… Congratulations, Chicagoland. Cutlerfucker is all yours now. You get the total package: the mumbling, the arrogance, the glaring lack of charisma. This is the stuff leaders are made of.
Stefan Fatsis spent an entire training camp with Cutler, and he's always been vehement with me that Cutler is a total fucking prick no one likes, AND that Denver was right to get rid of him (I disagree). I keep asking Fatsis to go on the record with tales of the Frown Cannon's legendary dickishness. Fatsis always refuses, because he's "polite" and "a real professional." Whatever. Fuck that noise. Let's lay it bare. Jay Cutler is an emo-banged cocksucker who makes his teammates want to rape him with a rake. You don't have to like your QB to win a championship. But you do have to actively not want to stop blocking for him so that he'll get a massive spinal cord injury and then be airlifted back to Indiana and left for dead. That's key.
He's also maddeningly inconsistent. For every brilliant performance Cutler gave last year, he turned in an equally turnoverriffic choke job, particularly during the Broncos' now infamous three-game losing streak to close out the 2008 season in which he tossed four interceptions and averaged a passer rating of 73.9. And that was when he had GOOD receivers to work with. Chicago's best receiver is a great return man who has yet to show that he can convert, Steve Smith-style, to a real #1 wideout.
G/O Media may get a commission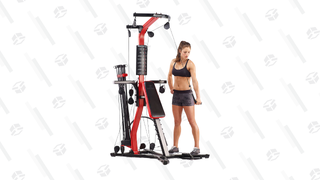 31% Off
Bowflex PR3000 Home Gym
Also, Charger fans would like to point out that HE FUCKING FUMBLED! GOD DAMN HOCHULI, YOU FUCK!
2. 1985 was a long, long time ago. Has any franchise ever gotten more undue mileage out of a single championship? It's as if the Bears won three Super Bowl titles in 1985. Look, that was a fine team, even if they played in an era where someone like Mike Ditka could somehow manage to outcoach other people. But Jesus fucking Christ, they make it seem like every player on the Bears since that time has some genealogical tie to Richard Dent and Co. You've won one lousy Super Bowl, Chicago. Your team has been a fucking abortion ever since. When the Chiefs win a game (hypothetically speaking, of course), headlines in Kansas City don't scream SHADES OF '69?! Clinging to 1985 isn't gonna help you any, Bears fans. Speaking of beating dead horses…
3. Can we get a fucking moratorium on saying "Da Bears"? Seriously, quoting that sketch was old back in '92. There are certain "jokes" that take up permanent residence in the broadcasting lexicon (New York FOOTBALL Giants is another) simply because talk show hosts and studio analysts lack the imagination to think of something fucking different. I bet Robert Smigel is even fucking tired of hearing it. "Let me ask you dis! Ditka versus…" SHUT THE FUCK UP.
4. Deep dish pizza is disgusting. Chicago is probably my favorite city in the country, but god damn is that one fat population. People in Chicago are so fat, they're windproof. A 200 mph typhoon could whip through that town and not a single body would be lifted off the ground. Top culprit in the city's meatwave is the deep dish pizza. Yes, the pizza for people who are too fat and tired to ask for extra cheese. Three inches of mozzarella? Check. Soggy bottom crust? Check. Potential for lethal food poisoning? Check. It's not that deep dish pizza tastes bad. Of course it tastes good. It's Chicagoans' ludicrous insistence that deep dish pizza is the only acceptable form of pizza. That's beyond wrong if you enjoy things like texture and not dying by the age of 40. The fat has gone to your tiny little brains, people.
5. The readers have their say. From Nathan J.:
Fuck their history of thinking that a fucking middle linebacker is more important than any quarterback.
Fuck the Super Bowl Shuffle and anything that keeps that flash in the pan team relevant in "all time great team" conversations. We get it. You guys were characters. Ditka was "blue collar" epitomized. The Fridge was more than just a GI Joe action figure - he was a mediocre defensive tackle!!! Go the fuck away. These assholes are the '72 Dolphins for those of us cursed with living in Illinois. As soon as their always overrated defense shuts out a shitty Detroit or St Louis team, the 1985 comparisons start.
Fuck their "if you think that Tony Dungy is an overrated piece of soft spoken shit, get a load of me" idiot coach.
Fuck their Cover 2 defense. The shit has been figured out.
Fuck their philosophy of "defense wins championships" that made them ignore putting out something resembling an entertaining football team up until (probably) this year.
Fuck their "rivalry" with the Packers that gives that fat shit Berman a reason to be even fucking louder on Countdown for two sets of highlights per year. "Frozen Tundra!!! Lombardi!!! Halas!!! Starr!!! Ditka!!!" I get it. These two stupid fucking franchises played about 30 more years of NFL football than most of the others, so there's more history there. No one born after 1970 gives a fuck.
Reader (and Bears fan) Disco Choo:
1. Jerry Angelo's draft record:
2001—David Terrell (1), Anthony Thomas (2), Mike Gandy (3)
2002—Marc Columbo (1), Roe Williams (3), Terrance Metcalf (3)
2003—Michael Haynes (1), Rex Grossman (1), Charles Tillman (2), Lance Briggs (3)
2004—Tommie Harris (1), Tank Johnson (2), Bernard Berrian (3)
2005—Cedric Benson (1), Mark Bradley (2) (next pick was Kyle Orton in the 4th round—best draft ever?)
2006—Danieal Manning (2), Devin Hester (2), Dusty Dvoracek (3)
2007—Greg Olsen (1), Dan Bazuin (2), Garrett Wolfe (3), Michael Okwo (3)
2008—Chris Williams (1), Matt Forte (2), Earl Bennett (3), Marcus Harrison (3)
2009—Jarron Gilbert (3), Juaquin Iglesias (3)
2. The secondary might be the worst in the league: Tillman is out indefinitely, Nathan Vasher being good was a farce, and even the guys you haven't heard of keep getting hurt in camp. The depth chart from the team's site currently reads: LCB Trumaine McBride/Corey Graham; RCB Nathan Vasher; SS Kevin Payne; FS Danieal Manning. Aaron Rodgers certainly is quaking as we speak.
3. After Cutler dies, we got nothing: Caleb Hanie and Bret Basanez.
4. Matt Forte might die, too: he was heavily worked his rookie year, rushing the ball 316 times and leading the team in catches, and this year could be similar. And he was such a nice kid, too.
5. No fucking cheerleaders?: from 1977 to 1985, Chicago had The Honey Bears, whom former owner George Halas loved and said would be around as long as he lived. He died in 1983 and his heirs ditched them shortly thereafter. No sideline pussy since (if you don't count Curtis Enis).
6. Tailgating is a pain is the ass: from Bearshistory.com—"In 2004, the Bears banned canopies, open fires and deep fryers from the lots, so in order to get one of the extremely limited number of grass spots where you are able to use a canopy to block wind, plan on getting there before 7 a.m." Oh, and it's cold.
Wanna be part of the Deadspin NFL previews? It's simple. Just email me here and give me some reasons why the team you hate most sucks. If it's because you dated a fan of the team and she turned out to be some crazy bitch who keyed your car, all the better. I'll throw any good material into the post and give you proper credit.