Some people are fans of the St. Louis Rams. But many, many more people, like reader Adam S. are NOT fans of the St. Louis Rams. Adam's 2009 Deadspin NFL team preview is for those in the latter group.
1. St. Louis is a town known for three things: Baseball (Ironically, I love the Redbirds almost as much as I hate the Rams), Budweiser, and getting shot. It is not a football town, and if you live within 180 miles, you are stuck either watching lame-ass Rams games or the Sham-Wow guy showing you how to clean up hooker blood with his Sham-Wow during the dozens of blackouts that I have put up with.
2. The Rams taught me what shittiness smelled like. My first game ever, I saw Rich Brooks' shitpile Rams receive the opening kickoff against the 49ers. The 49ers took less than 30 seconds and only two plays, even though they kicked off, to score a Young-to-Rice touchdown. (Ed. Note: As Tim MacDonald use to say: "Same Niners. Same Rams.") Rich Brooks eventually got fired, but he still had ample time to show everyone how shitty he still is by coming back to coach at my college, UK, and proceeded to win a total of five games in my junior and senior year. He even tried to run the fucking option with a 350 lb. quarterback, Jared Lorenzen.
3. I went to the worst game in the history of the NFL. The score was 15-12 49ers, there were only 431 yards of total offense. 8 turnovers, including 5 fumbles by Tony Banks (4 were lost), one Lost fumble and 3 interceptions by Jim Drunkenmiller. Yes, the same Jim Drunkenmiller that was cut by the XFL Memphis Maniax and later arrested for rape. Here is the box score behold and be in awe of the ass-rape of this terrible game.
4. Brenda Warner: I have to say, she is in style wherever she goes. In St. Louis, she had that mom-jeans-shorthair-middleaged-I-never-want-my-husband-to-fuck-me-again look that is so popular in the Midwest. Now she is in Arizona, she looks hotter than the cougars we tried to pick up while we was in Nashville this weekend. The Midwest just does that to you. That's why I stayed in the South.
G/O Media may get a commission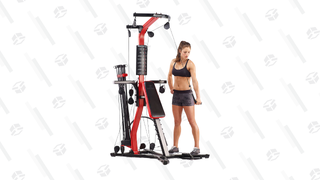 31% Off
Bowflex PR3000 Home Gym
5. Mike Martz is a douche. If you have a Super Bowl MVP quarterback who hurt himself playing, while all of the good player on his team get hurt, and a mediocre piece of shit asshat who looked good because he was put in as soon as everyone got healthy, which would you keep? The asshat, Marc Bulger, of course. You would also quit running the ball, even when you have the lead in the Super Bowl and run off your entire offensive line. He turned the Rams from the Greatest Show on Turf to the, well St. Louis Rams that we are used to.
Thanks, Adam.
Wanna be part of the Deadspin NFL previews? It's simple. Just email me here and give me some reasons why the team you hate most sucks. If it's because you dated a fan of the team and she turned out to be some crazy bitch who keyed your car, all the better. I'll throw any good material into the post and give you proper credit.