Joachim Löw knew something needed to change.
Germany had made the semifinals of the 2010 World Cup, but the manner of their narrow defeat to eventual winners Spain was far from satisfactory. And so Löw sat down to pick over tapes of the six games his side played in South Africa, with a stopwatch close by. He timed how long, on average, it took his players to make a pass. He found his side was taking nearly three seconds to pass on the ball; far too long for the high-tempo game he wished to implement.
By the time the European Championships in Poland and Ukraine came around two years later that average had dropped to 0.8 seconds per pass.
Such a tale could end with countless punchlines about German efficiency, but it gives an indication of how meticulous Löw is in his coaching of the country's national team.
It is with the same complexity that the study of Philipp Lahm, Germany's captain, is undertaken. The Bayern Munich player has come to embody the modern German game, and all its interchangeable, slippery fluidity.
Lahm is the player with no position, or rather every position. The same could be said of Thomas Müller, nicknamed the Raumdeuter (which translates to space investigator). Yet not even Müller, Germany's top scorer at this World Cup, is as reflective of Die Nationalmannschaft as Lahm is.
G/O Media may get a commission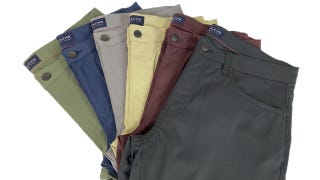 JACHS NY Fall Stretch Tech Pants
Löw is obsessed with finding soccer's quantifiable edge. It's what he hopes his stopwatch will tell him. But what minutes and seconds can't tell him, his captain can. Lahm is his valve and gauge in the centre of midfield.
However, the decision to use the 30-year-old as a midfielder has drawn widespread criticism. Löw sees himself as a soccer modernist. The German press does not share that view, with their brunt scrutinizing Lahm's position.
By trade Lahm is a right back, and an exceptional right back at that. He's the best in the world at his position, and so Löw's decision to play him in midfield frustrates many. For some, it feels like the kind of overthinking for which Löw has become renowned.
"It's as if Löw can no longer please anyone at all," wrote Alexander Osang in Der Spiegel after the quarterfinal win over France. When he played Philipp Lahm in midfield people said he was being stubborn. When he moved him back into defense, as he did against France, people said he didn't have a spine.
Up until the 2012 European Championships, Löw reputation was founded on the belief that he had been the tactical counterbalance to Jürgen Klinsmann's motivational prowess. The semifinal defeat to Italy in Kiev left that prestige in tatters.
Löw went so far in his efforts to nullify each threat Italy held, he corrupted the central essence of his own team. Toni Kroos found himself on the right side of the midfield diamond to match up with Daniele De Rossi, with Mesut Özil left short of support in the center. He neglected what had gotten Germany to that stage of the tournament in the first place—its midfield—warping his side's shape to fall directly over that of Italy's. Löw eliminated the space his side needed to play their own game.
An open letter written to Löw by a national newspaper even went as far as to call it "the match in which you betrayed German football." Even still, Lahm found himself in a full back role, albeit on the left side.
Now the general consensus is that Löw only plays Lahm in midfield because manager Pep Guardiola does at Bayern Munich. Guardiola frequently describes Lahm as one of the most intelligent players he has ever encountered. He sees Lahm as more than just a defensive sandbag in front of the back four (or often back three in Bayern's case) and instead something of a midfield concierge.
Yet Löw's Lahm is different from Bayern's Lahm. Even though he finds many of the same players around him for his national team, the intelligence, or at least the nous to execute it, is gone. In a Germany shirt, games seem to pass him by.
Lahm actually averages more passes per game for Germany (86.2) than he does for Bayern (79.8) but his key pass and pass success rates are both down, as is his interception average. And Kroos, an instinctively attacking player, is averaging just as many tackles per game as Lahm.
Perhaps Guardiola recognized and wished to counter the rise of the modern-day inverted winger, who have created an entirely new sub-position through exploiting that neglected patch of space around the sharp corners of the box. And who better to stop an evolved winger than an evolved full back?
For the quarterfinal tie against France, however, Löw went back to basics. Mats Hummels, who had been missing with flu for the overtime round of 16 win over Algeria, was restored at center back, with Per Mertesacker dropped to the bench. There was even a place for an actual number nine, in Miroslav Klose.
But most notably, Lahm was back in defense, with Sami Khedira slotting into the centre of midfield. It gave Germany the structure and briefing they had been lacking against Algeria, seeing them past with a comfortable 1-0 win.
The World Cup semifinal with Brazil could come to define this era of German football. The tag "Golden Generation" has burdened many sides before this World Cup, and it is an expectation that Löw has had to carry since taking over as manager eight years ago.
Yet with pillars of the team like Bastian Schweinsteiger and Lahm himself coming into the twilight of their careers, this could be Germany's last chance for major tournament glory, at least with this group of players. The country's reputation as international soccer's bridesmaids could finally be cast aside.
Lahm in the centre of midfield has made a compelling study, but if Germany win the World Cup for the first time in 24 years, it would stand as nothing more than a subplot. Löw might even throw aside his stopwatch.
---
Graham Ruthven is a soccer writer covering a wide range of subjects across the sport for outlets like The New York Times, ESPN, MSN, Eurosport, and Scottish TV, among others. He is a curator of football shirt (the more garish the better), an apostle of Dimitar Berbatov, and still maintains Dennis Bergkamp didn't mean it. You can follow him on Twitter,@grahamruthven.
Screamer is Deadspin's soccer site. We're @ScreamerDS on Twitter. We'll be partnering with our friends at Howler Magazine throughout the World Cup. Follow them on Twitter,@whatahowler.
Photo credit: Getty