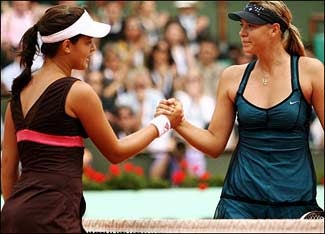 Dylan Stableford writes occasionally about tennis for Deadspin in something we are now calling "Droppin' A Deuce With Dylan Stableford."
Hey everybody! Wimbledon starts today. Screw the French. And you too, Australia. Along with the U.S. Open, it's the only tennis tournament that counts. So put on your best tennis whites, cue up those rain delay montages and brace for those awkward Dick Enberg segues. In honor of George Carlin, here are seven (semi-dirty) things to expect this fortnight:
1. Roger Federer will lose. At least that's what many tennis analysts and closeted fans are predicting, after the Swiss grass-master (39-4 all-time Wimbledon record, 60 straight wins on grass) was spanked by Rafael Nadal in the French Open final and lost in the semis in Australia. Not sure how long Federer's bout with mono last year can be used as an excuse, but the five-time champ's clearly not the same player he was, even a year ago. And it's not just tennis analysts who are down on Federer. It's other players, like no. 3 Novak Djokovic—he of the pitch-perfect YouTube Federer impersonation—who said this the other day:
"I think he's a little bit shaken with that loss, and mentally he has been struggling in the last couple of months. New names are coming—fresh, talented players who believe more they can win against him—and I am one of them. Suddenly, he is a bit worried."
But maybe Federer's Nike-arranged friendship with Tiger Woods will inspire him to have the kind of Wimbledon Woods had in Torrey Pines. Or maybe it'll inspire him to get a hotter girlfriend.
2. Serena Williams will underachieve. She had one of the more miraculous fourth round matches ever during last year's tournament, saved by a rain delay after her calf cramped up against Daniela Hantuchova, only to come back a few hours later wearing pants—pants!—to oust the slender Slovak. This year, Serena's been plagued with … well, nothing. She's just not that into it—as people who've watched her practice sessions can attest. But, don't worry, her erratic, monotone, post-loss press conference won't disappoint. (She's so pleasant, isn't she?)
3. During the women's final, Ana Ivanovic and Maria Sharapova will get and hot and start rolling around and making out with each other. Play will be suspended. Yuri will, of course, watch intensely. (Bill Simmons will tune in for that.)
4. James Blake will underachieve. It's no secret that Blake is our favorite tennis player. He might be the fittest player on tour outside of Nadal. His forehand his huge. His talent is tantalizing. But just when we think he's about to break through (see: Andre Agassi, fifth set tiebreak, 2005 U.S. Open quarterfinal) he always seems to figure out a way to fuck it up. Plus, Blake especially blows at Wimbledon, where he hasn't gotten past the third round. (To give you an idea of how bad it's gotten, less than two days after Blake was dispatched last year, he was playing second base for the Francesca's Deli slow-pitch softball team in South Norwalk, Connecticut. He did go two-for-four.)
5. John McEnroe will use his pulpit in the booth to lobby the All-England Lawn Tennis Club to mandate the use wooden rackets. No more oversized-carbonite-graphite-ultralite bullshit. Old-school, rawhide grip and volleys that could give you splinters. How cool would that be? (What? Not cool? Imagine, for a second, that Major League Baseball began allowing aluminum bats.)
6. Sleepers. A lot of people are picking the unseeded Mario Ancic, the last guy to beat Federer on grass. Of course that was six years ago. We'd rather root for John Isner, a six-foot-nine University of Georgia grad with a monster serve. On the women's side, um, let's go with Nicole Vaidisova. She's 19. She's German. She's slumping, apparently. But hey, she's hot.
7. Doubles. The top-ranked Bryan brothers face a tough test in … oh, who the hell cares.