Wow, we knew from previous reports ("Leto ... sent Margot Robbie [Harley Quinn] a dead rat") that Jared Leto's portrayal of the Joker in the upcoming Suicide Squad movie would be unbelievably edgy and raw, but Twitter users @boring_as_heck and @swarthyvillain got ahead of the film's promotional cycle yesterday and put the real truth out there. Now, thanks to them, we're wondering if the Joker is even a villain at all, or whether the suits who have turned America into the consumerist society against which the Joker is rebelling are the real villains. Don't read on if you aren't ready to have your fucking mind blown.
[Update, Jan. 19: Stupid Twitter suspended @swarthyvillain, but you can read the raw truths that they've scoured from their site over at this Storify.]
G/O Media may get a commission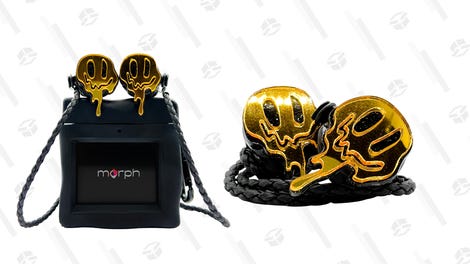 morph audio
Morph Earphones
Follow @boring_as_heck and @swarthyvillain ... if you think you can handle the truth about the nuthouse that is our modern society.
Top image via Youtube