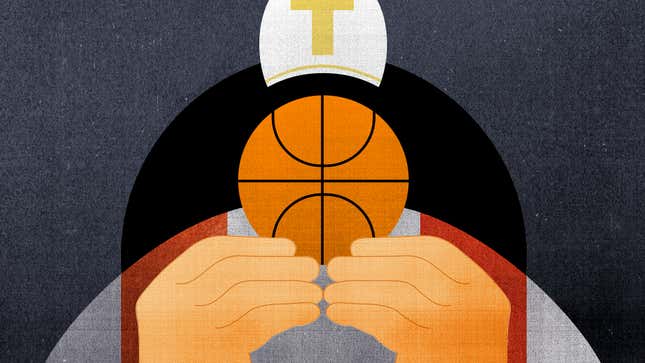 The most important recruit in D.C.-area schoolboy basketball this year might just be a 77-year-old man who currently rides pine in Rome.
A group of alumni at Bishop O'Connell High in Arlington, Va., want their school's powerhouse basketball program exorcised, and they've actually petitioned Pope Francis and his administrative apparatus to intervene in a matter that in most jurisdictions would go before a PTA. The alums claim that a tyrannical coach suited up a talented transfer student despite oodles of evidence he was too old. They claim he let two players leave school quietly amid allegations that they videotaped a sexual encounter on campus and shared the video with classmates. They claim he lent the parochial school's gym to a convicted drug lord, who, before, getting sent back to prison for dealing heroin, had been tithing talent to the team, including both the hoopster Methuselah and the accused videotapers.
The alums say all requests to restore righteousness were ignored, first by O'Connell administrators and then by local Catholic leaders.
"Everybody at the school and archdiocese wants us to pretend there's nothing wrong. Catholics are very good at that," says Brian Culhane, pointman for activist alumni. "But this can't go on. So we could either go away or go over their heads."
They chose the latter. The O'Connell activists tried to bring in a leading figure in the U.S. church to cleanse the school, but he was too busy whitewashing a very Catholic scandal of his own to help.
So they're taking their case to a higher authority.
In mid-August, the O'Connell flock mailed a fat package of allegations and grievances to the Congregation for the Doctrine of the Faith (also known as CDF, or, for Latin lovers, Congregatio pro Doctrina Fidei). That body was created in the 16th century by Pope Paul III as the Supreme Sacred Congregation of the Roman and Universal Inquisition. In 1988, Pope John Paul II decreed that its mission was to "promote and safeguard the doctrine on the faith and morals throughout the Catholic world."
The care package the alums sent to Rome contained an outline of the most serious scandals under coach Joe Wootten, along with about 100 pages of supporting documentation and pleas for action. It included the text of emails the group sent to Bishop Paul Loverde, the top figure in the Catholic Diocese of Arlington, and Sister Bernadette McManigal, superintendent of all parochial schools in the Diocese, which includes O'Connell.
"This is shameful that a superintendent of a large Diocese would turn a blind eye to a boys basketball program riddled with repeated serious transgressions," reads an email from Culhane to Sister McManigal.
Through the centuries, the CDF has weighed in on matters of genocide, abortion, and homosexuality; in more recent decades it's kept busy with issues related to pedophile priests. The congregation has been in the news lately for having blocked the official martyrdom of Oscar Romero, the Salvadoran archbishop who was assassinated in 1980 while celebrating Mass. The O'Connell missive, however, will likely represent the first time in the half-millennium of the congregation's existence that it's been asked to cast judgment on a schoolboy hoops program.
Culhane says he's not totally comfortable bringing in Rome. "I've never sent anything to the Vatican or done anything like this before," he says. "I didn't even know you could do that."
---
Culhane doesn't come off as anyone's idea of an anti-hoops rabble rouser. He was a star on middling O'Connell basketball teams in the mid-1970s, becoming the first player in school history to score 1,000 points, and he was good enough to keep playing for Hall of Famer Jim Phelan at Mount St. Mary's University. He remains a devout and practicing Catholic and even has a letter from O'Connell administrators asking him to apply for the job as president of the school—a position above the principal that has since been eliminated—when it opened up a few years ago. (Culhane declined the invitation.)
His displeasure with the O'Connell basketball program started early in the 2012-13 season. O'Connell had gone 14-18 the previous season, its worst mark in the 12 years since Wootten had taken over the program. Culhane said he'd slowly drifted away from his old school's athletic program for no reason in particular, but that after the losing year he figured the latter-day Knights could use some support from their elders. So he showed up when O'Connell faced always strong Catholic league rival DeMatha.
Culhane says he was immediately mesmerized by Wootten's personnel, and not in a good way. He was particularly taken by O'Connell's new center/power forward, Junior Etou, a native of the Republic of Congo. Culhane says Etou, listed as a high school senior, looked like "a man among boys." So much so, in fact, that Culhane couldn't enjoy O'Connell's 68-48 blowout win over a team that in his day was utterly unbeatable.
"I'd been on a court with [future Hall of Famer and DeMatha great] Adrian Dantley in high school," he says. "And I've seen Grant Hill and every other great player to come out of the area play. But purely from a physical maturity standpoint, I'd never seen anybody like Junior Etou in high school."
As it turns, there was a reason Etou looked old for a high school player.
---
Junior Etou arrived at O'Connell at the end of the 2011-12 school year after playing two seasons at Arlington Country Day School, of Jacksonville, Fla. While there, he also flew around the U.S. to play in AAU tournaments for D.C. Assault, long one of the nation's most decorated youth basketball programs. Etou left Arlington Country Day in the spring of 2012 and moved in with D.C. Assault founder and president Curtis Malone. D.C. Assault was calling the O'Connell gym home. According to a WCAC league source, Etou would have had to declare either Malone or his wife, Monica Smith Malone, as his legal guardian to enroll at O'Connell under that address.
Rumors about Etou's age had already made their way around D.C. basketball circles before Malone delivered him to O'Connell.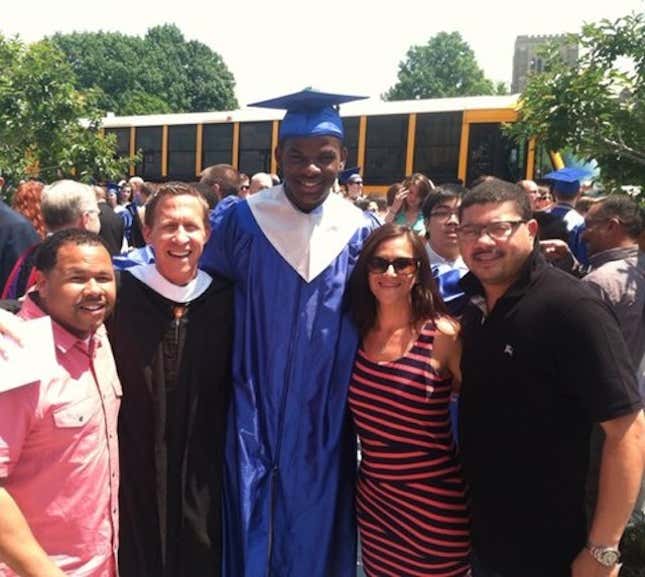 Junior Etou, center, with Joe Wootten, second from left, and Curtis Malone, far right.
---
A Deadspin look-see into Etou's background in January 2013 revealed that the rumors were perfectly founded. Before his U.S. arrival, Etou had played in several international events under his birth name, Luc Tselan-Tsiene Etou. He was a member of the national men's team of the Congo Republic in the FIBA Africa Championships in Tripoli, and a year later appeared both on the Congo Republic's squad in an 18-and-under tournament in Rwanda, and at the NBA and FIBA's Basketball Without Borders camp in Dakar.
For those events, Etou had presented FIBA, the world's pre-eminent hoops sanctioning body, with a birth certificate showing he was born on June 4, 1992. (Etou's Congo team had been disqualified from the 2010 African U18 championships for having over-age players.)
So at the time of Deadspin's inquiries, Etou was closing in on 21 years old. That's too old to be playing high school ball.
In Florida, students can participate in varsity athletics only until they are 19 years and nine months old. So Etou, by the birth certificate he'd given FIBA, would have been eligible to play at Arlington Country Day only through the 2011-12 season. The Washington Catholic Athletic Conference prohibits any player who turns 19 before Sept. 1 of his senior year.
Stu Vetter is a former prep hoops coach known for building dynasties at several D.C.-area private schools via the sort of dogged recruiting that landed him Kevin Durant and scads of other future NBA players. He says he was aware of Etou at Arlington Country Day from his appearances with D.C. Assault (the same high school also had Wally Judge and Rodney McGruder from Malone's AAU squad). When he heard in early 2012 that Etou was looking to leave Jacksonville, Vetter asked an assistant to talk to coaches at the Florida school about bringing him to Montrose Christian School of Rockville, Md., where he'd coached Durant.
"But we were told [Etou] would no longer be eligible for [high school] basketball, so we didn't look at him any more," Vetter says.
Wootten did not respond to repeated requests for an interview. But after the disclosure that FIBA, which is based in Geneva, Switzerland, had a birth certificate saying Etou was born in 1992, Wootten told the Washington Post that Etou had a visa and passport saying he was only 18 years old, and pooh-poohed the Deadspin report.
"[Y]ou can put anything on a website that you want," Wootten said.
The Washington Post put everything in the paper that Wootten wanted. The print version of the story ignored evidence supporting the 1992 birthday that FIBA claimed for Etou, and that was the version Wootten sent to other coaches in the Washington Catholic Athletic Conference, likely the most powerful prep league in the nation. Without that assist from the Post, several league sources say, it's possible Etou would not have been able to finish the season on the roster.
As it was, Etou did his part to piss off O'Connell's rivals. It wasn't just that as a post-teenage player he was older than the competition—DeMatha point guard Alani Moore had just turned 15 when his squad was routed by Etou's. It was also that he played mature. In the semifinals of the league tournament. Etou scored the final five points in O'Connell's 58-56 win over Paul VI, including three free throws with 1.5 seconds left in double overtime. In the finals against St. John's College High School, he hit two free throws with 4.9 seconds left to clinch the league title.
O'Connell had been ranked No. 2 in the Washington Post's poll, behind only Montrose Christian, heading into the league tourney. Those two victories propelled the Knights to the top spot in the paper's season-ending rankings.
Vetter says he was shocked when Etou showed up in the D.C. area in a high school uniform. He also admits he's still stung that the player he was told was ineligible to play high school ball prevented Montrose Christian, an independent school that doesn't play for any league title of its own, from finishing the year as the No. 1 team in the city.
"That's what we play for," he says. "That hurts."
Vetter wasn't alone in feeling wounded by Wootten's recruit. When Wootten nominated Etou for postseason honors, WCAC coaches protested by refusing to vote Etou to even the third-team all-league squad.
"You cheated!" one rival coach yelled at Wootten during the year-end league meetings, according to witnesses.
Etou took a scholarship from Rutgers, long a haven for D.C. Assault products (coach Eddie Jordan and players Wally Judge, Jerome Seagears, and Malick Kone). But as he left for college, the soap opera at his high school kept going. In the summer after leaving O'Connell, Etou attempted to play again for the Congo Republic team in an African tournament. Etou submitted new documents to FIBA that indicated he'd been born on June 4, 1994, and not June 4, 1992, as shown on the paperwork he'd provided the sanctioning body in 2009. FIBA researched Etou's history and refused to accept the new paperwork, which was issued after the Deadspin report. FIBA's legal office ruled the documents were untrustworthy and that the preponderance of evidence suggested that Etou was indeed 21 years old.
FIBA's declaration led several already-enraged Catholic league rivals to publicly blast the school and Wootten. Glenn Farello of Paul VI said it showed O'Connell had "sold their soul."
"The whole thing was ridiculous all year, and makes our whole league look ridiculous," said Farello. "Everybody knew he was too old."
---
For all the wins, Culhane took no pride in his old team's accomplishments. In his day, O'Connell's recruiting was pretty much limited to CYO leagues in Arlington and surrounding counties. Wootten worked the globe—his other big recruit for 2012-13 was a sophomore from China.
But the FIBA investigation and resulting fallout embarrassed Culhane and all his alumni pals. At a time when they should have been celebrating, older members of the O'Connell community were instead bickering to each other and administrators about the direction of the school.
There were reasons why the coach had to go out of O'Connell's old comfort zone to find players ready to step onto the floor of the tough conference: WCAC rules dictate that after ninth grade all players who transfer from jurisdictions surrounding Arlington have to sit out a year. O'Connell was coming off that 14-18 year, and Wootten needed a quick fix—the sort that a Congo Republic-via-Jacksonville transfer like Etou could provide.
Culhane thinks Wootten saw his kingdom in jeopardy when the team had a losing season.
"Joe needs to win for the brand," Culhane says.
The Wootten "brand" is indeed a valuable asset in D.C. Joe Wootten's full name is Joseph Morgan Wootten; his father is Morgan Wootten, an iconic coach at DeMatha, where over the latter half of the 20th century he built and led one of the most successful and storied programs in amateur hoops history. In one of the globe's most fertile regions for basketball talent, his DeMatha teams won 22 city titles and 33 Catholic league championships. He's in the Basketball Hall of Fame. He's the guy who put together the DeMatha vs. Power Memorial game in 1965—in which PM star Lew Alcindor was handed his only high school defeat—and today he's hailed as the godfather of a prep-hoops boom that has yet to subside. Conventional wisdom in the prep ranks holds that the best way for any high school coach to get a college job is to establish some sort of Morgan Wootten connection and exploit it. Fear of peeving Joe Wootten's old man, say WCAC sources, helped temper criticism of O'Connell while the Etou saga played out.
Morgan Wootten parlayed the on-court successes into a very prosperous basketball-camp business. He started holding basketball camps in 1961, and their popularity grew in proportion to DeMatha's stature. It has been the go-to camp in the D.C. metro area for decades. Culhane went to Wootten's camp as a kid, and sent his two sons, as well.
Everybody assumed Joe Wootten, who was an assistant on Morgan Wootten's staff at DeMatha, would someday take over as head coach there. The Washington Post's Josh Barr reported in 1999 that Morgan Wootten "has made it clear he wants his son to succeed him." And the father obviously thought he'd get his way. "I think any time there is going to be another coach, everyone has their own choices and opinions," Morgan Wootten told Barr. "Fortunately, mine will count the most heavily."
But despite all he'd done to put DeMatha on the map, alumni and administrators of that school refused to let Morgan Wootten appoint his son to the top job.
The reasoning was pretty simple.
"Nobody liked Joe," says one source familiar with DeMatha's coach selection process.
Turns out Joe Wootten had alienated everybody at the school in the wake of that Washington Post story about the next DeMatha coach by making a stink with administrators. He was angry that other names had been mentioned in the article as possible successors. Nobody outside the family whined when he left for O'Connell the next season.
But Morgan Wootten did pass the family-camp business down to his son. Joe Wootten is fully in charge of the company now, according to a source familiar with the inner workings of the operation, and as a seasonal operation it's still a monster. The website for overnight camps says tuition for each five-day summer session runs from $430 to $510 per student, and that in 2013 "more than 3,000" campers aged 9 to 18 attended. Crunching those numbers, the camp revenues totaled at least $1.3 million for the season. Joe Wootten expanded his dad's business beyond summer, however, and now also holds various fall sessions and a father-son weekend camp each year.
Whatever amount he's bringing in, alums have noticed that the O'Connell coach drives the latest model BMW to campus and that he lives in a massive house in Northern Virginia, estimated to be worth more than $2.4 million. His nickname among staff is "The Prince."
"You work for a non-profit, Catholic school and live like that?" Culhane says.
For all the clout the family name still holds with coaches, though, it means less and less to D.C. parents who pay for hoops camps these days, and nothing at all to the kids going to camps.
"Joe needs to win to keep that lifestyle up," says Culhane.
The alums saw Etou's recruitment as a symptom of a bad situation. Culhane says a brief look at the numbers showed that a culture of disposability had taken root at O'Connell during the Wootten era. By the count of a former O'Connell employee working with the alums, in Wootten's 12 years as coach, 69 basketball players, more than 80 percent of whom were brought to O'Connell by Wootten to play basketball, had transferred out before graduating.
That rate of turnover is fit for a minor-league baseball squad, perhaps. "That's not for a high school," Culhane says.
---
On behalf of the angered alums, Culhane formally requested that the school return the WCAC championship banner because of Etou after FIBA's findings were made public. Head of school Joseph Vorbach, he says, ignored all their requests for a meeting to discuss basketball matters.
Also unheeded, Culhane says, were dozens of pleas from him and other alums to the local archdiocese, which holds sway over all Catholic schools in Northern Virginia, to force O'Connell to come clean about the hoops program. Other than an occasional acknowledgment that a complaint had been received, there was nothing.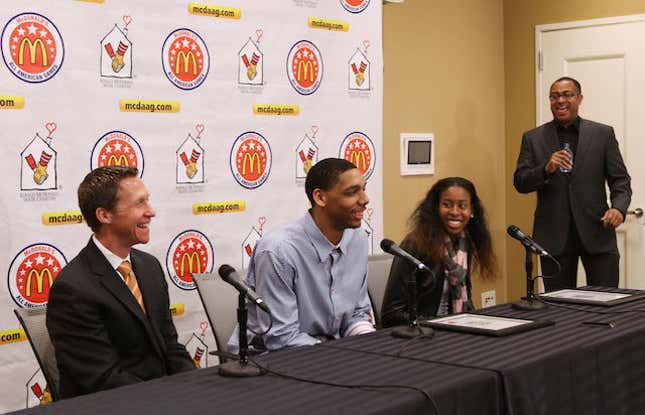 Joe Wootten, left, with 2014 McDonald's All-Americans Jahlil Okafor and Ariel Atkins, recipients of the Morgan Wootten Player of the Year award. Photo via AP.
---
At the beginning of the 2013-14 school year, with the Etou scandal still hanging in the air, a new batch of ugly rumors began swirling around O'Connell basketball. Two players, including one nationally touted recruit, transferred out around the time basketball practice was about to start for the season. Soon local hoops message boards and comment sections of newspapers began teeming with embarrassing allegations about what had gone on inside the school. The talk was that Wootten's latest exiles had left under an ugly cloud—that one of the players had shot a video in which a female student performed oral sex on the other player inside the school, then, according to an O'Connell employee, "posted his work on Instagram." All of those alleged to be involved were juveniles and underclassmen.
Culhane says the alumni started asking lots of questions when the sordid gossip surfaced.
Students found to have committed what is described in memos from O'Connell alumni to school and local Catholic officials as "a sexually immoral act" on campus are generally expelled, Culhane says; however, according to the rumors, the two boys were allowed to leave without any formal finding, while the girl alleged to have been involved remained enrolled at O'Connell. Culhane says alums who inquired about the incident were told by school administrators that she faced no punishment because "the [sex] act was not consensual." Yet no charges were ever filed.
"If the school is saying it was against her will," he says, "isn't that a crime?"
Culhane says that inquiries to local police went nowhere. "Because the individuals were all minors, we were told that no information about the investigation would be available to us," says Culhane.
Dustin Sternbeck, spokesman for Arlington County Police Department, says that his department did indeed look into a taped sexual encounter involving O'Connell High students. In response to inquiries from Deadspin, Sternbeck emailed the following statement: "The incident was investigated by Arlington County Police Department, however, due to the fact that all subjects involved in the case were juveniles at the time of the incident, I am unable to confirm the identity. Additionally, there were no charges brought against any parties."
The players who left O'Connell in the wake of the investigation, including one nationally prized recruit, were both D.C. Assault products, just like Junior Etou. Culhane says the alumni fear the real reason nobody was expelled was because school administrators didn't want word of the alleged sins of the flesh to reach the outside world. All attempts to get the Arlington Diocese to look into the matter were stifled. "The bishop here rails against pornography every time he hits the pulpit," Culhane says. "Yet we have this thing hit Instagram, and he does nothing."
The Etou case and the alleged sex scandal left alums embarrassed and repulsed. For those pushing to get O'Connell basketball under control, however, the most galvanizing event occurred on Aug. 9, 2013.
That's when the feds arrested Curtis Malone. "Of all this," Culhane says, "the tipping point was Joe Wootten bringing a heroin dealer into the facility."
---
Until the Drug Enforcement Administration raided his home and found 998.5 grams of cocaine, 81.2 grams of heroin, lots of cash, and a loaded gun, Curtis Malone was best known as a youth basketball mogul. He was never much of a ballplayer himself—his career peaked in high school. So as a young man, he tried to prove he had game off the court.
In 1990, when he was 22, Malone was arrested with crack and a handgun after local undercover cops made a drug buy at his family home in Palmer Park, Md., and then raided it. In 1993, after serving a jail sentence shortened by his cooperation with authorities in other drug cases, Malone founded an AAU squad. In their 2000 book, Sole Influence, writers Dan Wetzel and Don Yaeger wrote that Malone named his fledgling squad after a shoe that the team's original sponsor, Reebok, was cobbling at the time, called "The Assault."
Through the years, D.C. Assault groomed future NBA talents such as Michael Beasley, DerMarr Johnson, Keith Bogans, Jeff Green, and Nolan Smith.
College coaches learned that they had to play ball with Malone or else have the talent flow from D.C.'s prodigious hoops pipeline cut off. Despite all his successes, Gary Williams, the longtime University of Maryland coach, was constantly belittled by local hoops obsessives for letting so many blue-chippers slip away from the nation's capital. Malone's proteges were always used as evidence that Williams couldn't recruit at home.
Williams showed his feelings for Malone, and hinted at a very dark side to the AAU program, in a 2009 interview with the Washington Post's Eric Prisbell.
A portion:
EP: But these AAU programs, including DC Assault and others, are saying, 'We don't know you, you don't come to the games'?
GW: I know Curtis Malone. So he can say whatever he wants about me. I know what Curtis Malone is about. But you won't write it in there.
EP: Why won't I?
GW: Will you?
EP: I'm not saying I will or won't. I am trying to balance this thing.
GW: Yeah, but don't tell me Curtis Malone has the right to say whether Gary Williams is a good recruiter or not. I don't want to hear about Curtis Malone. I know what he is.
Joe Wootten had none of Gary Williams's compunctions about schmoozing with Malone. After the losing season, Wootten's ties to Malone became more obvious. "D.C. Assault started practicing in the O'Connell gym," Culhane says. Etou transferred from Florida and moved into Malone's house. The connections remained strong after Etou left: There were six D.C. Assault players on the O'Connell roster last season, counting McDonald's All-American Melo Trimble but not the two kids who transferred out amid the taping scandal.
Malone had long enjoyed a reputation as one of the biggest talent brokers in youth basketball. For Sole Influence, Wetzel and Yaeger tailed Malone's team throughout the summer of 1999. By that time, Reebok was out as Malone's top sponsor and Adidas was bankrolling Malone's operation. In the book, D.C. Assault is called the "Adidas flagship program," and all indications are that the shoe giant got a return on its investment. One example: DerMarr Johnson was D.C. Assault's star in 1999 and was the top recruit in the country as Wetzel and Jaeger followed the squad. He had his pick of schools, and, according to the authors, Johnson was living in Malone's house, with Malone "handling his recruitment." Johnson ended up at the University of Cincinnati, an Adidas school. Months after the book was published, Johnson was taken by the Atlanta Hawks with the sixth overall pick in the 2000 NBA draft. Johnson signed with Adidas when he went pro.
Adidas was good to Malone after Johnson was gone. In his 2005 book, The Jump: Sebastian Telfair and the High-Stakes Business of High School Ball, author Ian O'Connor says Malone was hired by Adidas to be on the board of directors of its "grassroots" program.
And Malone was very good to Adidas. Just how good came out in a lawsuit filed by Michael Beasley against Malone in 2011.
Beasley, like Johnson before him and Etou after, also lived with Malone when he played for D.C. Assault.
The lawsuit alleged that Malone had begun grooming Beasley as a very young man to sign with an agent he'd formed an alliance with, Joel Bell. Unbeknownst to Beasley, Bell for years had been paying off Malone and Beasley's mother, Fatima Smith, to buy their fealty. According to the complaint, the payment plan got started in 2003 with $2,500 in cash in an envelope handed off from Malone to Smith. Beasley was 14 years old at the time.
The Washington Post reported in 2005 that Beasley was homeschooled while he lived with Malone, and that somebody was paying off Riverdale Baptist School School, a local private school with a strong basketball program, so the kid could play ball while not enrolled. A former AAU teammate of Beasley's says that it likely wasn't Smith footing that bill: "When he was playing [AAU], Mike's mother told him she was putting him up for adoption because she couldn't afford to raise him," he says.
To protect Bell's investment, according to the lawsuit, Malone in 2007 directed Beasley to Kansas State, where former D.C. Assault coach Dalonte Hill had just been hired as an assistant by Bob Huggins, who was coach of Cincinnati when Malone delivered his houseguest/player DerMarr Johnson to that school. And Malone sent Fatima Smith to live in Manhattan, Kan., to "keep other agents away from him."
"Ms. Smith never made a rent or car payment during Beasley's entire freshman year as a player for Kansas State," the complaint reads. The Manhattan Mercury reported in 2011 that Gregory Holloway, a CPA in Washington D.C. and self-professed "supporter" of D.C. Assault, covered Smith's rent in Kansas.
A former AAU teammate of Beasley's says it's totally plausible that the player didn't know the scheme that was being concocted with his mother. And as ugly and exploitative as the details read on paper, everybody in town knows how the system works.
"Joel Bell knew 100 percent that paying Mike was an NCAA violation," he says. "But, that's the game today for agents: You have to be in touch with kids in high school, and you can't get away with just being their friends on Facebook. You have to give them money. Kids expect it. Parents expect it. AAU coaches expect it."
So it goes in the vast black market of amateur basketball, where operators like Malone work the corners of a fabulously lucrative economic system built on the back of an unpaid labor force. Says a D.C. lawyer who has pro basketball clients and followed Beasley's civil case against Malone: "I learned exactly how this all works [from that case]," says the lawyer, who requested anonymity. "This starts all the way up at big corporations—the sneaker companies—and that money penetrates down through the colleges, into the AAU programs, and right into a kid's house. So there are people with this money roaming the earth now, looking for well behaved, basketball-playing Negroes to risk it on."
Sometimes the bets pay off. Beasley, who won a few NCAA player of the year awards in his only year of college ball and was among the most marketable players in the 2008 NBA draft, signed with Adidas as soon as he turned pro. In his lawsuit, Beasley alleged that Malone prevented him from negotiating with any other shoe company.
Beasley was hardly the only player who went through Malone and ended up with Bell: The agent-tracking site RealGM shows that Bell's client list also includes former D.C. Assault players DerMarr Johnson, Jamar Samuels, Wally Judge, Rodney McGruder, and Dominique Sutton.
Beasley's suit against Malone was settled before going to trial. Mark Smith, who represented Beasley in that case, declined to respond to questions about the settlement.
The feds say Malone didn't need the money the drug dealing brought him. He said he had "access to family and famous friends with great personal wealth and a willingness to share." A U.S. Department of Justice memo on the Malone case says an unnamed "professional basketball player" was feeding Malone "$6,000 to $7,000 a month in a personal allowance." (One source familiar with the litigation, however, says that the anonymous donor was not a random NBA player but was actually Nolan Smith, former Duke star and Malone's stepson.)
Malone pleaded guilty in March to conspiracy to distribute or possess with intent to distribute at least 500 grams of cocaine and 100 grams or more of heroin. While those amounts aren't massive, as part of his plea, he admitted being a leader of a drug ring. His nickname: "White Boy." His code for cocaine: "new Nikes." (As part of its investigation, the government tapped Malone's phones for more than a year. Alas, the tapes aren't being released. "We're not making the recordings accessible," says Laura Harris, spokesperson for the Drug Enforcement Agency's D.C. offices, which handled the Malone investigation. A good chunk of big-time college basketball breathed easier the day Malone pleaded out and avoided a potentially very embarrassing and revelatory trial.)
While Malone awaited sentencing, the D.C. office of U.S. Attorney Ronald Machen issued a memo emphasizing his unwholesomeness. Machen put Malone in a despicable class of phonies who "led a double-life of holding themselves out as a role-model for youth, all the while disbursing terrible poisons to the community."
In other words: not the kind of guy you'd want hanging out at your local high school.
---
After Malone's arrest, Culhane sought help from Father Harry Flynn.
Flynn is archbishop emeritus of the Archdiocese of Saint Paul and Minneapolis. But Culhane had first encountered Flynn in the mid 1970s, when Culhane was playing basketball for Mount St. Mary's in Emmitsburg, Md., and Flynn was the rector at the seminary there. They kept in touch, as Flynn had stayed with the church and thrived. He was hailed in the 1980s for a stint as bishop of the Diocese of Lafayette, La., and later for chairing a committee of Catholic clergy that drew up the Charter for the Protection of Children and Young People, meant as a road map for churches to follow while dealing with the pedophile-priest scourge.
Flynn wrote back to Culhane in May explaining to his old friend that he'd once been asked to corral an out-of-control athletic program at a Catholic school under his purview, and outlined the tale so that O'Connell alums might follow the same course of action. He told Culhane that he appointed a panel of current and former school administrators, plus community leaders, and asked them to come up with recommendations on how to cure the school of its ills. The panel's consensus was "that somebody had to go, and that somebody was in the sports department." Flynn wrote that he followed the panel's advice, and that once the bad seed in the sports department was removed, "from then on everything was excellent in the school."
In the letter, Flynn also apologized for not being a better counselor in the O'Connell matter, and explained that he was "so busy" taking care of unnamed issues.
Those issues became clear in July, when Minnesota Public Radio reported that Flynn was a mastermind of a campaign by local Catholic church officials to stonewall investigations of pedophile priests in the Twin Cities area.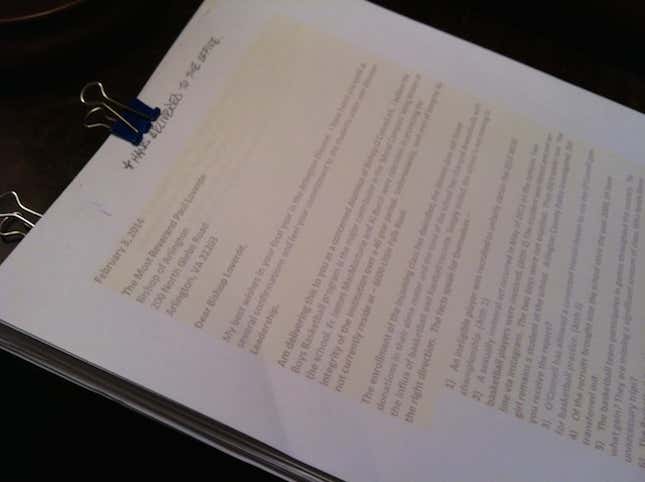 From the packet mailed to the Congregation of the Doctrine of the Faith.
---
Culhane describes the revelations about Flynn's complicity in the abuse of children as "a soul crusher."
"He was that guy, outside of family, who I revered more than anyone," Culhane says. "I would have bet the farm that he would always do the right thing and be the beacon of hope, trust, and spirit, that we expected from our church hierarchy."
He says the more he read about the goings on in Minneapolis, the more similarities he found between the Flynn-led cover up and what the O'Connell alumni had run into when they'd tried to report the basketball program to administrators and the archdiocese.
Culhane wasn't trying to compare the alleged malfeasances at O'Connell and in Minnesota, though he rated what was happening at the school as a form of child abuse. But in both cases he saw church authorities falling down on the job of looking out for the kids.
"I can't believe it's come to this, really," Culhane says. "My hope was that somebody would have listened, just said, 'OK, let's take a look and see if we have problems,' because any objective look at what's gone on will make you say, 'Hey, there are some problems here!' But, we never got that audience. All those letters to the bishop and [Head of School Joseph] Vorbach, and nobody's responded. And that much stonewalling, I'm sure it's by design. With the new pope, there's supposed to be a new transparency in the Catholic church, after decades and centuries of the church burying stuff."
So, Rome awaits.
---
Malone was sentenced in late May to 100 months in federal prison. He'll be required to pay a fine of $150,000 and perform 75 hours of community service for the five years following his release.
D.C. Assault crumbled as soon as Malone got sent away. But there is a legacy. Malone had switched his team's endorsement deal from Adidas to Under Armour a year before he got popped for drug dealing. The top D.C. Assault recruit in recent years was Melo Trimble, who played for Wootten at O'Connell. Trimble will debut this fall at the University of Maryland. D.C. Assault coach Dalonte Hill was brought on as an assistant coach after Williams left and landed him for Maryland, which is an Under Armour school.
Several D.C.-area high school coaches sent in letters to the court asking for leniency and pointing out all that Malone had done for basketball in the area. Mike Jones, who got the job succeeding Morgan Wootten at DeMatha in 2002 and remains the Stags coach, bravely sent in a missive of support for the condemned man, even though such an act could get him in trouble at work, with no real reward.
Wootten, who had closer ties to D.C. Assault than any other local prep coach, was not among those asking the judge to show mercy on Malone.
There is no timetable for action from the Congregation of the Doctrine of the Faith, or even anything close to a guarantee that the board will consider the O'Connell alums' plea. If the CDF finds the complaints have merit, the church will compel Bishop Loverde of the Arlington Archdiocese to investigate the matter. It is about a basketball program, after all.
Asked to gauge the chance of success, Culhane says, "I'd say 50-50." Better than a Hail Mary, at least.
Image by Jim Cooke