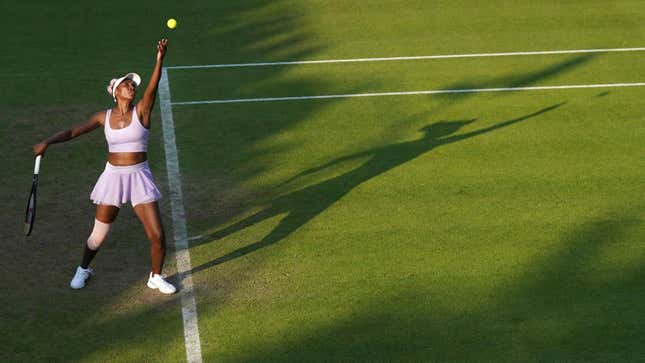 Athletic greatness is proven by performance. Athletic immorality is defined by how debilitated your sport becomes when you aren't around. Tennis doesn't know what to do without the Williams sisters and it's why Wimbledon keeps bringing them back.
Being a Tennis Gladiator like Roger Federer | Bear Grylls' Ultimate Sports Fantasy
Wimbledon has granted the 697th-ranked and 43-year-old Venus Williams a wild card so that she can make her 24th appearance at a tournament that she's won five times in singles competition. The decision comes a year after The All England Club granted Serena Williams a wild card as she hoped to win her elusive 24th Grand Slam singles title after taking a year off. The seven-time Wimbledon champion lost in the first round of last year's tournament.

I'm old enough to remember when tennis frowned upon the two Black girls with beads. Now they need those semi-retired women to keep their sport's biggest tournament relevant.

Venus recently beat the 48th-ranked Camila Giorgi 7-6 (5), 4-6, 7-6 (6) at the Birmingham Classic. It was reportedly her first victory over a player in the top 50 in almost four years. And while she still occasionally plays, it's become clear that the sport doesn't do well when Venus and Serena aren't around. According to SportsMediaWatch, when Serena retired in the first round of the 2021 tournament with an injury, the finals between Ashleigh Barty and Karolína Plíšková averaged just 1.09 million viewers, which was 55 percent less than the 2019 finals that Williams played in. Without Serena, the 2021 finals matchup became the smallest audience for any Wimbledon singles final since ESPN began airing the event exclusively in 2011.

This isn't a situation in which the young stars of the women's, and men's, game haven't "stepped up," it's an example of how rare it is that we got to witness not one, but two, tennis superstars reach a level of success — and celebrity — that the Williams sisters have enjoyed for decades.

Venus and Serena Williams didn't just break the mold, they raised the bar to a level that may be unreachable. They should be allowed to play in any tournament they want, whenever they want. But given their current statuses and the lack of star power in tennis, Wimbledon's decision to grant them wildcards reeks of a tournament that was banking on them, and only them, to headline their annual event.

And to further prove the point that Wimbledon is flying by the seat of its pants, TMZ is reporting that The All England Club will use artificial intelligence for online highlight videos.

"I see AI as very much complementing the human element, rather than replacing," IBM exec Kevin Farrar said, according to the report.

"You can't replace John McEnroe doing commentary. That human element always needs to be there. It's very much supplementing and complementing."
Tennis' most prestigious tournament doesn't know how to fill the shoes of two of the biggest names that have ever competed on that court, and now they're hoping that a computer's voice can draw interest. Wimbledon desperately needs a plan for success, and tennis has to find new stars who also want to be stars.