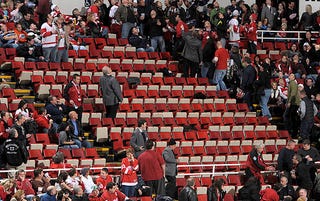 The good thing about hockey arenas, as opposed to baseball or football stadiums, is that there really are no nosebleed seats. Three Red Wings fans challenged that notion by climbing onto the catwalks during last night's game.
Details are scarce, but we know three people found their way into a restricted area of the fifth floor of Joe Louis Arena. At that point, the section directly below them was evacuated, security perhaps anticipating the return of the Blue Blazer.
Two of them were arrested on the catwalk. One climbed even higher, onto a conduit, before freezing like a cat in a tree. He was eventually coaxed down, and fans returned to section 124, just in time to watch the Wings blow a lead.
The line of the night goes to the Kings announcer who said,
If he falls, that's too many men on the ice for Detroit."
UPDATE: And here's the video, courtesy of Life In Hockeywood.
Wings squander another lead; Fans climb on catwalk [Detroit News]
A Few Morons Climb on Catwalk of Joe Louis Arena During Red Wings/LA Kings Game; Wings Lose [Detroit 4 Lyfe]
Nutty Detroit fan tries to get a birds' eye view of the Kings/Wings game [Life In Hockeywood]