Your morning roundup for Dec. 4, the day we got hammered on gummi bears. Got any stories or photos for us? Tip your editors.
What we watched: The Big 10 Championship, of course!
Well, the last two minutes of it, anyway. I saw the important part. First, however, I was forced to watch one of MSNBC's many shows about prison life. I can't tell you how little interest I have in this kind of stuff so while scanning the channels during a commercial I desperately said "Now Clueless, I would watch Clueless a million times before watching that other show." So we watched Clueless and, man, were the mid-nineties weird. So many strange color combinations. It was also strange thinking that Paul Rudd is now more famous than Alicia Silverstone, that Jeremy Sisto at one point did not have some kind of scuzzy facial hair and that the spazz valley girl is dead. Ah well, life marches inexorably forward.
G/O Media may get a commission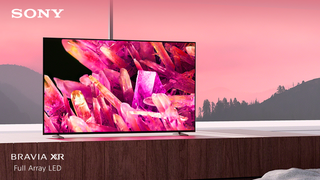 $400 off
Sony 55 Inch 4K Ultra HD TV X90K Series
In Case You Missed It
"The saddest part-aside from the part where we, again, listen to a once proud football man flounder and thrash around in an attempt to answer fairly straight forward questions in the presence of his attorney, a reporter and a cameraman-is the dog. Bo the dog may be the only one who gets Sandusky. 'I used to have a lot of contact with a lot of people and so that circle is diminished, and as it diminished, you know Bo is still there,' he said of his dog. 'And I swear he understands. I swear he knows. And you know I love him dearly for that.'" More here.
Elsewhere
This is why college football is stupid: "While the top-ranked Tigers won the SEC championship Saturday to lock up a spot in the BCS title game, No. 2 Alabama sat at home idle after finishing second in its division. Oklahoma State, meanwhile, proved itself the best team in its state and its conference. But it's up to the voters, who had the Cowboys fifth in the coaches' poll and Harris poll, to decide whether Oklahoma State will play for the highest stakes. Coach Mike Gundy proclaimed earlier this week that he considered the Crimson Tide to be the second-best team in the nation 'right now'—maybe because that's what he thought his team needed to hear that to get fired up and prove him wrong. 'Last week, I said Alabama should be there,' Gundy said on the field after the game. 'There's no question Oklahoma State should be No. 2 right now. No question.'" [ESPN]
Wait, college basketball is here already?: "It's the first time the two schools have met this highly ranked since Dec. 26, 1981 in East Rutherford, N.J., when Michael Jordan, James Worthy and Sam Perkins combined for 66 points in North Carolina's 82-69 victory. Kentucky standout Sam Bowie didn't play in that game because of a stress fracture in his left leg, but that game still featured 18 draft picks—including five that went in the first two rounds. The NBA draft was 10 rounds through 1984. This matchup had even more media anticipation and included more than two dozen NBA scouts and front office personnel. Kentucky's young squad that starts three freshmen and two sophomores responded. 'We felt like this was a good test to see where we're at against one of the best teams in the country,' Miller said. 'We came out with a W. I think we're all pretty happy about it.'" [SI]
Your frankly, I thought flying robots would be a bit...snazier Interlude

Because he is the king of wishful thinking: "Woods had three bogeys on the par 5s and didn't feel as though he did much wrong. On two of them, he hit wedges that looked good until the cool, gusting wind shifted directions and sent the ball much farther than he imagined. On the other par 5, his fairway metal hit a gust and dropped into a hazard. The result was a 1-over 73. The prognosis wasn't nearly as bad. 'Even though I made three bogeys on par 5s, I had two three-putts, but I played well," Woods said. 'I hit a lot of good shots that ended up in bad spots because I had bad gusts. So be it. That's the way it goes. 'I'm right there with a chance going into tomorrow.'" [CBS]
Everyone loves the Honey Badger: "Its entire offense was suspended for the first half for undisclosed execution violations, though sources indidated they were for lack of blocking and lack of passing skill. But as was the case with the Tigers' seven player suspensions through the first eight games of this season for various reasons, it did not matter. But then nothing matters with this team as far as what it can overcome, particularly with the Honey Badger around." [USA Today]
Merch: Managing editor Tom Scocca and contributing editor Drew Magary have both written books. You can buy Scocca's Beijing Welcomes You: Unveiling the Capital City of the Future here, and Magary's The Postmortal here. Now do it.
Send stories, photos, and anything else you might have to tips@deadspin.com.