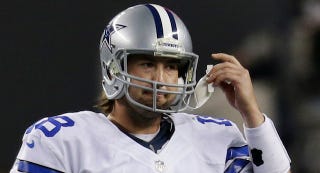 The Cowboys' season ended in a way that all Cowboys' seasons now seem destined to end: With an 8-8 record, a trip to the playoffs handed over to a division rival, and a backbreaking interception. Tony Romo may not have been there to preside over this year's clusterfuck, but he wasn't needed—the Cowboys are always going to be the Cowboys.
What everyone will remember about this game is the interception. The Cowboys had just pulled off a mini-miracle of sorts, scoring on fourth-and-9 on the previous drive to make the game 24-22, forcing the Eagles into a three-and-out, and then getting the ball back with 1:49 to go and a timeout. A field goal would get them into the playoffs, and if there was a swell of optimism within the Jerry Dome, it was because the Cowboys have a special way of raising hopes right before the pratfall.
On a slant route exactly like the one that had led to a Dez Bryant touchdown on the Cowboys' previous drive, Kyle Orton threw the ball well behind Miles Austin and into the right hand of Brandon Boykin. It was, at least as far as last night was concerned, an uncharacteristically bad throw from Orton. The backup had played as well as anyone could have hoped for, completing 30 of his 46 pass attempts for 358 yards and two touchdowns. He let loose a handful of deep balls that were off-target and a little on the wobbly side, but he spent most of the game throwing darts to Jason Witten and Dez Bryant on short and intermediate routes. It was the cruelest ending imaginable for Orton, who owned his misstep after the game:
I just threw a bad pass. Miles ran a great route. It was the same play we scored on the play before, went to Miles this time. I just threw it behind him and the guy made a nice catch of the ball.
Welcome to Cowboys lore, Kyle.
But Orton's presence in this game gives us an opportunity to examine it from a more distant, objective vantage point than might've been possible had perpetual goat-hero Tony Romo been the one to drill that final pass into Brandon Boykin's chest. Instead of everyone driving themselves insane trying to figure out whether Romo royally boned his team or was the only reason Dallas was ever in a position to win in the first place, we can start to understand something that's always been true about the Cowboys: They don't have a Tony Romo problem; they have a not-very-good-football-team problem.
Yes, the interception was a killer, but the Cowboys had as many mundane failures as they did spectacular ones. Take for example the Eagles' first drive of the fourth quarter. Up 17-16, the Eagles launched an 11-play, 60-yard touchdown drive that chewed up 5:37 of clock and planted the Cowboys' backs firmly against the wall. It was a remarkable drive simply because of how easy it was for the Eagles. They ran over the Cowboys with nine plays on the ground, never facing a down tougher than third-and-1. Here were the Cowboys, with their season on the line, just getting run right the fuck over like it was a sleepy Week 2 game. That's a thing that happens to not very good football teams.
Other things that happen to not very good football teams: failing to score a touchdown after recovering a fumble at the opponents' 20-yard line, blowing a shot at a game-tying two-point conversion, and throwing a season-ending interception one play after the defense finally stands tall and forces a critical three-and-out. These are all symptoms of the same condition. Dallas is a mediocre team with enough of the trappings of a good one—occasionally brilliant quarterback; loud, honking coverage in the press; etc.—that you forget that 8-8 is their natural state.
And so the Cowboys are 8-8 for the third year in a row; their point differential over those three years is +5. They're out of the playoffs for no other reason than they played like a team that should finish 8-8 and out of the playoffs. Give the Cowboys this: No one's better at regressing to the mean.