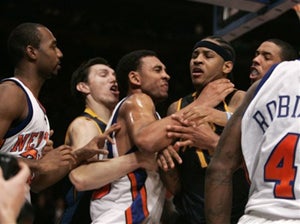 We're a little afraid to admit this publicly, if just we're afraid Isiah Thomas will send Mardy Collins to knock us to the floor or something, but in the wake of the big brawl at Madison Square Garden on Saturday, we are heading to our first (and hopefully) last Knicks game of the year tonight. The Knicks are likely not to have a bench, with all that came down the pipe earlier — though it's nothing compared to what the Nuggets are going to be dealing with — and that shouldn't serve them too well tonight, considering they're hosting the Utah Jazz, the team with the best record in the NBA.
The reason for our appearance at the game, of course, is to see all our old Illini on the Jazz, with Deron Williams, Dee Brown and (probably not) Roger Powell. If you ever wanted an answer to your question of whether or not the Knicks could beat a college team, well, there you go.
We're pleased that Thomas wasn't suspended, because we're really starting to think he's downright Millen-esque over there. Massive losses, extreme debt, dwindling crowds, sexual harassment charges and now violence and mayhem ... well, it'll just be exciting to see it all in person. It's the Knicks, ya never know.