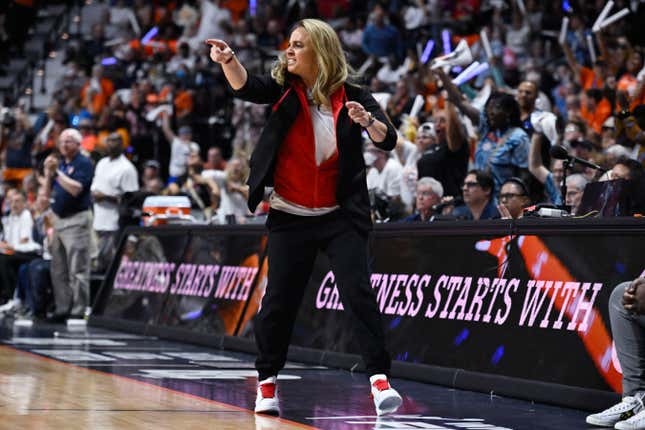 It makes sense now that Becky Hammon, head coach of the Las Vegas Aces, sought permission from her bosses to interview for a head coaching position with the NBA's Toronto Raptors. Less than a calendar year removed from the confetti, champagne, and parade of bringing the Aces franchise its first WNBA title, Hammon was entertaining an exit from the heat of Las Vegas. The climate, to be sure, but Hammon was also in the hot seat of a league investigation into her actions surrounding the trade of Dearica Hamby during her pregnancy.
Believe it or not! Something is worse than the Oakland Athletics | Worst of the Week
In January, Hamby alleged in an Instagram post that she was "lied to, bullied, manipulated, and discriminated" against by members of the Aces' front office because of her pregnancy. "To be treated this way … BY WOMEN who are mothers, who have 'claimed to be in these shoes,' who preach family, chemistry, and women's empowerment … leaves me sick to my stomach," Hamby wrote.

It turns out that the chief culprit was Hammon, a former player turned NBA assistant coach who has benefited over the years from a steady stream of public support in her quest to become the first female head coach in The Association.

WNBA concludes investigation, suspends Hammon
On Tuesday, the WNBA announced that it had concluded its investigation into Hamby's allegations and handed Hammon a two-game suspension, without pay, for violating the WNBA's "Respect in the Workplace" policies. The league interviewed 33 individuals and reviewed copious text messages, emails, and other documents during the course of its investigation. "The 'Respect in the Workplace' violation was related to comments made by Hammon to Hamby in connection with Hamby's recent pregnancy," a league press release stated.
Update: Hammon responded to the suspension by saying: "I handled Dearica with care from day one when she told me [about the pregnancy], and she knows that," Hammon said. "Once I made the phone call that the decision had been made to move her, that's when everything kind of fell apart.

"We made the decision to move Hamby because we could get three bodies in her one contract, and we wanted to get three more people in. I think it's very evident [with] who we signed on why we made the move."
Hammon entered the WNBA in 1999 as an undrafted rookie. Her salary that year was $25,000 — five grand less than the veteran minimum. Players drafted as the No. 1-4 overall picks were guaranteed $50,000 salaries, as were the players who were allocated to expansion teams. They did not have the hard-won salaries and benefits guaranteed under the 2020 collective bargaining agreement (CBA) which players enjoy today. In the WNBA offseason, athletes competed overseas for bigger salaries, as they still do today. According to Hall of Famer Teresa Weatherspoon in the documentary Unfinished Business, it was not uncommon to see these athletes flipping burgers at fast-food restaurants if an overseas contract did not materialize.

WNBA players have had to supplement their meager incomes
Chastity Melvin, the 11th overall pick in the 1999 WNBA, shared in an interview for COURT QUEENS, my book about the history of the WNBA (forthcoming Abrams Press), how the pay gap plays out in former players' lives.
"There's a big misconception for WNBA players because we're automatically thrown into the NFL and NBA category as far as money," Melvin said. "So, a lot of opportunities, people were like, 'Oh, you got money. Why would you come here?'"
Jen Rizzotti, a fourth-round pick in the 1999 draft, was fortunate enough to secure a head-coaching position at the University of Hartford during the WNBA offseason. In an interview for the book, Rizzotti, who is now the president of the Connecticut Sun, reflected on the differences in the mindset of players in her era and players of today.
"It was kind of like you were sometimes resigned to the fact that like this was all we have and we should be grateful for it," Rizzotti said. "It's funny because the players nowadays don't think like that at all. It's the opposite. It's even to the extent where they want things they probably haven't earned yet, but they feel like it should be equal."
Rizzotti does not seem to resent the current players, though. In fact, she expressed appreciation for their perspective: That they may not draw as many fans or as much money into the WNBA as the men do in the NBA, but that the women's league has also never benefited from the kind of investment that built the NBA into a stable force. When it comes to family planning, Rizzotti retired from the WNBA after the Cleveland Rockers folded because she already had designs on starting a family.

Houston Comets great Cynthia Cooper was a 34-year-old rookie at the time of the WNBA's inception. At 39, she and her husband had children — twins — by surrogacy. In the aftermath of the 2020 CBA, which guaranteed players a host of family-planning options never before seen in the league let alone in corporate America generally, Breanna Stewart and her wife, Marta Xargay, had a baby through surrogacy and announced on Mother's Day that Xargay is pregnant (assumedly by insemination). Her former teammate with the Storm, Sue Bird, now retired, revealed prior to 2020 that she had her eggs frozen just in case she might want to have children after retirement.

Gone are the days of players having their already-scant salaries dinged by 50 percent if they became unable to play because of pregnancy, childbirth, and/or maternity leave. The era of WNBA athletes needing to delay motherhood until retirement has ended. In the most competitive league in the world, roster spots are not guaranteed for anyone, but they should not be snatched away in retaliation. By punishing Hammon, the WNBA sent a strong message: That the league will not tolerate the mistreatment of players for their reproductive choices.

The players' union, however, panned Hammon's suspension as "miss[ing] the mark …" and "far from appropriate."
The WNBA on Tuesday also announced that it had also rescinded the Aces' 2025 first-round draft pick "for violating league rules regarding impermissible player benefits," which arose during Hamby's negotiations with the Aces for a contract extension. Las Vegas is already without a 2024 first-round draft pick due to a previous trade.