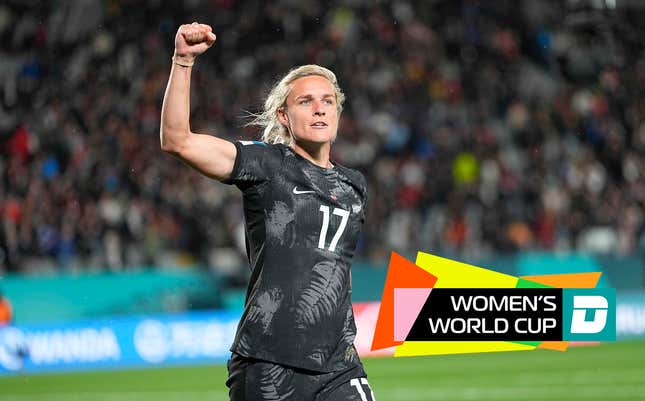 And we're off. World Cup 2023 finally kicked into gear, and while it's a bit disorienting to watch an event on a cold winter night from a summer morning locale as the sun comes up, we here tend to do our best work when we're disoriented. Both hosts started the tournament, and both exited the day with three points. Let's get in up to the elbow!
Luis Rubiales' mom locked herself in a church and is on a hunger strike
Game of the day: New Zealand 1 — 0 Norway
Oh look, it's Norway getting pantsed by the hosts for a second straight tournament. At least they kept this one under an eight-goal spread, something they failed to do against England last summer. But given New Zealand's pedigree in the World Cup, this loss won't feel any better.
It's a landmark victory for The Ferns, their first ever at the tournament. And they were full value for it, but the story will be a bewildering performance from Norway, who looked like 11 individuals that had just gotten off an all-night bus ride, and were convening around the vending machines, such was their familiarity in their play.
Norway boasts two of the best players in the world, both in their frontline, in Ada Hegerberg, and Caroline Graham Hansen. Their plan to utilize both in this match came off as, "Hey, what if we turned one into a battering ram, and the other a beer vendor?" Norway's tactics, or tactic as it soon was shown to be, was to punt the ball up to Hegerberg's head and then…wish upon a star? It wasn't totally clear. They certainly had no idea how to win any second ball, no Plan B, and eventually no hope. Hansen might be the most skilled dribbler in the world, and in the 37th minute, she had all of three touches. Her team's insistence on playing the recess game "500" with Hegerberg's head didn't really give her much opportunity. The first time the Norwegians got the ball on the ground and played it to Hansen, she ran 70 yards with it to set up a chance. You'd think they'd have taken a hint.
Contrast that with New Zealand, who had a clear plan from jump street of surrounding Hegerberg to gather up the loose ball, get it out wide to Indiah-Paige Riley, or Jacqueline Hand, and then look for Hannah Wilkinson making a run between Norway's left centerback (Mathilde Harviken) and left-back (Tuva Hansen). The Ferns clearly felt that Wilkinson had them both beat for speed, and she consistently got behind them. When that was cut off, New Zealand flooded the space on either side of Norway's holding midfielder, Ingrid Engen, and looked for a second run from Wilkinson.
Norway spent all of the first half content to sit in a 4-1-4-1 mid-block, trying to cut off access to that space around Engen, but only left Riley several hours of space and time to try, and pick out that run from Wilkinson. The first time Norway did try to press up high and win the ball back to try and form anything resembling an attack, well…
A familiar pattern — out wide to the right, a run between LCB, and LB, Wilkinson scorching the rest of the defense for pace, hooch hoocha hoocha, lobster!
Norway only looked conscious, and barely, once Vilde Boe Risa came on with 15 minutes to go to provide a second holding midfielder, and more importantly, another passing option in midfield so that they could string some passes together, build a rhythm, and make New Zealand even think about coming out of their shape. Far too little, far too late.
Suddenly the whole outlook of Group A has changed. The host's next game is the hanging curve that is the Philippines, and Norway will have to face a Switzerland side that likely would have already marked their free spot on the Bingo card with three points against the Philippines. Which means New Zealand could be through after just two games, and Norway could be out on their plodding ass after two games. Not how most had this one going down.
Other results: Australia 1 — 0 Ireland
The atmosphere the 75,000-strong created for the other host's opener was a little more crackling than the actual play here. It was no secret Ireland was going to set up in a 5-4-1, and the bombshell news before the game that Sam Kerr would be out of the Aussies' first two games thanks to a calf injury would have only steeled Ireland's certainty that the Matildas would struggle to break them down.
And for the most part, they were right. Australia had similar problems to Norway, way too intent on hitting long balls, though theirs were more of the diagonal-out-to-the-winger variety. But with Ireland so deep there wasn't a ton of space there, and Aussie wingers Cortnee Vine, and Hayley Raso spent most of the first half watching punts up to them bounce off an Irish head before receiving. Clearly Australia were struggling for answers without their usual sharp end, Kerr.
Only when they upped the tempo to start the second half, pressing Ireland more furiously, and Vine causing a giveaway near the benches did they get their cookies, as that was the possession that ended with Ireland's Marissa Sheva shoving over Raso in the penalty area.
Said penalty was dispatched with viciousness by Steph Catley:
Australia didn't exactly see this one out smoothly, as the nerves of the biggest game in their history seemed to get the better of them. But other than one late chance, the most Ireland could manage was a few corners that Victoria Esson had to bat away.
Goal of the day
There's only the one from open play to choose from, so from a different angle:
Did Alexi Lalas say anything stupid?
His presence on TV screens in the middle of the night is more than enough of a burden for all soccer fans to carry without worrying about what seeped out of his mouth just yet. We'll get there, We know this is FOX, and they're oblivious to the juxtaposition of an avowed DeSantis supporter covering a women's tournament, but it's hard for the rest of us to ignore.
At least Carli Lloyd was around
Not only did Lloyd's analysis run circles around Lalas's and make his presence even more pointless, but let's just marvel at this suit as well:
Player of the day
Wilkinson leading New Zealand to their first every WC victory from the front is a strong contender, but she gets barely pipped by Australia's Katrina Gorry, who amassed 13 ball recoveries from midfield, and won three-quarters of both her dribbles, and tackles while bossing the midfield. To put it another way:
Or just one good crunching tackle before we go:
STUCK. IN.
---
Follow Sam on Twitter @Felsgate and on BlueSky @Felsgate.bsky.social for more Eddie Izzard-tinted thoughts on the World Cup.