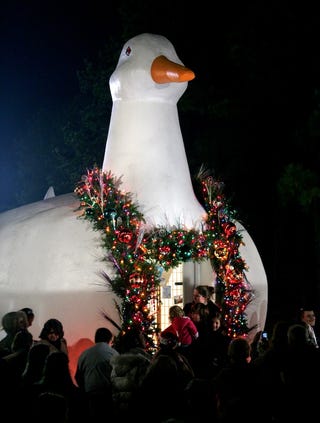 The Long Island Ducks are hiring! Have you always dreamed of working alongside such luminaries as Dontrelle Willis, Ramon Castro, Ian Snell, and Josh Barfield? Of course you have. Stupid question, sorry.
The Long Island Ducks are looking for a "dunk tank dude." I don't know if you'll have to wear a duck costume, but you probably should just to be sure.
The Long Island Ducks, 2012 Atlantic League Champions, are looking for an outgoing person to be the main attraction in their new dunk tank. This is an hourly position that requires a unique personality and a tremendous amount of enthusiasm. "Dunk Tank Dude" will be in charge of drawing attention and generating revenue. Obviously, the ideal candidate is comfortable getting wet/dunked numerous times throughout the evening. The dunk tank is open every game.
There's no word on salary, but the Giardia exposure rates are competitive with any dunk tank in the country.
Photo of unrelated duck-shaped structure erected on Long Island in 2006 via the AP.
[TeamworkOnline, h/t Rick]