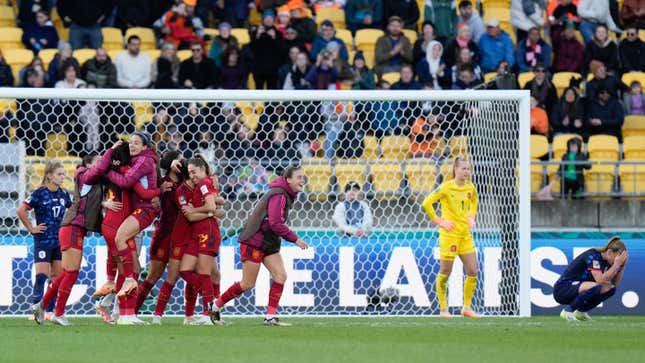 The last eight, usually the best part of any tournament if only because it's the last time you get multiple matches in one day (or night as the case may be this time), didn't disappoint at World Cup 2023. The darlings of everyone are out, and Spain are learning quickly. Let's spin this right round baby!
Could Tom Brady replace Shannon Sharpe? | Agree to Disagree
Game of the day: Spain 2 - 1 Netherlands (after extra time)

It will be of some small consolation to USWNT fans, but consolation nonetheless, that after the Netherlands' Lineth Beerensteyn got a little yappy about the Yanks in the pregame presser, it was her inability to kick a ball into Lake Superior that will see the Dutch packing their bags. Is that harsh? Absolutely. Did that mean Spain were undeserving of advancing? Nope, they were by far the better team. But in one-off games, "deserves" often has nothing to do with it, and Beerensteyn was presented with two or three golden opportunities to ice this one, and sent everyone of them to the land of wind and ghosts.
At this end of the tournament, it's about finish.
We shouldn't go much further without talking about Spain, who did win the match after all. Their own finishing let them down, as they piled up 3.4 xG and could have had four or five actual goals. They had one correctly ruled out in the first half when Alba Redondo didn't think this was a prime shooting position:And an utterly bewildered Esther Gonzalez had wandered beyond the ball, because why wouldn't she? She's never expecting a pass from there.
But Spain over the entire match were able to avoid the trap that most assumed they would fall into of aimless possession and useless passes around the halfway line simply to juice their possession stats. They showed against Switzerland that they could do something else, and they really turned it up against a better equipped Dutch side. The insertion of Mariona Caldenty on the left of the attack gave Spain a second player whom the defense could break lines too, as they regularly passed the ball through their midfield to Caldenty or Gonzalez posting up a defender and either rolling them or hitting a teammate running beyond them. The build up to this goal that was eventually ruled out is a perfect example:
That was the story of most of the match, as the Dutch sought to smother Aitana Bonmati and Teresa Abelleira, Spain just skipped them in the process. Cadlenty's duel-count of winning 15 of 20 is a pretty clear statement on both how good she was and what Spain's plan was.
That plan only works though if you make it count, which Spain couldn't until Stefanie van der Gragt lost her mind and tried to catch a cross on the edge of her own penalty area. That still only provided a 1-0 lead for Spain after Caldenty buried the penalty, and one-goal leads have a nasty habit of smiting themselves out of nowhere just to be devious. All it took was one kinda hopeful punt upfield with defender van der Gragt playing as an auxiliary striker.Ice cold finish from someone who isn't really supposed to be up there, wouldn't you say?
Spain were asking for it, as after going up a goal they lost the ability to find each other with a pass, while still trying to get a little cute with their passing triangles. They had brought on Salma Paralluelo in the 71st minute to give themselves the option of hitting balls long and letting her just hang out in the corner with it, but didn't take it. What little did we know…
Spain's plan of just using their midfield as an entrance ramp continued even after Gonzalez was subbed off for Alexia Putella (they can just bring the reigning Ballon D'or winner off the bench, like you do) and moving Jenni Hermoso into the #9 role. She didn't do much different, and only set up the winning goal by doing so:Spain were much more comfortable seeing it out this time, as the Dutch were dead tired and out of miracles. It's truly startling that even after being without some 12 players due to their FA's own incompetence, Spain can bring players like Putellas and Paralluelo off the bench or have Caldenty simply as an option to bring in to the starting lineup when they want.
As for the Dutch…next time bring a striker who can discover the area between the posts. Might help.
Other games: Sweden 2 - 1 Japan

Every neutral felt this one, and Japan–who had become everyone's second favorite team at least thanks to their swashbuckling play in various forms– will get on the plane asking themselves why exactly they were so timid until they were two goals down. Sweden may have the USWNT's scalp in their bag, but this is not a team that has looked anything over ordinary in the whole tournament. And were it not for goalkeeping heroics from Zecira Musovic they wouldn't even be this far.
Japan were too happy to let Sweden have the ball and sit pretty deeply in a 5-4-1 defensive shape, even though Sweden hadn't yet shown that they could deal with high pressure farther up the field (didn't look great against the US for sure). Perhaps Japan thought they could use the same file titled, "Spain Plan" for this one. But Sweden kept at least one full-back deep at all times, and use a double pivot, so when Japan did look to counter there were five players filling those spaces in the middle instead of the three Spain attempted to do so with. Instead of flooding the opposing #6 with attackers as they did then, Japan found they were outnumbered.
So they just…surrendered the ball. Maybe they were afraid of giving up too many crosses and set pieces in a more open game to a clearly more physical Sweden side, but it also displayed a lack of ambition. Italy were able to play around and through Sweden for half an hour before they forgot they actually had to defend corner kicks, and Italy is no Japan.
Japan seemed unprepared for Sweden completely boxing in tournament revelation Yui Hasegawa in the center of the park, and were unwilling to try and go direct or even really attack. This was the look that Hasegawa (#14) and Japan saw most of the evening:Until they scored off a freekick, Sweden were lacking anything resembling a sharp claw. They were willing to hit some balls over the top which backed Japan's back five up enough to open up space for Kosovare Asliani and Fridolina Rolfo to find space between the lines, but they weren't doing much with it. But then, you don't have to do much when the team you're facing defends like this:Important phrase to learn is "get rid."
Sweden were clearly buoyed by the goal and really did start to play until halftime after it, showing a swagger not seen previously. But that was only aided by Japan's unwillingness to engage them. With Japan's passivity, being 1-0 felt larger than it was, and it only takes one bad bounce or iffy decision to put a team really into the shit:What will rankle Japan is that after this, when they did start to really push, they hit the post twice, got a penalty they missed, and scored, as well as a couple other chances. Before the 60th minute Japan didn't even have an attempt on goal. Afterwards they had 11 and created 1.71 xG in just half an hour. What could they have done if they'd gone for it for a full 90?
It's another harsh lesson that looking great in the group stage and $3 gets you on the bus. Once the group stage is over it doesn't count for anything, and the tournament isn't cumulative. It's only the game in front of you, and Japan basically biffed it. That will sting.
Did VAR screw anything up? Probably! Beerensteyn can feel a little aggrieved at having a penalty she thought she earned, with the score still 0-0, overturned on VAR for…reasons? The call seemed to be that it was shoulder to shoulder contact, which is obviously allowed. But it sure looked like a shove in the back, and whether Beerensteyn is getting to this ball or not doesn't really matter. Is that clear and obvious?
Not like Beerensteyn would have scored anyway.
As for the other match, yes, by the letter of the law Fuka Nagano's hand is away from her body and thus making it bigger, and even from certain angles it looks like she moves her hand to the ball. But she's also jumping, which always means a player's arms and hands are going to be raised, and the ball deflects off a head three feet in front of her. There's no way she would have time to react to either move her hand to that ball or away from it. It just hits her, and feels like a pretty heavy-handed interpretation of the rules.
Oh, and back to Spain-Netherlands for a minute, if Nagano's is handball how was van der Gragt cradling the ball under her in the first half not? Yes, by letter of the rule (again) bracing yourself with a hand on the ground is a natural position, but the ball rebounded off the post and rolled to her at 3 MPH. She knew exactly what she was doing and by not moving at all she is making her body bigger.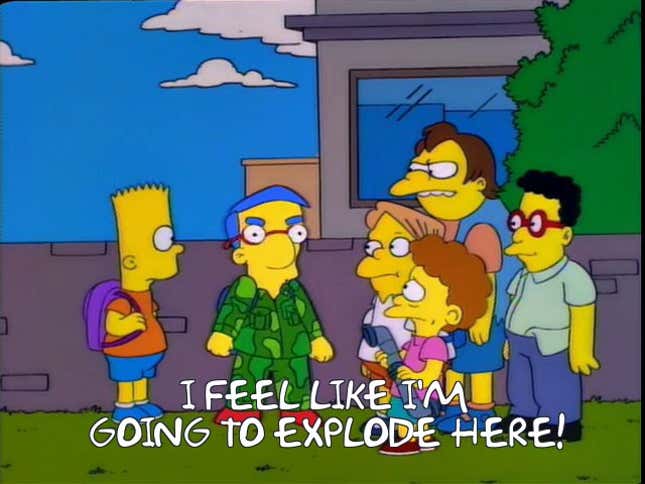 What can Fox screw up today?: It wounds my inner child, because anyone my age (103 and above) had soccer introduced to them by JP Dellacamera. He was the voice of ESPN's Champions League coverage, usually on delay at like 1am with Tommy Smyth before Derek Rae took over.
But something has changed in the interim. A TV play-by-play's job is merely to say last names. We can see everything, you fill in the lines. It's why everyone loved Pat Summerall even if he was the drunkest human ever to exist on the air. He didn't feel the need to fill in blank space needlessly (even if it was just a vomit break).
Dellacamera talks and talks and talks. For example, when reminding everyone of the substitutions left, "Netherlands have used two, Spain have used one….THUS FAR." Yes, we know it's thus far, because we're not expecting you to see into the future.
Later in the match, again coming back to substitutions, "Spain still have a couple subs left, maybe they'll use them…we'll see." The whole goddamn point of us tuning in is for us to see! "We'll see" is the entire allure of watching…well, anything! We're here to see!
The constant suggesting of hypotheticals so that there's little to no silence is infuriating. Another slice, "There's three minutes left in the first half of extra time…then another 15 minutes…and maybe even penalties!" WE KNOW! There's already been two penalty shootouts this tournament. We get it. Just let anything breathe, for the love of god.
Also, Aly Wagner, whose work has been mostly exemplary during this tournament, was awfully quick to credit Netherlands manager Andries Jonker for punting van der Gagt up top late in the match and changing the formation. Aly, bubala, they're trailing in an elimination game with 10 minutes to go. A coach doesn't have much choice other than to find the biggest obelisk they have and put them up top to aim long balls at. Anyway, still love you, Wags.
Follow Sam on Twitter @Felsgate and on Bluesky @felsgate.bsky.social