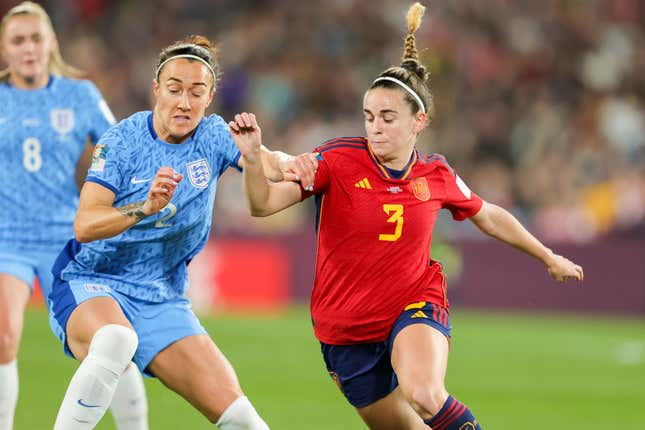 There's some lesson to be learned that Spain won the World Cup with a manager they reviled, while the USWNT faceplanted in the round of 16 with a manager who got hired mostly because all the players loved him. I'm not exactly sure what it is, but it probably has to do with what really matters is the players you have. Spain have the biggest collection of really good players, which is how they can win the World Cup missing 12 players due to their own FA's intransigence. It doesn't have to be harder than that.
Luis Rubiales' mom locked herself in a church and is on a hunger strike
The final itself though felt like it hinged on England deciding to walk the highwire and then falling off of it. The thing about managerial choices or tactical options in a short tournament, a lot like baseball, looks either genius or foolish on the finest margins. If Lauren Hemp's shot midway through the first half hits the underside of the bar instead of flush, then Sarina Wiegman's choices look expert. But it didn't, and now those decisions look lacking.
England set out to press Spain man-to-man all over the field. Their front two on Spain's centerbacks, the wingbacks Rachel Daly and Lucy Bronze up against Spain's fullbacks, midfield three vs. midfield three, England's back three against the three Spanish forwards. The wager was that England would be able to cause enough turnovers or chaos in the Spain backline to profit. Which, going by Hemp's chance, could have worked. The downside of that is Spain can play through that with an arrogant ease, given their skills on the ball. It's exactly what the Dutch tried to do in the quarters in the first half, and had Spain's finishing been better in that match they would have utterly throttled the Netherlands. Remember, in that first half against the Netherlands Spain outshot them 12-1. If this is the thought of how you beat Spain, it's also how you get your head kicked in by them.
And while the scoreline was only 1-0, there was little argument that Spain were by far the better side in the first 45. Quickly recognizing the man-to-man press from England, Spain was only too happy to have left-sided forward Mariona Caldenty drop into midfield, dragging Jess Carter with her, which only left an acre for Salma Paralluelo to run into. And they could always hit her because of their ability to play through England, while hitting enough long and direct passes to at least let England know they had it in the holster. It was just about this easy for them all half:
England wanted to pull a page from Japan's playbook too, which meant every time they got the ball it was a rush to get it up the field as quickly as they could to try and catch Spain's fullbacks too far forward. But whereas Japan did that with a front three, England was attempting it with only a front two in Hemp and Alessia Russo, and they were swamped. And England were let down by too many players just not having a great night, starting with Lucy Bronze, who kicked off the procession to Spain's winning goal by going on a one-woman charge up the field that looked a little like Will Ferrell's call to lead a pack of streakers in "Old School." She got about the same result:
This all starts with Bronze dribbling from right back into the center circle and into four Spanish players, with Teresa Abelleira then immediately switching into the ball to the space that Bronze had abandoned. Caldenty has all the time in the world, and Russo has no chance of filling in for Bronze and never catches up to Olga Carmona. It would be how you draw up the perfect counterattacking goal.
Clearly, England needed to change something at half, but Wiegman's choices then were no less strange. Getting Lauren James on the field was obvious, but at the expense of Russo? England's advancement in this tournament had been strongly on the basis of the partnership struck up by Russo and Hemp after the switch to a 3-5-2, and Wiegman just cast that aside? Secondly, Hemp has spent most of her career as a wide forward, and her transformation into a striker partnership with Russo at this tournament was a surprise. But asking her to be the lone #9 in the second half was a bridge too far, especially as that's Russo's natural position.. Screamer against Australia aside, Ella Toone had done nothing in this tournament, and had already been usurped by James once and only got her place back when James got suspended. Why was she left on the field but Russo wasn't? England lacked a pivot point to base the attack off of, and it showed.
James's presence gave England more verve, but hardly a ton, and they only had one shot on target in a 2nd half they trailed the entirety of. And just when England looked like they were managing a final thrust, Wiegman pushed Millie Bright into a striker role from defense for the last 20 minutes of the game. A central defender up top? You do that in the last 3-5 minutes when you're out of options and desperation is at its highest. Not the last 20. It blunted whatever momentum England had as no one really knew who was going where with Bright in such an unfamiliar position. It all felt too cute by half.
It was hardly a tactical masterclass from Spain coach Jorge Vilda, perhaps proving the old axiom that if the roster's good enough you can have a glass of orange juice managing it. Whatever choices either made for the final, the bottom line will be that Spain had too many players who played too well all tournament to lose, and England really didn't just have enough. Aitana Bonmati took home the golden ball, as well she should have, and in the final she completed 42 of her 44 passes while completing six of seven attempted dribbles and winning nine of 14 duels. The absolute best player in the world.
But she was joined by Jenni Hermoso, who was Spain's engine a lot of the time in two or three different positions. Or Caldenty unselfishly doing the running and hold-up play to allow her teammates to take the space that created. Paralluelo looks like she might take the Ballon D'or off Bonmati one day soon. Carmona, a left-back for fuck's sake, scoring in the semi and final. Abelleira a metronome in midfield. We could do this all day. They simply peaked at the right time.
England were able to get this far on know-how, efficiency, and a little luck (James's red card against Nigeria may have indirectly helped them, as an example, as Nigeria had no idea what to do once they got more of the ball against 10 players). But they were just a little too beat up and had too many players off-color to overcome a team like Spain that had everything come together. Bronze was mostly puke. Keira Walsh couldn't find a way to exert too much influence. Georgia Stanway looked jaded after playing every match and trying to do the work of two or three. Toone never fired. James took herself out of the business end of the tourney. They didn't have the same options off the bench that Spain did. Hard to stop a train dressed in red that way.
And in the end, it's the right result, even if it comes with an infuriating and undeserved affirmation for Vilda and the Spanish FA. This collection of players for Spain is just too good, too beautiful to watch, to not be rewarded with the ultimate prize. They played the best soccer, and unlike Japan, never lost their nerve to do so. They even had to gut out a couple results when it didn't break their way, lessons learned from the past. They are worthy champions, and they may stay that way for a long while yet.
Other notes from the final:
A lot was made of the final being refereed for the first time by a US crew, while no one bothered to point out that Tori Penso actually had a pretty crap tournament. Leading the charge for all refs in the if-you-still-have-all-your-limbs-it's-not-a-foul ethos of this tournament, Penso was all over the place in this final. Routinely missed which team should have a throw or a corner, gave Hemp a farce of a yellow at the end of the first half, then Paralluelo got one in the second half only after Penso saw Alex Greenwood was hurt and not for the foul. Abelleira a few minutes later committed an obvious professional foul on James and didn't get carded And then VAR check that went on for 20 minutes, which we'll get to. All the while sporting that doofy grin that refs get when they know they're in too deep. Borderline wretched, and thankfully she didn't end up ruining the final.
---
Not that VAR didn't let her try! Walsh was, eventually, whistled for a handball in the box that gave Spain a penalty that could have iced it, except for a great save from a somewhat peeved Mary Earps:
This actually cuts out the previous 10-second monologue that would have definitely been R-rated that was aimed at Penso or the Spanish team or maybe the world as a whole.
But good god did it take forever to get there. The VAR ref looked at this for a good two to three minutes before even sending Penso to the monitor:
Then Penso looked at the same replays at least 12 times. What was she going to learn that she didn't already see on the 13th viewing? VAR's main problem is the wavering definition of "clear and obvious" from person to person, but clear and obvious to anyone should be visible within 10 seconds. If it needs to be slowed down and repeatedly viewed, then it's not obvious. Both VAR refs and on-field refs shouldn't get any more than 15 seconds of looks at something. If they can't decide in that frame, then it isn't obvious. Yes, it's the World Cup final, which means we all want to get the calls right, which this one eventually probably was. But taking six to seven minutes to do so is unnecessary to say the least.
---
I have had a blast watching and covering this tournament, but I won't miss Fox's coverage of it. My last broadside to JP Dellacamera, who fills the broadcast with answers to questions no one asked, came in the last few minutes of the 90. With England pressing up the field with the ball and attempting to tie the game, a World Cup final, and stringing some passes together frantically, Dellacamera decided to insert into his description of said action with, "Putellas still waiting on the sideline to come in!" WHO THE FUCK CARES ABOUT A SUB NOT IN THE GAME YET WHEN IT'S 1-0 AND ENGLAND ARE CROSSING THE BALL INTO THE BOX?! WHAT DOES THAT HAVE TO DO WITH ANYTHING?!
---
Might as well take one more swipe at Alexi Lalas before exiting the stage. As Spain prepared to take the stage to get their medals, he couldn't help himself. "Huge credit must go to Jorge Vilda."
Uh, no. There isn't a person on the planet who came closer to destroying this beautiful gift to the game than Vilda, and it's a testament to the players that they won this tournament under the guise of a manager they can't stand and don't believe in. Yes, Vilda did get some adjustments right as the tournament went along, and Spain's triumph doesn't happen completely separate of him. But the far bigger role he plays in this story is how he and his bosses almost derailed everything.
It's no shock that a DeSantis-loving shithead like Lalas wants to take joy in watching some fail-dude get reflected joy off of the work of women by being forced upon those women by even more incapable fail-dudes above him. It's what Lalas is, after all. How long does he go back in the closet before Fox Lalas-boards us again? Next summer's Copa America? I guess we'd better just cherish the intervening 10 months.
Anyway, that about does it. It's been a true joy following along for me, Julie, and Eric. Hope we've added to yours as well.
Follow Sam on Twitter @Felsgate and on Bluesky @Felsgate.bsky.social