In the weeks leading up to Carli Lloyd's home debut with Sky Blue FC, the ticket requests came fast and furious from her friends and family. But by the time the Delran, N.J. native and women's soccer icon stepped on Yurcak Field Sunday afternoon, the headcount had diminished greatly. The prospect of watching a soccer game, even a meaningful one, in a frosty, windy rain tends to help people find excuses.

"Probably just a couple," Lloyd said of those she'd personally brought into the stands. "A lot of people bailed last minute."
That Lloyd is even here in New Jersey represents a coup for the franchise, which plays on the very field where she first entered the national consciousness as a star for Rutgers from 2001-2005. In the decade-plus since, Lloyd, now 35, has created a host of iconic moments with the U.S. national team—scoring the winning goal against Brazil to capture the gold medal in the 2008 Olympics, a hat trick in the 2015 World Cup final against Japan (including this, among the greatest goals ever seen on a soccer field), and enough others that her score against Mexico on April 8 was her 100th in international play. She's just the sixth American to hit that milestone, and the first since Abby Wambach in 2009. She's a legend, in other words, and as such Lloyd could be forgiven for considering Sky Blue's perks—she was traded from the Houston Dash in January—mostly about the creature comforts: a short trip to both training and games from her Medford home, a chance to spend more time with her husband, Brian.
But that's not how Carli Lloyd operates. She knows the team's best chance for success depends almost exclusively on what she can bring. This isn't merely a question of media attention, although there's that; the unending requests keep her busy on the way to and from training every day. Bridging the gap between the 2,613 who attended the average Sky Blue match last season and the 25,000 who routinely fill Red Bull Arena when Lloyd and the U.S. women play there is the team's mission this year. The crowd of 1,913 who turned out for Sunday's combination monsoon/soccer match against the Seattle Reign largely did so because of Lloyd.
One of those fans is Phil Murphy, who is both Sky Blue's owner and, as of January, the governor of New Jersey. Despite the conditions, Murphy made sure to be on the field to present Lloyd with a jersey honoring her 100 international goals, and proceeded to stick around to watch her play. He sounded confident that he wasn't the only one who'd make the extra effort for her.
"I think it does a lot," Murphy told Deadspin, standing in front of the large "Jersey Pride" sign unfurled by the Sky Blue supporters' club, Cloud 9, just before to the game. "She's one of a great squad but she's a New Jersey icon. She's an American icon. She's a Rutgers gal. She's come home. She's one of the most important national players in our country's history. We're proud and thrilled to have her back."
G/O Media may get a commission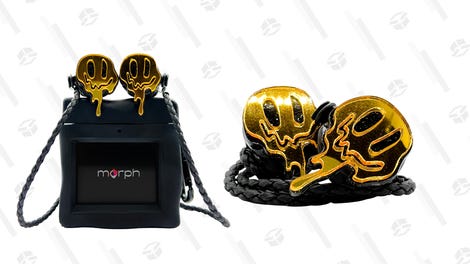 morph audio
Morph Earphones
Or consider Gia Bellfield, age 10, of North Brunswick. She and her mother, Cassie, had wrapped themselves tightly in an assortment of blankets and ponchos, basically turning them into a pair of soccer-supporting blintzes. I asked Cassie if Carli Lloyd played a part in the two of them coming to see Sky Blue FC. "That's the reason that we came," she responded. "I mean, obviously, a lot of the girls are obsessed with Carli. It's a huge reason why we come out."
Gia met Lloyd at one of the endless number of clinics Lloyd puts on for youth soccer players. Gia got a picture with her. She got one-on-one time with her. It made an impression, and Gia and her mother expect to return the favor by coming to Lloyd's games, again and again.
---
Playing at Yurcak Field means that even on the sunniest day, with the best matchup, Sky Blue's crowds max out at 5,000. That's slightly less than the league averaged per match last year, and significantly less than two teams, Orlando and Portland, averaged. Those two, along with Houston and now Utah Royals FC, play in Major League Soccer stadiums, offering fans the sort of amenities and broader experience that is now the standard at professional games. Sky Blue FC has a single stand for food, and a single tent for apparel. It's never not obvious that this professional team plays its games on a college soccer field.

Then there's location: While many other NWSL teams are located within convenient distances from major cities, Sky Blue FC doesn't really play near... anything. Rutgers is far enough away from Philadelphia and New York that media outlets have an easy excuse not to cover Sky Blue. They play primarily in the summer, when many New Jerseyans often take off for the shore, and when Rutgers students have largely cleared out. The team trains nearly an hour away, in Manalapan. Professional men's teams have confronted the region's lack of soccer options in recent years, too: the New York Cosmos have failed to find a place to play regularly, and NYCFC remain in a loveless marriage at Yankee Stadium.
And so Sky Blue is left to try and maximize what it's got. And it's worked, relatively: the 2,613 fans per match in 2017 represented a 21 percent jump in attendance over 2016. Now Lloyd is on hand to juice that number, which is expected to happen once the team starts playing games in less-hostile weather conditions. But precisely how the franchise goes from its current situation to a Portland or Utah scenario isn't necessarily clear to Lloyd, even now.
"Obviously, I've played here at Rutgers," Lloyd said. "I grew up in New Jersey. I've been a part of New Jersey soccer. It's kind of a win/win for everyone, so I think that it's an awesome start to what could be a fantastic journey. I'm thrilled to be back home."
That's the other side of the Yurcak problem for Sky Blue, the side that feels less like a problem when the game's in progress. In places like Portland and Utah, the size of the stadium makes players a bit more removed from the fans. The bleachers at Yurcak, in contrast, press right up against the field; everyone who wants to take a look up close has the opportunity. The facility is inconvenient and spartan, but it does offer something that few other home fields in the league can boast—the chance to watch the best players in the world right up close.
What fans saw, even on Sunday, was what Carli Lloyd always is—a brilliant and terrifyingly focused player. As the national anthem played, and players on both teams fidgeted, jumping up and down to stay warm, Lloyd stood stoically, one hand behind her back.
Once the game started, she looked for opportunities to attack, but her coach Denise Reddy also asked her to track back often—"Everyone defends," Reddy said when I asked her about this after the game—and so Lloyd did the hard work of clearing a Morgan Andrews corner that lingered menacingly in the box late in the second half.
And Lloyd never stopped teaching, discussing tactics with Raquel Rodriguez and Sarah Killion, showing them where the gaps in the Seattle defense could be found. To watch Lloyd closely is to see the attention to detail required to become the preeminent soccer player of her generation; to see the game through her eyes is a perpetual search for improvements and angles. And then, most of the time, Carli Lloyd goes ahead and makes things better herself.
The rain increased in intensity as the second half continued, and even Megan Rapinoe, the Reign star, exited 56 minutes in, content to avoid risking her MVP-level performance this season in the waning moments of an early-season game. Lloyd played all 90 minutes of what turned into a 1-0 Sky Blue loss, and both Lloyd and Reddy said the idea of her coming out early never came up.
I asked her what message she was sending to her young teammates by doing this. "For me, it's..." Lloyd paused a moment. "I train in any conditions. Obviously, you don't like to train in this, but it is what it is. You can't control it. There's things that you can't control. Weather is one of those. And you have to be willing to be up for any sort of task, whether that's sunny, whether it's wind, rain, snow. For me, my training is the same way. I train all different times of the day. Sometimes it's morning, sometimes it's night, sometimes it's afternoon."
"Sometimes Christmas Day," I interjected, citing her now-famous penchant for refusing to take the holiday off. Lloyd smiled as if receiving a compliment. "Sometimes it's Christmas Day, sometimes it's early early morning," Lloyd continued. "You've just gotta get accustomed to putting in that work and being used to it."
Shortly afterward, reporters gathered around Lloyd in a makeshift tent Sky Blue set up for postgame interviews—there's no established mixed zone, no indoor respite for anyone at Yurcak beyond a tiny locker room and tinier press box. When the assembled press ran out of questions for Lloyd, she sprinted into the locker room briefly, reemerging with a large Olive Garden bag and chomping happily on a breadstick.
Five young girls had stuck around through the heaviest rain and wind, standing unprotected just outside the Sky Blue locker room door. Each one wanted a picture with Carli Lloyd, and each one got it. One by one, Lloyd took a selfie with each of them. She was still smiling when she finally headed toward the parking lot and out into the rainy night.