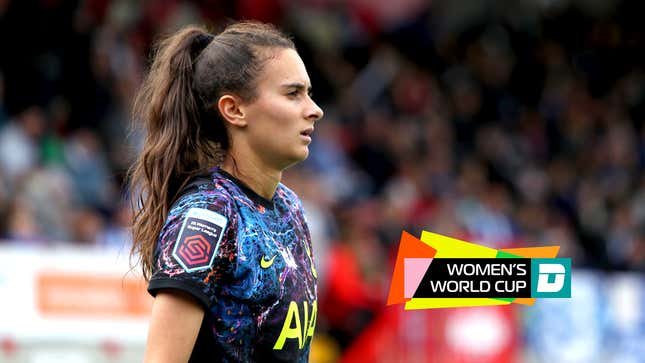 The women's World Cup should be, and still is in a lot of ways, a celebration of how far the game has come from where it was even just four years ago. The attention is more, the players, and teams are better, the quality of play keeps rising, the anticipation grows, as does the appreciation when it starts. And yet it also becomes a theater for the problems the game still has, evidenced by all the teams that are in disputes with their various governing organizations. It is the best place to draw attention to a fight for what's right, as the USWNT has proven, but the hope is still that one day soon it will be a tournament that only exemplifies the best the game has to offer.
Luis Rubiales' mom locked herself in a church and is on a hunger strike
Which is why Morocco is such a breath of fresh air. Here's a team making their World Cup debut that's been making leaps and bounds in the past few years (runner-up in the latest AFCON), with the full backing and dedicated support of their FA with a vision and plan that is growing fans at an exponential rate back home. And that's in a country that hasn't always been the most hospitable to women's sports overall.
The story of the rise of Morocco's women's team is not so complicated that other nations couldn't easily emulate it. It just requires the will. It's King Mohammed VI building a training center in 2009. It is the hiring of Kelly Lindsey, formerly of the USWNT, as director. And let her hire Reynald Pedros as manager, fresh off winning Ligue 1 with Lyon, and the Champions League twice. It's creating two professional leagues with promotion and relegation and regional under-17 leagues to give kids everywhere in the country to play and to grow. It's the unveiling of the King Mohammed VI Football Complex in Rabat that cost hundreds of millions of dollars for both national teams that is the envy of a lot of national teams around the world. It is setting a goal and then doing the things that are required to get there instead of just saying it to get your name in the paper.
And now Morocco has seen the first results. Their runner-up finish at the AFCON they hosted, which saw them qualify for this World Cup, is their best result. They were able to jumpstart the national team's renaissance by luring some dual nationals to play for them, no doubt influenced by the commitment and facilities the FA, and government have shown to juice the women's game in the country. Their star striker, Tottenham's Rosella Ayane — who scored the penalty that clinched a World Cup spot — was born in England. Exciting winger Sakina Ouzraoui was born in Spain. About half the squad are dual-nationals, drawn to play for Pedros and get to a World Cup, and make a little noise once there.
It won't be easy, but it's certainly possible. Germany is the big bad in the group, and Colombia has consistently been South America's second-best team behind Brazil. Korea Republic just finished as runners-up in the Asia Cup to China. The games between the last three will be what everything is decided on. Morocco are unlucky in that their first game is against Germany, whereas Korea might get a Germany with their sandals on in the last group game when they likely will have everything clinched.
That doesn't mean Morocco won't keep winning more fans in this tournament. They have a spicy front line with Amani, Ouzraoui, and Fatima Tagnaout all rotating and shifting and all going wide and getting into the box, and keeping defenders' heads swiveling. Behind them orchestrating it all is Ghizlane Chebbak, who does shit like this:

Morocco won't be here to park the bus at all, they're not even all that good defensively, so they very well may try and attack, and score their way out of this group.
And should they get out of this group, and should they entertain, they'll be a model for what other countries that haven't quite reached the top level of the women's game can do, Simply want to and then back it up with money, and organization. Fuck, they could be a model for world powers too.
This tournament's other major story, players missing out due to ACL injuries, has mostly dodged Germany, which is why they're a lot of people's pick to win the damn thing (including this one's). That doesn't mean Die Nationalelf is completely at full-strength, missing names like Giulia Gwinn, and Lind Dallmann. But what's left is probably the deepest team in this tournament, with two possible candidates for player of the tournament in Alexandra Popp, and Lena Oberdorf. Popp's goals were the major catalyst for the Germans run to the Euro Final last summer, and had she not injured herself in the warm-up to that final it very well may have gone the other way. Oberdorf was, along with Gwinn, the breakout star at the base of midfield, and at some point is going to break out a tackle that will have Tony Khan rushing to offer her an AEW contract. She simply lords over any midfield she's in.
Most of Germany's team comes from Wolfsburg, the country's club power who lost to Barcelona in the last Champions League final. Oberdorf's running buddies in midfield are Sara Däbritz, who had a touch of a down year in her first with Lyon but had been a major cog for PSG in the two seasons before that, and Lina Magull who is the engine for Bayern Munich. Popp will be flanked by Wolfsburg teammates Svenja Huth, who has supplied 31 assists over the past three seasons, and another burgeoning star in Jule Brand. Lea Schuller, who scored 14 goals in the Bundesliga this past season, might be first option off the bench. Same for jet-heeled Nicole Anyomi. Only the US might be able to change a game with subs as much as Germany could be able to.
If you'll need a bathtub of caffeine to stay up for this tournament, watching Colombia may provide most of it. They press hellaciously without much structure, and their attacking system resembles the Vegas Golden Knights' ploy of "Get it the fuck up there as quickly as fucking possible." They'll leave themselves exposed with that press, so they'll force teams into a lot of turnovers that turn into chances but they'll also give up a ton on the occasions teams get through their press. There will be goals here, and a good portion of them may come from Linda Caicedo. Caicedo moved to Real Madrid at 17 halfway through this past season, and scored two goals, and added four assists in just 10 games. She was the player of the tournament as the Copa Libertadores as a teenager, and feels like a player who could enter Ballon D'or discussions down the line.
Which should make their match with Korea a must-watch, given Korea's ability with the ball, fluidity in movement, and their organization. All of the movements — the wingbacks pushing high in their 3-5-2/3-4-3, the two holding midfielders being options for the defense to pass to while under pressure — is to free up #10 Ji So-Yun. So-Yun was a regular for Chelsea for six seasons before moving back to Korea. Korea will go as far as she can take them.
Follow Sam on Twitter @Felsgate and on BlueSky @felsgate.bsky.social as the hours this tournament requires turns his brain to mush.