Now that A-Rod's been outed as a 2003 steroid user, many are wondering when the other 103 names on that not-so-mysterious list will be revealed. Would any player's name surprise you?
Now, this is only a hypothetical list — none of these players have been accused or are even rumored to be on the '03 survey testing. The reason A-Rod's name popped up seems a little coincidental, considering that SI's Selena Roberts, one of the writers who broke the original story, is coming out with a book about Alex Rodriguez this May. Most baseball fans (and sports fans, in general) are pretty jaded by all this steroid talk. As long as there is a heartfelt apology attached, then let's move on. But here's a list of players whose careers would be seriously altered should their names pop up.
• Curt Schilling, Boston Red Sox: Schilling's been stridently anti-steroid and tireless in separating himself from the needle-injecting evil doers who have tainted his game. He's even demanded that the list of all the players who failed the test be publicly named so that the rest of the innocent players aren't just guilty by association. But what if his name pops up on the list? It would disastrous to his bloody sock legacy, but would also probably get him to shut the hell up for once. Finally.
• Derek Jeter, New York Yankees: Jeter's baseball reputation is pretty untarnished up to this point, that is if you count dalliances with young actresses or sabermetric knobs' conclusions that he's a crappy fielder blemishes. But Jeter popping up on the list of 103 would seem to rattle the baseball purists to the point of no return; if Jeter was using 'roids the whole time, does the fawning over his heart and hustle completely disappear and make him just an ordinary player for the rest of his career?
G/O Media may get a commission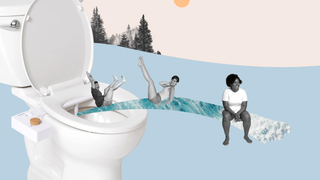 17% off
Tushy 3.0 Warm Water Spa Bidet Attachment
• Chase Utley, Philadelphia Phillies: He's consistently hailed as a throwback player and one who overachieves beyond his natural abilities and physicality to put up inflated power numbers. He's soft-spoken, humble, and always seems to say the right thing in public. You know, besides World Series victory parades in front of a live television audience.
• Greg Maddux, retired: He's the consummate "pitcher's pitcher" who's managed to rack up 355 wins throughout his career without overpowering stuff. Always lauded for his work ethic and his ability to out-think opposing batters, his Hall of Fame status could potentially be ruined if it turns out he'd been juicing for the sake of inching up the record books and prolonging his career.
• Albert Pujols, St. Louis Cardinals: Leitch hinted that his trainer might have been on the initial Grimsely list back in 2006 and the Emeritus became the most hated man in the Midwest for a short period of time. (My favorite rip on Will at the time came from a writer who said something along the lines of, "He authored a book called 'Life As A Loser.' That's a surprise.") But what if you found out that Pujols' ridiculous slugging percentage and consistency were HGH-enhanced? He would go from perennial MVP candidate to Giambi-like, comeback player of the year candidate depending on how sincere his apology was.