When we brought you photos of Andrew Lowery, the Marine beaten up outside a Baton Rouge bar, it looked ugly: cuts, bruises, blood. When we brought you the police report, it sounded ugly: a man dragged from his vehicle, Lowery kicked in the face. But the medical reports are in, and it's uglier than we suspected.
According to ESPN, Lowery suffered a concussion, a facial fracture, and broken teeth. The still-unidentified second victim suffered three fractured vertebrae, a concussion, broken teeth and severe cuts and bruises on the face.
All of which means that yesterday was either really good timing or bad timing for a student-organized really to support the football team "whether [Jefferson and Johns] are guilty or not." According to The Advocate, about 30 students showed up.
Jordan Jefferson's attorney is preparing a presentation to coach Les Miles and AD Joe Alleva, arguing for Jefferson to be reinstated to the football team. Said Lewis Unglesby,
"It is more than unjust to destroy this young man's career if it's all about a bunch of nothing, which is what I think...I think once everybody has a chance to take a deep breath and calm down, the right place for Jordan is back on the team."
G/O Media may get a commission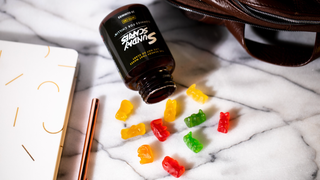 10mg CBD Gummies (22-Count)
Unglesby has a totally legitimate point about being innocent until proven guilty. But that's not a standard college football coaches have to honor. And all that's come out so far looks very bad for Jefferson and Johns. If their lawyers want to defend him in the very important court of public opinion, perhaps it's time they elaborate on their "multiple witnesses" that dispute the police account. Until then, Jefferson and Johns are innocent until proven guilty. But that doesn't mean they should be playing football.