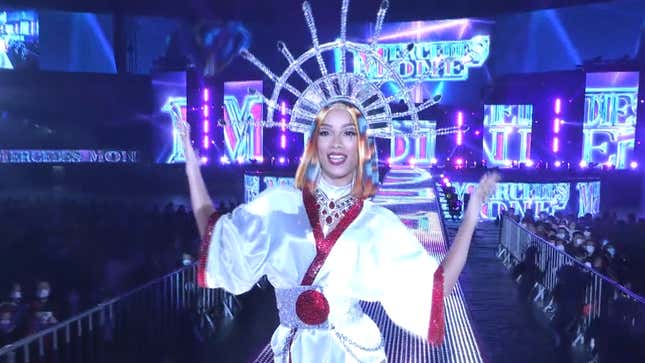 The biggest event for weirdos and insomniacs, other than maybe the Australian Open, got back to normal service last night. And that's New Japan Pro Wrestling's biggest event of the year, Wrestle Kingdom (bell time, 3 a.m. EST). Not only did it mark the return of actually cheering crowds for NJPW shows, which returned that spice the company had been lacking for nearly three years, but it opened a whole new avenue as well for another side of the promotion for an influx of new fans. Though it did so somewhat wonkily, but we'll get there.
How will The Elite return to AEW? | Deadspin Dropkick
Thanks to Japan's much stricter handling of the pandemic (though not always smoother), NJPW had been running shows since the summer of 2020 with either no crowds, very sparse crowds, or crowds that could only clap and stamp their feet to express any kind of emotion. It's not that Japanese crowds are AEW-level boisterous, but the eerily quiet atmospheres gave the promotion the feeling of just being stuck in stasis or a high school assembly. There were still some great matches, but they all lacked that certain something to put them over the top. More strict visa and border policies also kept a host of overseas talent from going over to provide a pop or two.
And it felt like the company used that holding pattern to book their shows in something of a holding pattern manner. It was hard to tell whether NJPW was trying everything because there wasn't a crowd to react badly to it, or wasn't trying at all because there wasn't a crowd to react badly to it, or both. The company entered the pandemic off the back of the conclusion of Tetsuya Naito's incredibly cathartic journey to become the first man to hold both the top title and the Intercontinental title. And then had him immediately drop them to a heel-turning Evil. Which could have worked, as Evil was a former stablemate of Naito's and there was a lot to play with there, but Evil's switch to Bullet Club also coincided with a switch to an in-ring style that was borderline unwatchable. From there the promotion eventually turned both belts into one, but that didn't stop them from trying to turn everything over to the Bullet Club, even though there was very little about that faction that fans could connect with. At one point it felt like every major title in the company was held by a member of that faction, and it was boring as all fuck.
It's understandable that the company felt so beholden to Bullet Club, as it was that group (and more to the point their merch) that shot NJPW to popularity on this side of the Pacific, and provided a whole new revenue stream. But that was on the back of AJ Styles or Finn Balor or Kenny Omega. The pandemic kept current leader Jay White away for a while, and even when White has been around he just hasn't connected with the American audience in the way his predecessors did. Maybe it's because his matches seemingly can never be shorter than 35 minutes, maybe it's the rote interference that always accompanies them, maybe it's the way White's heel persona can occasionally grate. There is no question White is one of the world's best wrestlers, there may not be one on the planet with a larger move-set, but it just hasn't clicked in that highest sense. Which only exacerbated the problems of NJPW trying to force-feed this iteration of Bullet Club down everyone's throats.
But with no cheering crowds, it didn't feel like there was any urgency or pressure for NJPW to change or try too much new other than for the sake of it. It was stale.
Last night's Wrestle Kingdom felt like a return to the pre-pandemic golden age, and maybe that's just because Kenny Omega was back in the Tokyo Dome. When Omega is on that stage, miracles tend to happen. The last time he'd been in NJPW was at Wrestle Kingdom 13 in 2019, when he lost the main event to Hiroshi Tanahashi and left to start AEW. Last night he came back to face wannabe-protege Will Ospreay for the US title, and it was every bit the classic match that Omega carried the company to new heights on the back of in the past (and I say that as someone who abhors Ospreay). It was a reminder that when healthy and on his day there still is no one better at the big match on the big stage as Omega. The same type that he and Okada put on seven years ago that the rest of the wrestling world couldn't ignore and shot NJPW to global prominence in the first place.
That wasn't all of course. FTR made it over to drop their tag team belts in a very good match, if not quite on par with the FTR masterpieces we've become accustomed to. The junior heavyweight four-way between Master Wato, Taiji Ishimori, El Desperado, and eventual winner Hiromu Takahashi was a delightful car crash. The opening match for the junior tag titles, with Lio Rush and Yoh versus TJP and Francesco Akira, was wrestled at a breakneck pace that immediately threw the newly-voiced crowd into the upper ranges from jump street.
The night ended with NJPW going where it always goes in times of uncertainty, which is putting the main belt back on Kazuchika Okada, the company's bellwether for a decade or so now. His match with White would have been much more highly regarded if it didn't follow Omega and Ospreay. While it's familiar to have Okada back as the center of the company again, and a little tiresome, given the history that he and White had that they expertly played on and the feeling of a shift to a new era with crowds again, it's not a terrible idea to have the most stable base for that.
Oh, and there was one other thing…
Mercedes Moné arrives
The other big story coming out of Tokyo was that the former Sasha Banks, now Mercedes Moné, had her unveiling. She came out to a pretty huge roar after the one women's match on the card, Kairi defeating Tam Nakano to challenge Kairi for the company's show in San Jose in February.
It wasn't the smoothest of debuts. Moné was never the best promo, and in front of an audience that mostly didn't speak her language, it was on the awkward side. The DDT she was supposed to hit on Kairi to announce her heel-dom was botched. Still, It's Mercedes. She commanded the space, she feels like a star, and the possibilities are endless.
It's just a wonder if NJPW and their parent company Bushiroad have thought about them and how to get there. What the NJPW women's division will be is very unclear. Bushiroad owns both NJPW and Stardom, the women's promotion. There is a women's NJPW belt, but the only appearances it's made are just the two championship matches Kairi has had in the past month. There isn't a "division" as of yet.
There is Stardom, home to arguably the best women's wrestling in the world, and where the NJPW women's championship springs from. But if they're hoping that Moné will act like their own version of Omega or Chris Jericho, a North American wrestler to introduce a whole new audience to a Japanese company, there's a lot of work to do. When NJPW started making inroads into the West, it had a weekly show on AXS-TV and English broadcasts on their streaming channel for every show. A fan could drop in and find out what was going on and who was who pretty quickly.
Stardom has none of that. There is Stardom World, an app much like NJPW World, but it has no English component and no English commentary of their shows. The website itself is… well, let's call it high-school level. If fans want to come over and see who Moné is wrestling, they're going to have to piece together the stories themselves a lot.
And while debuting Moné is a huge story, they missed an opportunity to really showcase what the division could be. Kairi and Nakano were only given five minutes on the biggest card of the year. They've only had one other match on an NJPW card with English commentary. There's way more road to cover if Stardom and the NJPW women's division are going to grab a foothold on these shores, which clearly Moné is around to do.
Still, the roars that greeted every big move of the Omega-Ospreay match or the conclusion to Okada regaining the title felt like coming home. The company's ties with AEW always give it an avenue for more eyeballs and popularity, and that's in both its men's and women's divisions, if they want it. Suddenly the business outside of New York feels like it's percolating again.