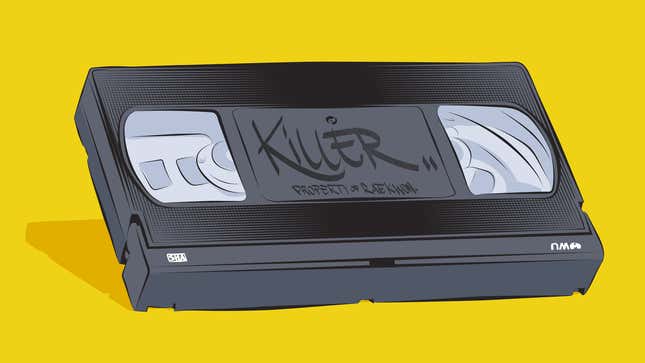 Prince Paul and De La Soul popularized the hip-hop skit, and Dr. Dre turned the concept cinematic, but the nine-man Wu-Tang Clan raised it to the level of esoteric art. Mixing stream-of-blunted-consciousness talk with pulp-fiction plot twists, copious gunshots, and equal parts skewed humor and authentic anger, Wu skits became etched into the pop-culture landscape right from the early-'90s jump-off.
As with the Clan's general body of work, the skits hit their creative peak almost immediately and petered out from there, although there are definitely gems to be found nestled away in later projects. So in honor of Shameek from 212, Mr. Greco, and En Vogue backup dancers worldwide, here are the best of the best, along with a bunch of other ones.
36. Wu-Tang Clan, "Wu-Revolution"
Blurring the lines between a skit and the unfettered ramblings of an elder Clansmen, the Wu kicked off their bloated Wu-Tang Forever double album with six-plus minutes of Popa Wu mumbling his way through a bunch of Five-Percent ponderings. Someone called "Uncle Pete" also gets in on the act. Even back in the Wu's world-dominating 1997 heyday, there's a good chance you couldn't stomach this one through to the end.

35. U-God, "Enter U-God"
On the album literally no one was waiting for, the Clan's least fashionable member opens up his 1999 long-playing account by old-school harmonizing a braggadocio rap to the melody of "I Will Survive." In the background, a boxing-crowd ambience undulates. We're not talking a knockout moment in rap history.
34. Method Man, "Judgement Day (Intro)"
Ahead of the new millennium, every rapper on earth predicted the end of the world in some shape or form. In Mr. Mef's case, a gigantic explosion was to occur just as he was counting in the new year, leaving behind a ravished, dystopian world. The concept wasn't any more inspiring back in 1998.
33. Wu-Tang Clan, "Careful"/"Hollow Bones"
Ever wondered what it would feel like to be robbed by Raekwon? Let this short, atmospheric segue from 2000's The W put your mind at ease. A moody-sounding Chef strips a foe of his fake Timberlands and gets him to empty his pockets, before Ghost comes through with some classic slapstick Wu humor: "Yo, son, I feel like killing one of these guys." Then he shoots him. Cue the impeccable "Hollow Bones."
32. Masta Killa, "The Future (Skit)"

Ol' Dirty warned us that Wu-Tang is most definitely for the children; for Masta Killa's 2004 debut album No Said Date, the Clan's most underrated lets some shorties attempt to spit on a track. There's a cute moment when either Shamel or Jamel seems like he's about to misspell "assassin," but he just about pulls it off in a clumsy spelling-bee style. The whole short shindig is far better than Meth's "Kids Skit," which just sounds a bit creepy.
31. RZA, "Slow Grind African"/"Slow Grind French"/"Slow Grind Italian"
Back when the Clan were all about diversifying their bonds, the idea of a line of coffees sourced by Bob Digi wasn't that improbable.
30. Raekwon, "Fuck You Skit"

Rae's mafia-themed 2003 effort The Lex Diamond Story is peppered with drawn-out skits; this is the bluntest and most self-explanatory, and includes the top-notch logic, "Fuck all them fucked-up motherfuckers that got you acting like you got me fucked up." Understand?
29. Ghostface, "Black Jesus"

It's edutainment time, as faithful listeners are forced to sit through another Popa Wu lecture before Ghost's ferocious "Black Jesus" kicks in. "The science of life is the science of you," we're informed. "All the elements that it took to create you, 'cause everything in the universe, god, that's created the universe gotta exist within you." That's one for the MythBusters crew to tackle.
28. Wu-Tang Clan, "Dog Shit"
At the end of ODB's certified bat-crap crazy "Dog Shit," a tirade against the R&B set unfurls: Very specific shots are aimed at En Vogue backup dancers, the Brit ensemble Soul II Soul, and anyone wearing "Speak and Spell shoes" and "Fisher Price My First Timberlands." Also included: the ever-relevant barb, "Your shirt looks like a curtain."
27. GZA, "Intro"
A smart take on the intro skit, GZA sets his 2002 album Legend of the Liquid Sword against the backdrop of the New York City blackout riots and the nascent hip-hop scene. Let's take it back to, er, '77!
26. Ghostface, "The Forest"
This might not technically qualify as a skit, but there's a lot to love about Raekwon attempting to a cappella trill his way through an interpolation of "What a Wonderful World" before Ghost drops a British-accent tribute to Slick Rick and then kicks "the illest little story for the girls and boys." Ghost is at his best when he's a big kid: Discuss.
25. U-God, "Vortex of My Mind"
Never let it be said that U-God lacks for confidence in his skits. For 2013's The Keynote Speaker, he invested in his own U-GOD radio station, which targets all your "spiritual journey" needs. The album artwork also features a golden Wu-Tang boombox with an iPod built into it. Take that, Beats by Dre!
24. Ghostface, "Jealousy"
Hell hath no fury like a Shaolin rapper who thinks people are always copying his footwear choices. Here, our host seethes at those heinous fops over a soulful looped backdrop.
23. RZA, "Intro"
In 1998, to kick off his first full-album caper as the comic-book character Bobby Digital, RZA delivered an indecipherable speech over quivering synth lines. Maybe the unfathomable accent was his secret coffee-sourcing persona?
22. GZA, "Interlude"
There's little love to be found between the Wu and 50 Cent, and on this 2008 selection, GZA gets a jab in: "I've seen a kid one night out at the spot, he had a Wu-Tang logo on his face, just a tattoo this big … you don't see that often, I mean, I've never seen a G-Unit logo on someone's face." Wait until he Googles pictures of Gucci Mane.
21. Raekwon, "Wu-Gambinos"
"Yo, get your big Avias off my mom's table, man!" That's classic crack-cooking banter right there.
20. GZA, "Skit #4"
As a lullaby-style refrain plays in the background, a soothing female voice drops a series of anti-gun facts that are as relevant now as they were in 1999. Wu-Tang are always deeper than they seem.
19. Raekwon, "Skit No. 2"
This skit from 1999's Immobilarity is quintessential Wu, with Rae and cronies lounging around, engaging in blunted barbs, dropping life advice about the importance of packing your lunch, speaking on obligatory footwear science, and having someone repeatedly impersonate a parrot. What more could you ever want?
18. Ghostface, "Heart Street Directions"
In which a confused female passerby asks Mr. Starks, "Excuse me, um, can you tell me how to get to Heart Street?" What follows is a bunch of smutty schoolboy directions: "The next block is Clit Boulevard, but you got to be careful, it's kinda wet down there"—before our heroine gets fed up and moseys off gracefully.
17. Raekwon, "Canal Street"
One of the toughest cuts from Rae's ultimately disappointing 2009 effort Only Built 4 Cuban Linx, Pt. 2 opens with some archetypal Wu shit-talking against what's presumably meant to be the ambient hustle-and-bustle backdrop of Manhattan's Chinatown thoroughfare. Gunshots naturally occur. A simple case of scene-setting done the right way.

16. Wu-Tang Clan, "Intro"
Ever the contrarians, it's the first song on the second side of Wu-Tang Forever that provides the project's real-deal opening statement of intent, wherein a youthful-sounding RZA rants at "R&B with a wack nigga taking a loop [and] re-looping that shit, thinking it's gonna be the sound of the culture." Also stoking the Abbott's ire are "playas dressing up, acting like it's some kind of fashion show. This is hip-hop right here, this is lyrics, emceeing." In '97, we all saluted the credo.
15. Ghostface, "Bathtub"
Finally, all your fantasies about hearing a rapper splash around amorously in a bathtub have come true!
14. Method Man, "Where's Method Man"/"Donald Trump"
In a rare show of hip-hop self-deprecation, Meth's much-delayed second album, Tical 2000: Judgement Day, includes a couple of shorts ragging on its long gestation period. Donald Trump allegedly phones one in, while former Yo! MTV Raps host Ed Lover is allowed to holler, "Anybody seen this motherfucker? Mr. Tical, Johnny Blaze, Method Man, Ticalion Stallion Flalellion Glaleon, whatever you call your fuckin' self, can you please hit these niggas with another album, please?" These are best paired with a tall, frosty glass of Method Man Lemonade.
13. Ol' Dirty Bastard, "Recognize"
As Chris Rock helpfully clarifies on this shit-talking skit-turned-introduction,"It ain't the Young DB, it's the Ol' DB!"
12. Wu-Tang Clan, "Shower Skit"
U-God might be the one running through his list of favorite Kiehls products on the sensual "Black Shampoo" (always a big hit with En Vogue backup dancers), but it's the randy Wu affiliate Dom Pachino who snags the spotlight on the song's shower skit. As the Killarmy soldier illuminates a lady on his need to alleviate stress issues, we are led to believe a happy ending ensues.
11. Ghostface, "Who Would You Fuck?"

Female Rappers And R&B Singers You'd Like To Sleep With, Ranked!
10. Raekwon and Ghostface, "Can It All Be So Simple (Remix)"
Cinematic street-corner shenanigans unfurl when Rae and Ghost are posted up on a block somewhere and an unsavory type approaches. A dispute breaks out—"What the fuck is you doing?"—and hand-slaps quickly escalate to gunshots. At that point, a frantic Ghost drops the immortal line, "Niggas tried to assassinate me, man." In hindsight, Rae sounds quite lethargic about how his man went down in the game.
9. Ghostface, "Woodrow the Base Head"
Ghost's second album, 2000's Supreme Clientele, might have dropped at at time when the Clan's stock was falling overall, but the project hit home like a masterclass in how to emcee. Ghost Deini's accomplice for this jaunt was Superb, a similarly voiced rapper who stepped into character as a fiend here and pulled off a performance that brings to mind David Simon's unidealized miniseries The Corner. The interlude also highlights hip-hop's skewed take on the morals of the drug game, where it's the fiends who are chastised, not those pushing the product.
8. Wu-Tang Clan, "Protect Ya Neck"
After originally releasing "Protect Ya Neck" as an indie single in 1992 (on Wu-Tang Records, back then located at 234 Morningstar Road in Staten Island, if you're ever around those parts), the track was repurposed onto the Clan's debut album the following year. This time, it came prefaced with a radio-caller skit, as a fevered fan announces his desire to hear "that Wu-Tang joint … again and again!" It's the perfect setup for the blitzkrieg of verses that follow.
7. Ghostface, "Clyde Smith"
On 50 Cent's pre-fame jibe "How to Rob," he cheekily bragged about jacking various famous rappers, including the claim that he'd snatch a bunch of "funny-ass rings" from Rae, Ghost, and RZA. As you'd expect, this didn't sit well with Shaolin's finest, so Rae pitched down his voice to issue retaliatory threats by way of a skit on Supreme Clientele. At one point Rae chides how Fif's "haircut game is fucked up"; this was a time long before the widespread fuckery of the man-bun. (See also: "The Return of Clyde Smith," which opened Ghost's Fishscale album.)
6. Raekwon and Ghostface, "Glaciers of Ice"

One for the footwear fetishists, this marvelous Only Built 4 Cuban Linx track is preceded by Ghost talking up his love of customizing Clarks shoes in a series of colors inspired by his "crazy visions." Conservative dressers are frankly still bemused.
5. Ol' Dirty Bastard, "Goin' Down"
"Remember when you was young and you used to go … " explains our venerable disheveled host before making a sound that begins like a burp before quickly devolving into something best described as a long series of ye-olde-fashioned telephone pips, all for a good 20 seconds. Juvenile nonsense at its finest—and we all tried to replicate it when we first heard Dirt Dog's rendition back in '94.
4. Raekwon, "Shark Niggas (Biters)"
Helpfully parenthetically clarified for listeners who don't use the uncouth term as part of their daily slang, here, the Wu's grumpy-pants duo of Rae and Ghost sit back and complain about rappers they suspect of style thievery. "Niggas bit off Nas's shit," rants Ghost, referring to the similarity between Nas's and Biggie's debut album covers. (Nasir would later drop a behind-the-scenes take on the simmering feud with "Last Real Nigga Alive.") Ghost departs with the warning, "I don't want niggas sounding like me on no album"—a warning that far predates his present scuffle with Action Bronson.
3. GZA, "Hells Wind Staff/Killah Hills 10304"
GZA's Liquid Swords is a noir crime-rhyme classic. Beyond the Clansman's astute lyrics, it's stitched together by dialogue sampled from the flick Shogun Assassin: The project's introductory segment, with its classic "People said his brain was infected by devils" line, might be the Wu's crowning glory when it comes to kung-fu-sample shenanigans. When tasked with creating an original interlude for the album, RZA here flexes his cinematic chops and sketches out a drug dealer's typical powwow. Meeting with the mysterious Mr. Greco, we're informed that one Don Rodriguez (from the Bronx) "is down at one-twenty precinct right now singing his fuckin' ass off like a fuckin' bird." The life of a drug dealer rarely ends in happy retirement.
2. Method Man, "Torture Skit"
A lark with a gourmand's climax, here Mr. Mef and Raekwon sit back in a cloud of tical smoke and trade gruesome barbs. Meth gets kinky, confessing how he'd love to tie Rae to a bedpost, spread his ass cheeks, and insert a hot poker; Rae retorts by fantasizing about laying Meth's nuts on a dresser and hammering them with a spiked fuckin' bat. Then Method Man panders to the foodie set by threatening to "fuckin' sew your asshole closed and keep feeding you and feeding you and feeding you and feeding you." Quotables out the ass, indeed.
1. Wu'Tang Clan, "The Killer Tape"
"Yo, Meth, where my Killer tape at?" With those seven words, Raekwon set off the Wu's most beloved skit. Preceding "Wu-Tang: 7th Chamber" from the Clan's debut album, Rae is thoroughly pissed at a stoned-sounding Method Man for allegedly mislaying his copy of John Woo's kung-fu flick The Killer. Having coined a classic soundbite, the skit is elevated to legendary status when Ghost bangs frantically on the door and relays the news that Shameek (from 212) "just got busted in his head two times, god."
A payback plot begins to play out, with lo-fi production values meeting vivid pulp-fiction dialogue: "The nigga laying there like a fuckin' newborn fuckin' baby, god. Is he fuckin' dead? What the fuck you mean is he fuckin' dead? The nigga laying there with all types of fuckin' blood coming out of his …." Despite the graphic violence, we return to a comedic theme when a dopey Meth suggests that Shameek's killers might have taken the Killer tape—a move that seems to befuddle Ghost.
Naturally, the key lines here have taken on a second life in parody videos and memes: Lego characters and a frosty conclave of polar bears have alike found themselves reciting the classic dialogue. Just more proof, if it were ever needed, that Wu-Tang is for everyone.
---
Phillip Mlynar lives in Queens, NYC. When not writing about rappers for Red Bull, NYLON, and the Village Voice, he muses on the feline form for Catster. His Twitter claims he's the world's foremost expert on rappers' cats.
Lead art by Sam Woolley.