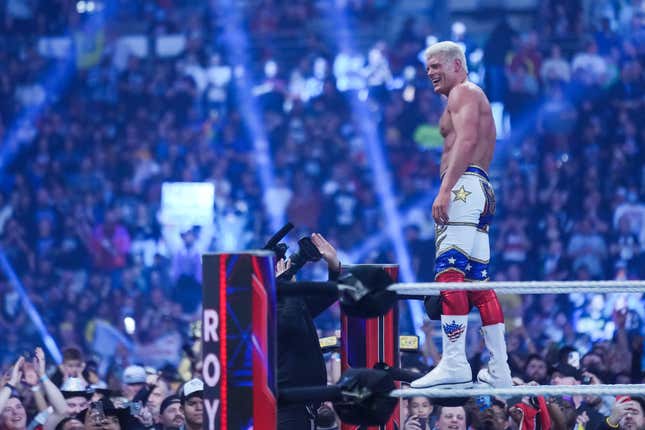 There's a bit in my favorite stand-up special of all time, Suzy Eddie Izzard's Dress To Kill, where she mocks most Americans for not knowing the lyrics to the national anthem but also advises them how to get around it. It's mostly about how one looks and how one sounds, not really what is actually being said. Look and sound the part, and very few will tell or care that very little if anything is being said.
Can Cody Rhodes finish the story at WrestleMania? | Echo Kellum's thoughts
This is the essence of Cody Rhodes.
Cody Rhodes will main event Wrestlemania, the most hallowed spot in the wrestling business. And it's not just the main event spot, as big as that is, because he will probably end the longest championship reign in modern history — Roman Reigns's stay atop WWE. Combined with the formation of AEW, Rhodes has already marked out one of the most unique and accomplished careers in wrestling history. This is indisputable. His name will live forever, which is what he was after when he left WWE in 2016 in the first place.
But even though Rhodes's reputation took off from leaving that company and setting up a new one and touring through the indies which most of the WWE universe wouldn't spit on, it's hard to see what Cody actually learned from them.
What isn't hard to see is that he never lost touch with WWE's fascination and fixation on providing "MOMENTS," which is how he's ended up back here. WWE, the company nor the fans, really cares about seeing your math. They just want the answers and the ending, preferably as big as possible. Cody can do that in spades.
What exactly are you cheering?
What's so odd, or funny, about Cody's immediate catapulting to the top of the WWE roster when he re-arrived a year ago is that it's not clear what WWE fans were so delirious about. Cody was very much not a star when he left six years earlier. He wasn't even Cody Rhodes. He was Stardust. Which is why he left, feeling he was being underused and could do better elsewhere. This was not some returning hero, at least in terms of how WWE fans usually come to define it.
Perhaps WWE fans felt they were getting some huge international star, and their first true coup in taking a founding member of the new, noisy neighbor in AEW. But WWE fans are notorious for being completely unaware of anything outside of WWE, so that's an odd fit. And that ignorance of anything not New York related probably blinded them to the fact that even though he helped start AEW, he had become entrenched in the midcard and largely rejected by fans, and completely by his own doing. How big of a coup for WWE was this really? AEW had long proved they didn't need Cody, and have done so since as well.
Cody's journey through the indies and Japan and eventually AEW certainly exposed him to a lot of different kinds of wrestling, but it's hardly evident that he learned anything from it. He was almost immediately installed into the most popular faction, The Bullet Club, in NJPW. He got headlining work in ROH. He was the biggest name on the indies, because he was the largest name to ever choose to leave WWE. But it's not as if much changed or his style changed. He was just CODY RHODES in a strange land.
But nothing under the surface was all that different. There isn't really a memorable match from NJPW. He had an OK-to-good match with Omega in ROH on Mania weekend in 2018 as they warred over leadership of The Bullet Club, but it was symbolic that his wife was the one taking the biggest bump. And an OK-to-good match with Omega on a big stage is…not easy to sink to. It felt like Cody never adapted to being out of WWE more than just lending his last name to proceedings.
His matches still kind of look the same, and he's still very big on his Southern-style pathos and slow builds. But mostly what got Cody in trouble with AEW fans, and what endeared him to WWE fans, is that he was constantly searching for MOMENTS. The memorable image or ending that gets immortalized.
But that's not how the indies, or AEW, really works. In that world, you have to show the work. You have to build the matches and the story over time. You can't just skip to the end. So you can't decide you're going to do a blade job in a match with QT Marshall, because it's a fucking match with QT Marshall, and have it mean anything to anyone. You can't claim to have solved racism. You can't co-opt Malakai Black's debut in the company, one of the most anticipated at the time, and nerf it with your own fake retirement, make it about you, and then completely halt that momentum so you can get your win and MOMENT. You can't make people care about you jumping through a flaming table in a match with Andrade and make it seem like a crescendo without anything to conclude. These are just things that are happening, no matter how you dress them up.
It's not that any of Cody's matches were bad, and far from it. They were consistently good. But there wasn't much memorable about them, other than how they would provide Cody a platform to pose for a MOMENT that didn't have any connection to what went on before. A lot of AEW fans would tell you his best match in the company was getting dog-walked by Brodie Lee, which turned Brodie Lee into the all-conquering monster fans were desperate to see.
And Cody could do that. He made Sammy Guevara and Darby Allin pillars in the company, but would quickly run back to his WWE roots. It's why AEW fans eventually turned on him, because that's not what they were coming to AEW shows for. You have to stand on more than scaffolding.
Get in where you fit in
But you can do that empty MOMENT posing in WWE, which is what the company is after. It's OK if all the matches look the same, because that's the idea. Tony Khan, reportedly, didn't want to pay Cody like the top tier star he had fallen from being in AEW because Cody forgot the filling. But in WWE, all you have to do is act the part and that's enough.
So Cody can have his big Mania entrance in Dallas with his stupid fucking elevator and the Godzilla version of George Carlin's "My Daddy" act and have the robe and the suits, and it all works. He certainly looks fantastic in them. He can show up to his next match with a torn pec, and removing that robe is a MOMENT, and that's enough. Keep telling everyone you're important and they'll believe it.
He can even shit on his next moment — eschewing being the surprise last entrant in the Royal Rumble for a week of Cody-bration videos previewing his return — and it doesn't really matter because he presents himself as the biggest deal ever. He can win that Rumble, be positioned across from Reigns, with pretty much no connection, because he's told everyone he should be. He certainly doesn't have the connection to Reigns that Sami Zyan or Seth Rollins or even Kevin Owens have, but it doesn't matter. Shout it loud enough, strut around enough, and everyone will believe you.
Cody has wrestled eight matches on TV since returning to the company. Some were against Baron Corbin or Chad Gable or Ludwig Kaiser — hardly top-of-the-card talent (though Gable should be). His esteem and rep have hardly been built on in-ring work. If it's built on promo work, it's promo work we've seen before. We went through this and his connection to Dusty when he claimed the NWA Championship at the first All In show. But it didn't happen in WWE, which means as far as they're concerned, it never happened.
Cody bet on himself and told everyone he was a global-level star when he left WWE, and credit to him for going out to prove it. That bet and that attitude certainly worked out for him, and it's hardly a surprise he's kept up with it. As long as you keep saying it and carrying yourself like it, and it keeps working, why change?
Cody will almost certainly be the last image of the industry's biggest show come Sunday night. There is no bigger perch. And it won't matter to him, and it won't matter to WWE, and it won't matter to their fans that he doesn't actually know the words.