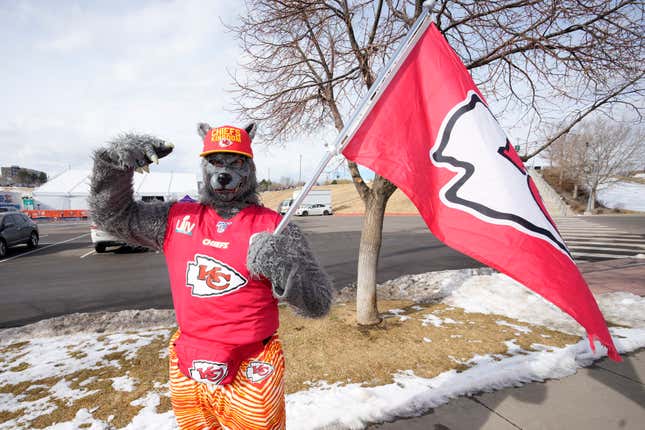 Xavier Babudar, the Kansas Chiefs superfan accused of robbing an Oklahoma bank, allegedly removed his ankle monitor and no-showed a court appearance, leading to a $1 million bond warrant, according to multiple reports.

BroBible interviewed Babudar's bondsman, Michael Lloyd, who told the website he's been "hunting" Babudar since the alleged bandit "cut off his leg monitor at approximately 8:30 P.M. on Saturday, March 25."
Who would have thought that the weirdest thing about a Chiefs fan formerly known as "ChiefsaHolic" wouldn't be that he regularly donned a full-body wolf costume at Chiefs games? Instead, a man dubbed "The Caring Bondsman" hunting the Kansas City Chiefs' fugitive superfan has become one of the NFL's oddest offseason storylines.
According to Lloyd, Babadu was believed to be with his mom and brother in Tulsa. "However, we later found out that they left Tulsa about two hours before Babudar even cut off his leg monitor," he told BroBible.

ESPN reported that the ankle monitor was found in the woods nearby, citing a court affidavit.
Some background
During the Chiefs' run to the Super Bowl, Babudar, who has appeared at Kansas City games in a wolf's costume, allegedly walked into a Tulsa Teachers Credit Union in Bixby, Okla., and pointed a pistol at bank teller Payton Garcia's chest and threatened to "put a bullet in the employee's head," according to a police report.
Babudar went from reportedly shelling out $10,000 for an autographed painting of Patrick Mahomes at a $1,250-per-head charity event in December to claiming to be homeless upon his arrest. Babudar pleaded not guilty and was released on bond in February.

After allegedly cutting off his leg monitor on Saturday night, Babudar failed to show up for a court hearing Monday morning and has been on the run since. The DA quickly filed an additional charge of removing an electronic monitoring device, but if caught, Babudar will be arrested and held on a $1 million bond.

"I have reached out to him and am waiting to hear back from him," Babudar's attorney Tracy Tiernan told ESPN. "I don't know the circumstances of why [the ankle monitor] was removed and how it was removed."
Lloyd also shared that Babudar "possibly got pressured" into robbing the bank and pleaded for him to turn himself in peacefully. He'd also be wise to keep an eye out for him at next month's NFL Draft in Kansas City.
The wolf becoming prey on the lamb is such a cliche, but bad decisions from an NFL superfan compounding bad decisions is what the NFL scriptwriters have presented us.

Despite his penchant for high-stakes gambling, Babudar's reasoning for resorting to armed robbery has never been established. Babudar was allegedly a prolific gambler, who was open about his winning and losing bets according to an ESPN investigative piece. For example, employees at the Hollywood Casino in Kansas City, Kansas told ESPN's Elizabeth Merrill and David Purdum that Babudar placed and won an $80,000 bet two months prior to his arrest, however, Tanner Rome, the sportsbook manager, refused to comment on specific individual bets.
If money was Babudar's motive, all of this could have been avoided if he'd just shown some faith in the home team and laid down a heavy bet in the future betting market on the Chiefs winning the Super Bowl back in August.