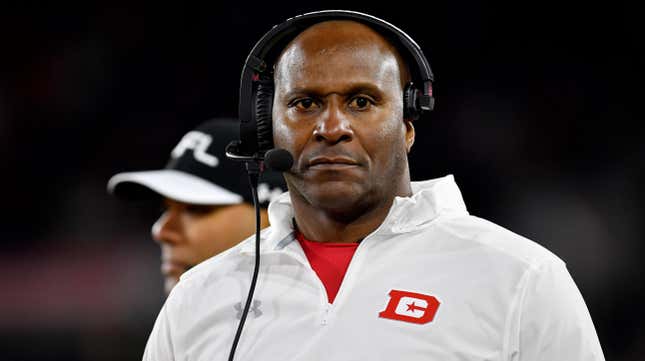 When Fritz Pollard became the NFL's first Black coach in 1921 people of that time viewed it as progress. Later this month, Reggie Barlow could be the first coach, of any race, to win the XFL Championship in the league's inaugural year in its new iteration when Barlow's D.C Defenders take on the Arlington Renegades on Saturday, May 13, in San Antonio. 102 years later and the NFL only has two more Black coaches than it did over a century ago. Year one of the latest version of the XFL featured more Black coaches than the NFL — and one of them might win it all.
Top 5 football movies of the past 30 years
Saying that the NFL hates Black coaches would be an understatement.

"We've gained a lot of momentum and, with momentum, confidence," said Barlow about his team that has the best record in the league at 9-1. But as we've seen, that momentum is missing when it comes to giving Black coaches a chance in the NFL.
XFL hired four Black coaches
Last April, the XFL announced Hines Ward, Terrell Buckley, Reggie Barlow, Rod Woodson, Wade Phillips, Bob Stoops, Anthony Becht, and Jim Haslett as its coaches for the 2023 season. The image spoke volumes, as four of the eight coaches were Black. Somehow the XFL had done more for Black coaches before their season began than the NFL had done in over 100 years.
At the time, Mike Tomlin (Pittsburgh Steelers), Lovie Smith (Houston Texans), and Todd Bowles (Tampa Bay Buccaneers) were the only men who identified as Black as head coaches in the NFL. A year later, the list remains the same, with DeMeco Ryans taking Smith's spot in Texas.

"You put the Black people in front of them and they're still not going to give them jobs, which is going to wind up being something else," Bomani Jones explained on one of his podcast episodes at the time. "But the 'we need a pipeline' (argument) implies that somehow that Black people who coach are literally invisible, and that you yourself are not capable of seeing a Black person and recognizing their capabilities. And if that's the case, say it."
The Brian Flores lawsuit is still active
Mind you, the NFL had Brian Flores, Ray Horton, and Steve Wilks' class-action lawsuit for their racist hiring practices hanging over their heads at the time. Fast forward to now, and nothing has changed. In March, a New York judge decided that some parts of Flores' claims can be pursued in open court and not in arbitration, as it's starting to feel like a settlement is the best option for the league.

It would be wrong to discuss the XFL and the USFL as if they're leagues that have captured the nation's attention or pose a threat to the NFL. But in a country where football is king and over 54 million people tuned in to watch a three-day draft, it would be ignorant to ignore the game's impact on society.

And when that's taken into account, along with how racial hiring in sports and diversity efforts in Corporate America mirror each other, it's easy to see why the XFL and NFL are so different with their approaches. One needs diversity to survive. The other thrives without it — which is a choice.