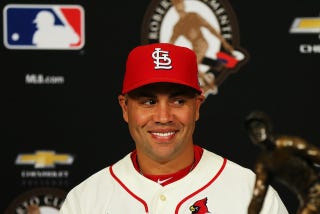 The Yankees signed Carlos Beltran to a three-year, $45 million deal. Beltran, still willing to cut the Yankees a break, reportedly took $3 million less to sign with New York. In exchange, the Yankees had to budge from the two-year contract they preferred. Who knows if the Yankees are done; according to the Daily News they are "poised to 'just go nuts'" in free agency now. That $189 million payroll number is looking more and more like bargaining leverage in the Cano negotiation.
The signing, like the rest of the Yankees signings this off-season is not particularly offensive, even though the roster remains aging and expensive. Which, incidentally, is what never made any sense about getting cheap with Cano. He was the youth and greatness the team craved.
The Yankees can, and do, overpay guys they covet without hamstringing the team. Ellsbury, Beltran, McCann; bring 'em all on board! There's plenty of room at the Steinbrenner teat. And they will make the room and they will go nuts and blow past that $189 fantasy because even with this signing, all those old holes still exist.
At least with Beltran, who might be the greatest postseason hitter in history, the Yankees get a brand-name bat they can look to for those big October moments they love talking about. They've just got to get there, which is not quite the foregone conclusion the Beltrans think it is.
Photo credit: Getty