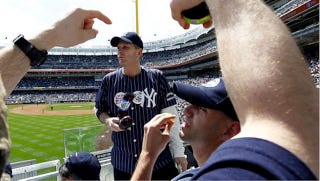 Steve Lazarus has been hawking beers at Yankee Stadium for 35 years. But he didn't get to work the first two games of the ALDS over the weekend because the team has accused him of "harrassing" Red Sox pitcher Alfredo Aceves. According to what Lazarus told the New York Post, this is how his encounter with Aceves had gone down:
He walked over and playfully called out, "Hey, you got ID?"

Without missing a beat, Aceves grabbed his crotch and shot back, "I got your ID right here."
Lazarus is also a professional comedian. But if he's to be believed about what happened here, it's the Yankees who look like the bigger joke.
[Photo via New York Times]
Yankee Stadium beer vendor punished for "harassing" Boston pitcher [Big League Stew]