The Dodgers lost to the Giants last night, 4-1, and their only run of the evening was scored by Yasiel Puig, who spent all game doing cool baseball shit. In the fifth inning, Joe Panik slapped a double off the wall. It should have been an easy hit for Panik, but he almost got caught at second thanks to a virtuosic throw from the cannon-armed Puig.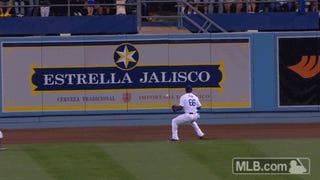 The next inning, Puig found himself in the opposite situation, with Panik trying to gun him down at third after dropping a pop-up behind first base. But Puig moves like an All-Pro running back on the base paths, and he legged it all the way to third despite standing and admiring his supposedly doomed flyout.
These are the sort of highlights—an incredible throw that leads to nothing, a ballsy first-to-third scamper—that get pushed to the margins over the course of a season, but they can make an otherwise common May baseball game worth the price of admission.