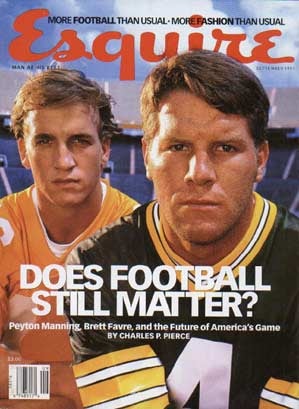 Count Peyton Manning among those who don't buy this whole Brett Favre Is Retiring balderdash. Manning is onto Mr. Favre and his oh, I'm done with the game claptrap.
"Like everybody else, I guess we'll see what happens this fall," Manning said with a smile. "In a lot of ways I kind of hope (he returns). Brett's a guy that's been such an influence on me and all young quarterbacks. [Your 11 years in the league doesn't quite make you such a spring chicken, Peyton.] " . . . I guess part of it is kind of hope, maybe, that he finds his way back in the NFL this year. ... You never know."
That sound you heard was Peter King scrambling out his front door and zipping to Kiln. Perhaps he'll write about his flight at some point.
Peyton Manning Doesn't Think Brett Favre Is Fully Retired [Sports By Brooks]