When writing a gamer, it can be tough to find just the right verb. You can't just say a team "won" every time, or that they "beat" their opponents, because overuse gets boring, and you want to convey something of the substance of the game. Did they "dominate," "thrash," or "spank" the other team? Or did they merely "best" them? If it was close, maybe they "nipped" their opposition, or just "squeaked by"? But sometimes, a game makes this verb choice the easiest, most obvious thing in the world. Last night, the Ottawa Senators escaped.

The Senators emerged from Game 3 with a 4-3 overtime win in Boston to go up 2-1 in the series, but the result was not an easy one, nor necessarily a just one. Bobby Ryan scored the OT winner on the power play, and he probably shouldn't have been on the ice, and definitely shouldn't have had the man advantage.
Erik Karlsson set up a ridiculous goal to kick things off, and Ottawa grabbed a 3-0 lead that looked like it'd save the Sens from having to repeat Game 2's late-game heroics, but Craig Anderson—who's been quietly kind of a mess this series—allowed three goals in eight minutes, and this thing went to OT with neither team looking particularly in control. Someone would need to catch a break.
At 4:38 of overtime, Boston's Riley Nash was whistled for roughing for taking a jab at Ryan. But just before that, Ryan had taken a high shot at an off-balance Nash. As we've seen so many times before, it was only the retaliation that got called. It should have been both, or neither.
G/O Media may get a commission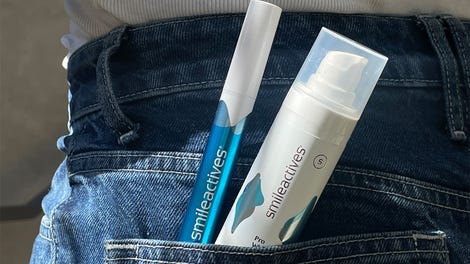 58% off
Whitening Powerhouse Pen & Gel Duo
The call was particularly galling because the Senators believed they had been on the wrong ends of previous calls in the game, with Marc Methot punching guys right and left and either getting no penalty or matching penalties.
"Demoralizing and disappointing. I think you guys summed it up. There's probably a lot more words, but they called it," coach Bruce Cassidy said of the overtime penalty to Nash. "Once they call it, it's our job to kill it."
They did not kill it. And to add insult to injury, it was Ryan with the winner. Another beautiful pass by Karlsson, a nice little give-and-go with Kyle Turris, and Ryan slipped it past a helpless Tuukka Rask for the series lead.
That's a whole lot of relief for the Senators, and even if they won't admit they got away with one—they got away with one.
Some angry Bruins fans threw trash onto the ice, and one even tried to swipe Chris Wideman's stick on his way into the tunnel:
The Senators have wrested back home-ice advantage, and the forgotten first-round matchup in the East has proven to be one of the closest, the most exciting, and now, the most controversial and bad-blooded series.