It is impossible for me to get enough Baseball Hall of Fame shit. News, analysis, debate—give it all to me. Hook it to my veins.

Last week I wee'd myself playing around with the BBHOF Tracker, which uses publicly revealed votes as exit polling, and provides a useful—though not infallible—method to figure out who's actually going to get in to Cooperstown when the vote totals are announced on Jan. 18. This should come as no surprise, but baseball dorks are good with numbers and can do even better than mere polls.
Over at The Hardball Times, Nathaniel Rakich highlights his Vote Projections—as he puts it, an attempt to "unskew" the polling collected in the Vote Tracker.
Rakich explains:
The model operates on a simple premise: certain players consistently over- or underperform their polls. The type of voter who reveals his or her ballot in advance is a member of a self-selected demographic: the BBWAA's forward thinkers, those who believe in transparency and are active on social media, where they often share their ballots. These same traits tend to overlap with a liberal approach to Hall of Fame voting: the use of advanced stats, a forgiving stance on performance-enhancing drugs (PEDs) and a preference for a big Hall over a small Hall.
G/O Media may get a commission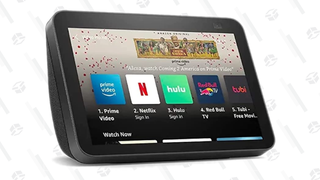 This is obviously part art and part science, but Rakich's model has been good in past years. Last year, it nailed every HOF candidate's vote within 3.5%, and had an average error of just 1.5%.
With that said, we might be looking at five players getting in this year. Here are the projections, with the numbers updated as of Jan. 3. You can visit the full Vote Projections here, and they'll update right up through the official announcement.
I have no qualms with those five, if they indeed get in. (Vlad and Pudge are first-timers, so the model finds similar past candidates to unskew their exit polling.)
If all five make it, it would ease some of the logjam at the top, and make way for those who made significant gains this year: Bonds, Clemens, and Edgar, all of whom would gain between 15 and 20 percentage points from 2016, according to these projections.
Next year's first-timers on the ballot include Jim Thome (in), Chipper Jones (in), Omar Vizquel (in eventually, but probably not for a bit), and Scott Rolen (an amazing player who probably won't get in). That'll be a boon for the "borderline" guys, especially those who have been on the ballot for a few years. Barry Bonds and Roger Clemens are closer to Cooperstown than would have seemed possible just one year ago.