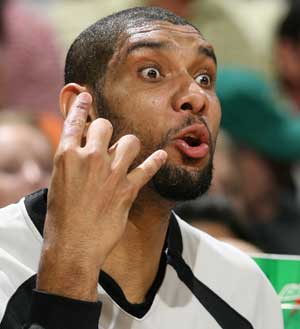 Oh yeah! There was a basketball game last night! Right!
It is telling, perhaps, that Spurs blog Pounding The Rock, as of 10:30 a.m. the morning after Game 2 of their conference championship series, had a post up about the NBA Draft Lottery, but not about the actual game. It is not just because of Greg Oden and Kevin Durant that all are enthused about the NBA Draft Lottery this year; it's also because the on-court action is about as exciting as the opening of envelopes anyway.
The Jazz lost again to fall down 2-0 — not that Jazz blogs are noticing — and this series might be over before we even noticed it had started. The storyline is a simple one: Tim Duncan dominates, everybody else helps out and, ta da, Spurs are in the Finals again. We congratulate them on their achievement. Now, forgive us if we go back to our mock drafts.
Parker Helps Spurs Maintain Home Court Advantage [MySanAntonio]