This was the postseason without "Chelsea Dagger." The Blackhawks' goal song never once played in these playoffs, simply because Chicago didn't score a single goal at home. They managed just three goals in the entire series, and with last night's 4-1 loss in Nashville, the West's top seed were on the other side of things for once: Overmatched, outskated, straight-up embarrassed by a better team firing on all cylinders.

"We didn't compete to the level that's necessary," Joel Quenneville said, which is coachspeak for we got rocked. Rocked, and swept, and never really in it.
The topline summary starts with Predators goalie Pekka Rinne, who stopped an unreal 123 of the 126 shots he faced in the series. Which is incredible, obviously, and the Preds could easy be the prototypical "good team who wins a Cup in front of a red-hot goalie" if the 34-year-old Rinne remains anywhere within poke-checking distance of this .976 save percentage. But Rinne didn't really have to stand on his head against Chicago—for his eye-popping numbers, it never felt like he was carrying the Preds. They so dominated in every aspect of the game that good scoring opportunities for Chicago were rare, and frustrated Blackhawks chucked plenty of pucks from bad angles and from distance. Nashville didn't need this otherworldly performance from Rinne; they likely will later on, though.
Let's bury the Blackhawks as succinctly as we can, though a full accounting will have to wait until the shock wears off from seeing the 109-point, clear conference favorites get swept out of the first round. (The third top-seed ever to be swept, according to Elias.) They were slow; they had absolutely no passing rhythm; their forwards too young, their blueliners too old. The franchise has always done a masterful job of finding role players to complement the expensive core, but this year there were just too many kids plugged in who were not able to contribute against Nashville. That's how a salary cap press eventually gets most successful teams, but the Blackhawks had been able to avoid it until now. Even the stars went dark: Quenneville put Panarin, Toews, and Kane together on a line at times in Game 4, and all they could show for it was a late, meaningless power-play goal.
The thing is, though, it's tough to decide how objectively bad the Blackhawks were without considering how good the Predators are.
"Getting to this point and falling flat on our face as we did — don't really have any words right now, or any explanation, or any good explanation, for what just happened," Toews said.

"I think it's insulting to not give [Nashville] credit for how well they played, and how they played us specifically. They were relentless."
G/O Media may get a commission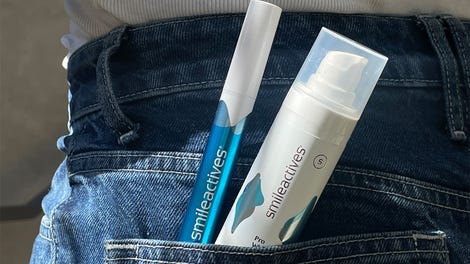 58% off
Whitening Powerhouse Pen & Gel Duo
The Predators are for real. You may not know all their names—Nashville is a small market, there's no point denying that—but the top-end talent here is up there with anyone. Viktor Arvidsson (age 23) and Filip Forsberg (22) are stars. Ryan Johansen (24) has thrived between them since coming over from Columbus. You know P.K. Subban (27), but Roman Josi (26) is the heart of this defense, and he pairs with Ryan Ellis (26) to form one the best top pairings in the league. I mention their ages so you will note that they are all at the front ends of their respective primes. Sprinkle in productive seasons from vets like Mike Fisher and James Neal, and the emergences of the likes of Kevin Fiala and Calle Jarnkrok, and it's a good, solid two-way mix with explosive potential.
They await the winners of Blues-Wild, and St. Louis, up 3-1, appears to have more than a little Nashville in them, taking it right to the higher-seeded Wild and riding an unexpectedly aflame goalie in Jake Allen. It'd be a good series (if the Blues can close out Minnesota), and will go a long way toward answering which of these teams is for real. Nashville, both on paper and to the naked eye, hasn't shown a reason to doubt them.