It's official: With last night's 59-51 loss to Alabama A&M in the quarterfinals of the SWAC tournament, Grambling basketball finished the season a perfectly imperfect 0-28. It was the closest game the Tigers played all year; all of their other losses were by at least 10, and their final average margin of defeat was almost four touchdowns. In January, about halfway through the season, I explained that Grambling was on its way to becoming the worst Division I team of all time. The Tigers wrapped things up by more or less living down to those expectations. But what's it like to be the man in charge of a disaster like that?
Last Friday, I spoke to Grambling coach Joseph Price over the phone for about 15 minutes. Price, who was only hired last May, graciously answered all of my questions. He said he understood what he was getting into when he took the job, and that Grambling's athletic director, Percy Caldwell, had even warned him this year's team had the potential to go winless. That said, Price admitted he wasn't ready for all of the "different obstacles" he said he encountered once the season began—obstacles that eventually reduced the Tigers' roster to just five scholarship players.
Here's what Price knew going in: Because of past problems with their APR score—the NCAA's academic performance metric—the Tigers were already on the NCAA's sanctions radar. Last year, they won just four games and were barred from postseason play, including the SWAC tournament. But a week after Price was hired, the NCAA tightened the penalties: Grambling had its number of available scholarships reduced from the Division I standard of 13 to 10. There were also limitations placed on practice time, and the Tigers' regular-season schedule was capped at 27 games.
But the contraints, Price told me, were exactly why he wanted to take the gig. He spent 10 years as an assistant at IUPUI, Ball State, Morehead State, and Lamar, and he was ready to be a head coach. As a Notre Dame graduate who later played professionally overseas for more than a decade, Price felt he could use his own experience to show his players how to "utilize basketball as a vehicle to get their degree." As an African-American, he found a special appeal in doing this at a historically black college. His hope is to raise the team's academic standing, yes, but he also has his eyes on someday winning a SWAC championship and reaching the NCAA tournament.
"I thought it was a great opportunity to take on," Price said. "I've always been the kind of person that wanted to be a part of something special and leave my mark. Grambling has a brand name; it's a program that we could sell. I just thought that if I were able to to get the job that I would come in with a firm plan of attack to turn the program around."
G/O Media may get a commission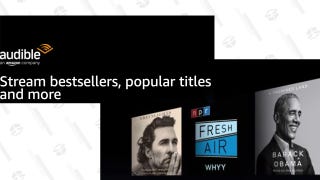 FREE
Audible Premium Plus 3-Month Free Trial
Price's plan called for making a sacrifice of this season. To focus on the long term, he decided to limit this year's roster even further by not using two of those 10 scholarships. This way, Price reasoned, the program could have room to pursue transfers. But then the unexpected happened. Derron Hobbs, Grambling's point guard and team leader, suffered a sports hernia; he hasn't played since January. Another player was suspended for violating team rules. Still another one had transferred out around Christmas. That left the Tigers to finish the season with just five players on scholarship.
As one might expect, keeping the players' spirits up as the losses kept mounting wasn't easy, especially with a roster so full of walk-ons.
"Without them, we probably couldn't even build a team right now," Price said. "It's tough on everybody. Each game is a different game. And with kids nowadays, you've got to know what buttons to push. Some kids may need more motivation than another.
"Naturally, everybody wants to win. You don't expect the unexpected that comes up in situations, but you always think you're gonna win a game."
The strain of not winning at all has gotten to Price, who admitted he even began to lose sleep over it. But one of those restless nights actually helped to provide Price with some encouragement. Four or five weeks ago, around 3 or 4 in the morning, he turned on his television. ESPN was showing some program about the history of the ACC. The show mentioned that Mike Krzyzewski didn't win right away at Duke; Krzyzewski, in fact, had lost more games than he won in two of his first three seasons in Durham.
"You look at where Duke is today," Price said, "and people forgot about all that."
Price rattled off others: Tom Crean, in Price's home state of Indiana, won just six games in his first season. "Who's looking back at that?" Price asked. And John Calipari, riding so high after last year's national title at Kentucky, is now coaching a bubble team in part because Nerlens Noel suffered a serious injury no one saw coming. "The unkown is a factor that you can't predict," Price said. "It happens. It's a part of sports."
Price said he's encouraged by the support he's getting from the school, and from alumni. He's already landed a couple of recruits for next year, and he's using the winless record as a selling point, as a way to tell recruits they'll get a chance to play right away and be a part of turning it all around. I had to ask, though: What does Price think when people suggest this team is the worst of all time?
"It doesn't bother me because there's been other programs who have changed their situation and you don't even think about it," he said. "I always felt like that I'm gonna change the program around, but we have to change the culture, and we have to change the mentality, and the perception, and the pride. The best way to do that is to understand that it ain't gonna happen overnight."