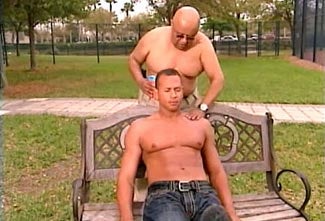 We remember, back in 2000, when we were working for one of those dot-com startups that were all the rage at the time. Everybody strolled into the office around 10:30, left at 5 and brought their dogs to the office. And no one did any real work; we all just sat in "brainstorming" meetings, discussing projects we would never launch. It was an inspiring time. We only remember one real idea from the time; Doing One Of Those "Choose-Your-Own-Adventure" books online.
We never ended up doing it, but that kind of encapsulates what we thought about the Web at the time: It's like a book, but you get to choose what happens! Now the fine folks at Fanhouse have come up with one about A-Rod. It's obviously a fantasy inspired series; looks what happens when we had him sign with the Cubs:
In the series, you finally shine on a big stage. Everyone expects the Cubs to be overmatched by the defending champion Red Sox, but with your help you stretch the series to Game 7, which is at Fenway (because of your two-run error in the All-Star Game). You go 2-for-4 with a big two-run double in the sixth inning that gives the Cubs their margin of victory in a 3-1 win that finally brings a World Series back to Chicago. Amazingly, the universe fails to collapse upon itself after you and the Chicago Cubs simultaneously win a World Series.
How cute: The only thing that's missing is A-Rod flying out of the stadium on a unicorn.
Choose Your Own Rodventure [The Fanhouse]