So this is what happens to the Los Angeles Clippers when they discover success. For more than a decade, a living cartoon character known as Clipper Darrell was maybe the only tangible proof we had that L.A.'s other NBA franchise had fans. Night after night, year after year, Clipper Darrell would be at the Staples Center carrying on in his half-red, half-blue custom-made suit. But yesterday on his website, in what has to be the first instance in which a sports team has disowned one of its fans, Clipper Darrell says the Clippers essentially broke up with him:
It is with great sadness that I must report to all those in NBA NATION that I have been told by Clipper management they no longer want me to be Clipper Darrell, a name that was given to me by the media because of my unwavering support and team spirit. I am devastated!!!!

I have been a season ticket holder for over a decade and a FAN for over 15 years and have dedicated a major part of my life to support the Clipper organization and it's players no matter what the season's outcome. Over the years (400 home games) I have gone to great lengths to show my appreciation and loyalty in my attire, the car I drive and in my very own home. I've taken seriously the mantra of being "Clipper Darrell" in performing community service, mentoring young children and my participation in outreach programs. I've appreciated the struggles of the team to overcome obstacles as I've done in my life. I felt vindicated for all the years we as Clipper fans have gone through trials and tribulations and NOW we have a team that can win it all. Yesterday was the hardest day of my life, I felt powerless as a fan, as I was stripped of my identity however, no one can take away my heart and the love I have for my team!
It started last week, when Clipper Darrell (whose real name is Darrell Bailey) was informed by Carl Lahr, the Clippers' senior VP of marketing and sales—and chief of the Fun Police—"that the organization didn't need him doing stories or speaking to the media on behalf of the team." Darrell recalled the conversation this way: "We got to talking and I said the way I feel, you don't want Clipper Darrell no more. You want Darrell Bailey back. They said, 'You would do that?' ... They told me at the end of the conversation that, 'We would like you not to be Clipper Darrell anymore and would like you to go back to Darrell Bailey.'"
There has since been an outpouring of support for Clipper Darrell, with even a few Clippers players expressing their solidarity, beginning with Chris Paul, who has called himself Clipper Darrell's biggest fan:
Blake Griffin and DeAndre Jordan sided with Clipper Darrell on Twitter too, though both have since deleted their tweets. The love didn't just come from the Clippers, either. Andrew Bogut of the Bucks tweeted to offer him a position as "Buck Darrell":
G/O Media may get a commission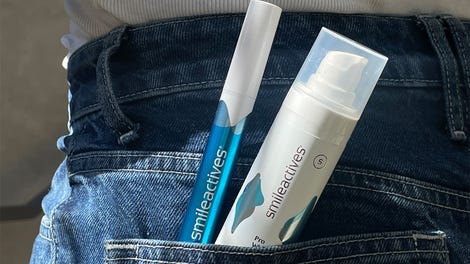 58% off
Whitening Powerhouse Pen & Gel Duo
Darrell Bailey showed up to Tuesday's night Clippers game in the black suit of a man in mourning. Clipper Darrell and his two-tone Clipper suit were nowhere to be found. Bailey had this to say: "Am I going to go back as Clipper Darrell? I can't. It's kind of hard to get back into a groove again." The Clippers have since issued a statement that says Clipper Darrell "is not actually a fan of the Clippers, but a fan of what he can make off of the Clippers." Their devotion to brand management is so very precious. Hands off our good name, says the franchise best known for being run by a short-fingered racist sex goblin. The Clippers can bring in all the great players they want. But they'll never stop being the Clippers.