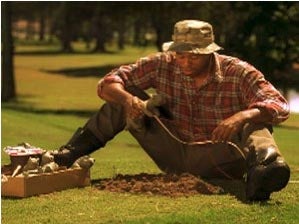 Remember that old Tiger Woods Caddyshack commercial for American Express? It was one of Tiger's most likable moments; even Tiger can be funny when he's channeling Bill Murray.
Well, don't look for any more moments like that: American Express has made the curious decision of dropping Tiger Woods as a spokesperson even though he's one of the most recognizable humans on earth. (And rather "now," we hear.)
Amex Vice President Rich Lehrfeld is quoted as saying that that while the company's relationship with Woods is still "strong," the company's vision has changed gears and become even more geared toward consumers "[Tiger] brought a lot of value to Amex. He's an incredible athlete with an incredible work ethic, and that runs well with what our brand is all about," Lehrfeld said. "[But] sometimes strategies change. We wanted to move our dollars to build a broader base of consumer experiences."
You know who they should sign in his place? Rory!
More On The Amex-Woods Split [I Want To Be A Sports Agent]