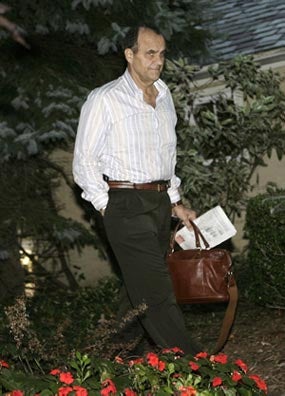 Our old friend Peter Abraham, who is a big fan of sushi and Fashion Week gossip, has the big scoop this morning: The Dodgers are going to fire Grady Little and hire Joe Torre.
Torre, 67, could be named manager in the next 24 hours, according to two sources close to the situation. Don Mattingly is expected to accompany Torre to Los Angeles as his bench coach.

The Dodgers were 82-80 this season under Little and were beset by clubhouse unrest. Owner Frank McCourt, a Boston native, decided Torre is best suited to quell that situation. It is expected that Torre will receive at least a three-year contract.
Quite the scoop, if it comes true. (The Dodgers are actually saying they're still interested in Joe Girardi, which is cute). We somehow think Vin Scully and Joe Torre belong together, and hey, we suppose it makes sense: Joe usually doesn't wake up until the third or fourth inning either.
Torre, Mattingly Expected To Team Up With Dodgers [The Journal News]