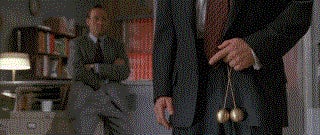 A Maine high school basketball coach lost his job after he instructed each of his players to lay their hands on their crotch pickles. It's not quite as dirty as it sounds; he didn't do it in a Michael Jackson sort of way. Really, it was just a slight variation of "gutcheck time," just a little farther south.
"...the coach told his players that the Jan. 23 game against Mount Ararat "was about who had the biggest (male genitalia) in town," Hartnett said in a statement.

"He then required his players to all stand up and put their hands down their pants and check their manhood," Hartnett said. All but one player followed the coach's instructions.
What did he do, go around and check? "Steven, I appreciate the effort, son, but your grip is poor. Let's tigten that up."
Really, I don't think there's anything wrong with a high school coach trying to build self esteem through positive enforcement as it pertains to genitalia size. A coach referencing such a thing in regards to athletic performance is nothing new, and I'm sure similar things happen quite frequently ... in fact, the band director and choir instructors probably do this before performances, too. Hell, I was going to have everyone do it before the big Super Bowl liveblog tomorrow.
And you know what? The team won the game. Behold, the power of the knob.
Coach Given the Shake for Genitalia Comment [Sports by Brooks]
Leavitt fires basketball coach [MaineToday]