ESPN interrupted Bill Belichick getting choked up over Teddy Bruschi so America could watch Rich Rodriguez get choked up about all the mean things the Detroit Free Press wrote about him. Why are our football coaches so sad?
At his press conference today, the Michigan head coach was alternately angry and weepy over the besmirching of his character and the character of Wolverine strength coach Mike Barwis, who is a real sweetheart. Rodriguez bristled at the very idea that he could be accused of bending the rules. He cares about his players, so to imply that they were forced to attend workouts is to imply that his kids didn't want to work hard. Rodriquez tearfully spoke of "two freshman"—presumably Brandin Hawthorne and Je'Ron Stokes who were quoted in the article and who the Free Press expressly pointed out were not complaining—who came to his office asking what they did wrong. He had to tell those boys they didn't do anything wrong and the whole thing nearly broke his heart.
The thing is ... they didn't do anything wrong and no one said they did. All they did was tell the truth. More importantly, they had no reason to lie. If two guys who have no agenda against the program—in fact, they probably would have lied to protect the program if they'd known what they were saying—are volunteering that their schedule is as strict as it is, there's a good chance that they're not making it up.
That won't stop Rodriguez and others from assuming they are victims of a witch hunt. Jonathan Chait stepped down from his high horse at The New Republic to lambaste the Freep's Michael Rosenberg for his anti-Rich Rod bias, stating that no place he worked would ever let an opinion writer do hard news about a subject he was so "passionate" about. Interesting, if true. I wonder if any of those fine, upstanding newspapers Chait's talking about would let an alumnus (UM, Class of '94) attack another writer because they published dirt about an organization he used to be associated with? (P.S. All allegations of improper bias should be directed here.)
All the accusations in the article came from Michigan's own players and not just the ones who fled the program. Even though Rodriguez denies breaking any rules, he didn't directly refute or disprove any of the claims in article. (Chait even tries the "everybody's doing it" defense.) In fact, the coach apparently admitted to one violation during the presser, saying that they send strength coaches into the weight room during offseason lifting "so they don't drop a weight on their foot." (Caring!) Correct me if I'm wrong, but that's against the rules. (UPDATE: I'm probably wrong.) The rules he loves and defends so much.
No one is questioning Rich Rodriguez's motivation or commitment. They're questioning his tactics and at the moment the Free Press still looks to be right about them.
G/O Media may get a commission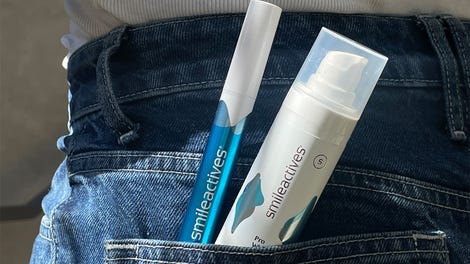 58% off
Whitening Powerhouse Pen & Gel Duo
U-M football report met with anger, disbelief [Detroit Free Press]
Violations truly worthy of firing [Wolverine.com]
Fuck You Rich Rod…… [Horse Collar]