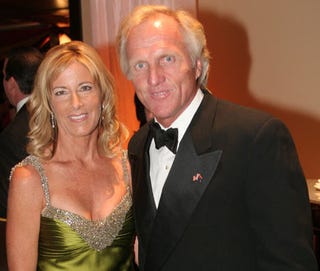 Greg Norman and Chris Evert were married last night in one of those subdued $2 million weddings in the Bahamas. The guest list included Bush 41 and Bill Clinton. What, no Jim Everett and Jim Rome? The newlyweds reportedly sold exclusive photo rights to a women's magazine and, uh, were a little serious about ensuring no one horned in on that.
Norman has virtually taken over the small Commonwealth country for his lavish nuptials with tennis great Chris Evert, renting an entire island and enlisting the Bahamas police force to ensure intruders and the press stayed away.

With guests including former US presidents George Bush Sr and Bill Clinton, authorities on Friday granted a request to ban aircraft from flying over Paradise Island where the wedding was to take place.

Secret service teams assembled on the island and on Friday the resort's private beach was swarming with uniformed police and security officers.

Police rode buggies and questioned guests of neighbouring resorts who were on the adjacent beach area.
Jeebus. You'd need to be Jason Bourne to crash that one. And for what? They were serving Norman's own brand of wine. The sea water tastes better than that plonk.