Remember when everyone was so into hockey that time? Ha! But there's plenty to love: the NCAA championship, an NHL playoff berth battle, and oh yeah, some Slovenian hockey players who won their league title then beat up their coach!
The best sports movies according to Toheeb Jimoh
It's BC versus Wisconsin for the NCAA Frozen Four championship trophy, going on right this minute. 21 NHL-drafted players between the two teams will be at the rink tonight, including Hobey Baker winner Blake Geoffrion, who "plays like a rodeo bull and is almost impossible to contain."
A four-team battle for the last three playoff spots in the NHL's Eastern Conference has been whittled to three teams competing for the final two berths. The Boston Bruins clinched the third-final spot with today's madcap win in which the team scored three shorthanded goals in 64 seconds and defeated the Carolina Hurricanes 4-2.
That leaves Montreal, New York, and Philly in the familiar position of a last-minute battle for the remaining two spots. The Rangers, facing elimination, nearly blew a 3-1 lead against the Flyers last night in the first game of their season-culminating home-and-home-series but ultimately prevailed 4-3.
G/O Media may get a commission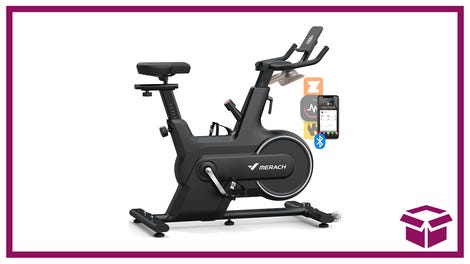 14% off + Coupon
Merach Indoor Cycling Bike
They'll want to pay attention to what happens to Montreal tonight in its game against Toronto. The Habs need only one point to clinch a berth; should they lose, there's a slight possibility that the Flyers and Rangers would qualify (New York would have to win specifically in overtime for that to occur.) A Habs win means the winner of Philly-New York will sneak into the postseason.
A colleague at Deadspin pointed me to this New York Times Magazine profile of Alexander Ovechkin by Chip McGrath. "It's basically a collection of Russian/Soviet stereotypes," he said. "He actually uses the phrase 'Russian bear of a man'." I considered compiling a list of the references, but it's late and my head hurts, and holy crap the thing's long! But even the first paragraphs paint a crystal clear picture of living in Russia:
At the Olympics in Vancouver this year, in an early-round game against Slovakia, the Russian hockey player Alexander Ovechkin toppled Zdeno Chara, the normally immovable 6-foot-9 giant who plays defense for the Boston Bruins, like a bus knocking over a lamppost. A few nights later, early in the third period against the Czech Republic, he leveled Jaromir Jagr, the Czechs' most famous player, with a check so hard that your teeth rattled even if you were watching on TV. Jagr crumpled like a pedestrian who had been run over at a crosswalk.
Jesus, I'm surprised he didn't compare a hit from behind to a journalist being sniped. In Soviet Russia, the puck watches YOU glow.
Finally, six Slovenian hockey players were released from their team last week after beating the rest of their league for the championship. And then beating their coach. With "wooden traffic signs that they found by the side of the road." And — stay with me, here — they did this because they were angry that he knowingly urged a drunk 19-year-old backup goaltender to drive a car, which the drunk 19-year-old backup goaltender "subsequently crashed." Is this what is meant by the phrase "winning ugly?"
[Pic via AP]
* * *
Thank you for your continued support of Deadspin. I miss you all already. Stay off the streets tonight. That goes for you too, AJ Daulerio.