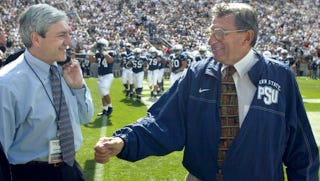 This is what Dr. Graham Spanier told Penn State's Board of Trustees on Sept. 9, according to the minutes of the meeting, which can be found here:
"There is an unprecedented level of cynicism in our country today about leadership at all levels—the Congress, the President, state government officials, and even university administrators. It reminds me of the old story about the son who comes down for breakfast and says to his mother 'I'm not going to school today.' The mother asks why, and the son says 'I'll give you two reasons: Because the teachers don't like me, and the students make fun of me.' The mother says, 'Son, you are going to school today, and I'll give you two reasons: First, you are 60 years old, and second, you are the president of the university.'

"It has always been my belief that people desire good leadership, and in fact will support it and follow it. It is in this spirit that it has been my custom each September to comment on the state of the University, through an address or video.

I've spent 25 years at Penn State during my two tours of duty and care deeply about the University and its people. The well-being of this state is also important to me, not only as president of Penn State, but also as a citizen of Pennsylvania, and I'd like to reflect on our University and the larger context in which we operate."
This is the same man who made the decision to cancel Joe Paterno's press conference a few minutes ago.
[Photo via PennLive; h/t to Peter]