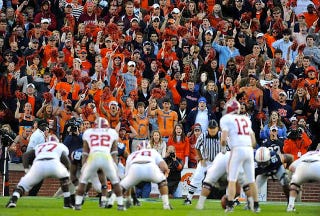 Rivalry week continues, so feel free to use this space to spiritedly defend your alma mater.
3:30 p.m.
CBS brings you the annual Iron Bowl between Alabama and Auburn. Can Alabama still play for the National Championship? Who knows. I doubt it'll come up. ABC has the coveted [State] vs. [State with differentiating qualifier] match ups: Depending on where you are you'll get either Virginia Tech at Virginia or Oregon State at Oregon. ESPNU has Vanderbilt at Wake Forest and ESPN3 will be showing Duke at North Carolina.
Rounding out the family of networks' coverage is Penn State at Wisconsin on ESPN.
Photo via