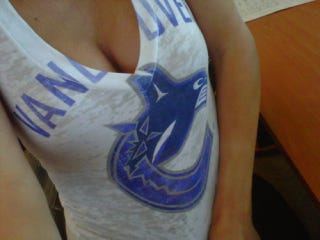 The Vancouver Sun went ahead and ran a feature headlined, "Bleacher Report's 15 bold predictions for the Stanley Cup Finals." So, there are 15 bold reasons why the Vancouver Canucks should go another 41 years without winning the Stanley Cup.
Meanwhile, an editor at the Boston Globe found it acceptable to run this: "Maybe it's a Baby Boomer thing. Those of us born after World War II always think it's about us. Our music was better. Our cars were faster. A sport was a sport. It was OK to hitchhike and eat cheeseburgers and nobody wondered whether Richard Nixon was born in the USA." So, there are 51 bold reasons why the Boston Bruins should go another 39 years without winning it, either.
Prediction: Vancouver in a humiliating sweep. Reason one: It'd make the pierced-nipples Canuchick by the penalty box happy. Reason two: The website "CanucksBoobs" captioned that picture up top earlier as "Good luck boobs. Game on! #bringithome."
Canucks, Bruins all set for Cup final; Kesler says it's bigger than Olympics [Vancouver Sun]
Long time waiting, Bruins chase the Cup [Boston Herald]