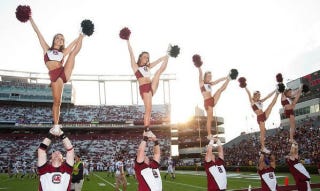 Among the potentially good games on this here slate are Auburn at South Carolina (CBS), Michigan State at Ohio State (ABC) and No. 21 Georgia Tech at North Carolina State (ESPN).
Others: No. 15 Baylor at Kansas State, Southern Methodist at No. 20 TCU and Bowling Green at No. 22 West Virginia.
For those of you who like watching USC's cheerleaders, the Trojans host Arizona but it seems as if the networks aren't into presenting daytime porn today. Hurtful.